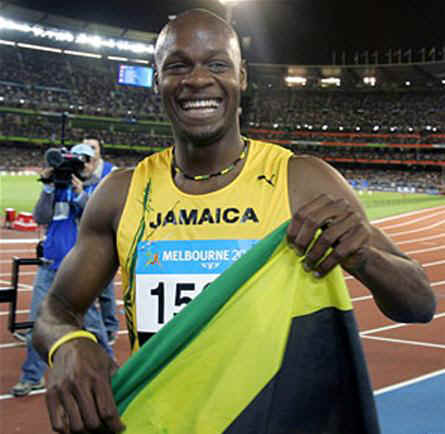 Asafa Powell
According to mainstream press reports, a trainer has been arrested in Italy for giving three top Jamaican sprint stars steroids laced food supplements without their knowledge. The trainer came to Jamaica in May 2013 to work with the MVP track club and one month later positive drug tests ensued, when the Jamaican regulatory authority administered tests for race trials at Nationals in Kingston.
As a result of the tainted food supplements, for the first time in over a decade of professional racing, Jamaican gold medalists Asafa Powell and Sherone Simpson, who belong to the MVP track club, have tested positive for a banned substance. These athletes were repeatedly tested for many years without issue, prior to the aforementioned trainer descending on Jamaica's shores this summer. Why would you go into another person's nation with such ill-will and do such a thing. That's sabotage and worthy of extradition under existing international treaties. What kind of illuminati mess is this.
STORY SOURCE
Sprint stars Gay, Powell fail drug tests
...Jamaican sprint star Powell, a former 100m world record holder, confirmed that he had tested positive for a banned stimulant at his country's national trials for Moscow. But the 30-year-old strenuously denied any wrong doing. Powell, also 30, took to Twitter to confirm his dope test failure. "I will confirm that a sample I gave at the National Trials in June has returned 'adverse findings'," he said. "The substance oxilofrine was found, which is considered by the authorities to be a banned stimulant.
"I want to be clear that I have never knowingly or wilfully taken any supplements or substances that break any rules. I am not now nor have I ever been a cheat." Powell held the 100m world record between June 2005 and May 2008. He won two bronze medals in the 100 metres at the 2007 and 2009 world championships. He also had one gold in the 4x100 metre relay in 2009.
But he has never managed an individual sprint medal at the Olympics, finishing fifth in the 2004 Athens and 2008 Beijing Olympic 100 metre finals and limping home in eighth place in the final in London last summer. According to media reports, Powell was one of five athletes who failed drug tests at the national trials last month in Kingston. Sherone Simpson, a silver medallist in the women's 100m at the 2008 Olympics, was one of them, according to a report in Britain's Daily Telegraph.
The Jamaica Gleaner newspaper claimed the substance taken may have been contained in a food supplement. "My team and I will try to do everything we can to get this issue dealt with as best as we can," Simpson told the Gleaner. "Thanks to all who have been supporting me, I really appreciate it at this time."
Later Sunday, Powell's agent, Tara Playfair-Scott, revealed on Twitter that a man who allegedly supplied the supplements had been arrested in Italy. "He has been detained by Italian Law Enforcement in conjunction with this matter. The investigations continue," she wrote.
Italy police arrest Asafa's physical trainer over banned substance
2013-07-14 15:45:37 - Police in Italy have reportedly detained a physical trainer that had been living with Asafa Powell, and providing him with supplements, that may have contributed to his positive drug test for Methylsynephrine, The Gleaner understands. The trainer whose name has not been released was detained and evidence removed from his residence. He began working with the MVP camp in May.
Powell has also reportedly handed over supplements he had in his possession that were given to him by the trainer. Some of those same tainted supplements may also have been supplied to Sherone Simpson, sources said.
News broke today that Powell and Simpson, Olympic and World Championship medallists were among five Jamaican athletes who returned adverse analytical findings during the recent National Championships held at the National Stadium from June 20-23. Two other senior athletes and a junior athlete also returned positive tests in their 'A' samples.
The Jamaica Anti-Doping Commission (JADCo) confirmed that it had received the reports of the findings, but was unable say much more on the matter, according to JADCo Chairman, Dr Herb Elliott. "The process of results management has commenced in accordance with JADCo anti-doping rules."
Powell subsequently released a statement in which he declared his innocence. "I want to be clear in saying to my family, friends, and most of all my fans worldwide that I have never knowingly or willfully taken any supplements or substances that break any rules. I am not now — nor have I ever been — a cheat," he said.
"My team has launched an internal investigation and we are cooperating with the relevant agencies and law enforcement authorities to discover how the substance got in my system. I assure you that we will find out how this substance passed our rigorous internal checks and balances and design systems to make sure it never happens again," Powell said.
Simpson, who Gleaner sources say may have also been an unwitting victim of the suspect taken into custody, also declared her innocence. "I would not intentionally take an illegal substance of any form into my system. I want to sincerely say to my family (especially my parents, grandparents and siblings), Paul Doyle (agent), MVP track club, fellow athletes, former sponsors and the rest of Jamaica, that l am deeply sorry for any hurt or embarrassment this positive test may have caused, she said.