As Rihanna continues to stumble through her "Diamonds" world tour, suffering from sales declines and cancelled dates, the music model took her poor behavior to new lows, as she sloppily stumbled out of a King Of Leon concert in Poland, escorted out of the venue by security due to her drunken state.
It was an embarrassing spectacle, as the singer, still left reeling from her break-up with singer Chris Brown, who has found happiness with model Karrueche Tran, was put out of the concert looking like a zombie. That's no way to live one's life. Rihanna's setting a terrible example for impressionable fans, who all too often mimic entertainers.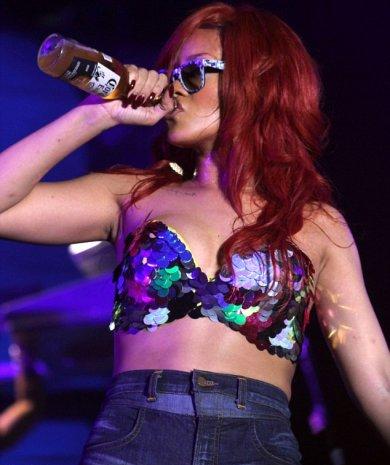 Rihanna is always drinking... a lot!
Rihanna has turned up to shows late due to being drunk and high and made other public appearances under the influence. At what point does she ask herself how much further from grace she intends to fall and in clear sight of the public. Isn't she scared of overdosing and dying. Isn't she scared of alcohol poisoning, which killed an actual singer with talent, Amy Winehouse.
It's stunning that Rihanna has refused rehab across the board. The contempt she has for it is something else. Some entertainers try to go to rehab and those that take it seriously, you have to give them credit for their efforts. However, Rihanna just shuns it like it is something negative.