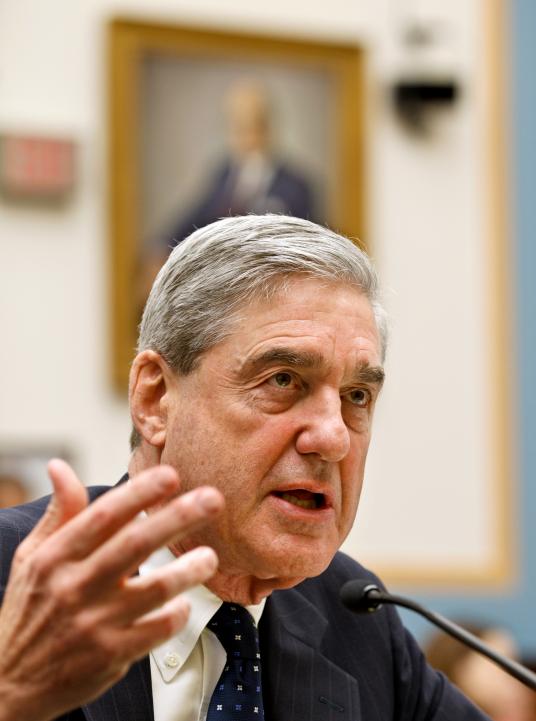 FBI Director Robert S. Mueller
[Article background: this is another in the series of phone hacking articles the Judiciary Report has published, regarding a scandal I broke first in October 2005, via a police complaint I filed with the Metropolitan Police in London, England. 75 people have been arrested by the Metropolitan Police since the time I filed the complaint. However, the Murdochs and other key conspirators remain free and the FBI has not arrested anyone, though the crimes began and continue in News Corp's New York headquarters]
50-year-old FBI agent Robert G. Lustyik Jr., has been arrested for soliciting and accepting "a $200,000 cash payment" bribe to cover-up and thwart a criminal case the Federal Bureau of Investigation (FBI) was supposed to investigate, as their congressional mandate dictates. As a result, Lustyik Jr. and others have been charged in a criminal indictment with, "Eight counts of honest services wire fraud, one count of obstructing justice and one count of obstructing an agency proceeding."
The Washington Times stated, "According to the indictment, while active in the FBI, Mr. Lustyik used his position in an attempt to stave off the criminal investigation of a business partner with whom he was pursuing security and energy contracts. 'He allegedly acted through a childhood friend to secure promises of cash, purported medical expenses and business proceeds in exchange for abusing his position as an FBI agent...Mr. Taylor began to give and offer things of value to Mr. Lustyik in exchange for Mr. Lustyik's agreement to use his official position to impair and impede the Utah investigation."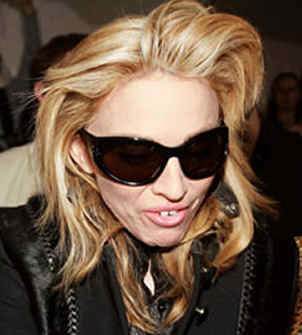 Madonna is another person that has bribed the FBI. She has been public outed on different websites for issuing bribes of a financial nature (money) and a non-financial nature, such as stocks and expensive gifts, among other things, to judges, government workers and journalists in America and the international community, to engage in unlawful conduct, in deeds worthy of criminal prosecution and imprisonment.
As I have been stating on the Judiciary Report for the past few years, the FBI takes bribes. It's a sad and disgraceful fact, but they do. As previously stated, a well connected source in the international community, responsible for some of my
exclusives
, informed me that FBI Director Robert S. Mueller accepted
a $1,000,000 bribe from Madonna
to cover up the
criminal copyright infringement, wiretapping and phone hacking case
I gave them evidence of in 2005 (One month later, I also filed a complaint with the Metropolitan Police in London, the first to break and report the phone hacking case and the arrests began in that scandal six months later).
When I went public with news of the bribe, via an article I published on this site, Madonna sent one of her deranged Kabbalah members from the Eastern Shores branch of the cult in Miami, to try to break into my former home recording studio again (one of several incidents reported to Miami Shores police) but to be nasty, he smashed the back window to cause damage and distress, in order to send a message. In America, a smashed window during a campaign of harassment and stalking is always done as a malicious threat.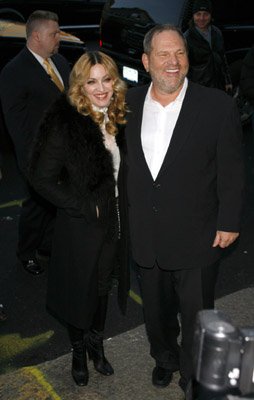 Kabbalah members Madonna and Harvey Weinstein are among President Obama's top fundraisers and campaign donors
The Miami FBI initially vowed to and did begin investigating the case regarding the aforementioned criminal copyright infringement, wiretapping and phone hacking commissioned by Madonna and her cronies in Hollywood, but according to my source and based on what I have seen, a cover up was launched shortly after, due to what the FBI discovered about Madonna's criminal conduct, prompting her to offer Mueller the bribe, which is another felony.
I was told Madonna has a serious fear of going to prison for the crimes she and others in her circle commissioned and committed and wants to continue said criminal activity for undue financial enrichment, hence the bribe. Madonna and her cronies in Hollywood haven't stopped to this day. I am in Jamaica right now and my computers are still being hacked by Madonna's Kabbalah cult and there is an illegal wiretap on my family's phone line (Madonna and the FBI care to explain that criminally placed wiretap that violates U.S., U.N. and Jamaican law). Mark my words that foul witch Madonna is going to be the downfall of the FBI...
STORY SOURCE
RELATED ARTICLES