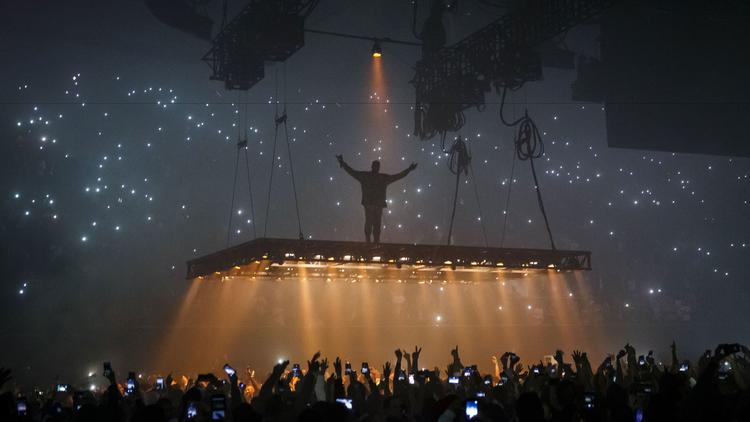 Kanye West has submersed himself in spiritual darkness and it is destroying him
Troubled rapper Kanye West was handcuffed and transported to the UCLA Medical Center under a psych hold on Monday. West was involuntarily committed to the psych ward as a mental patient. West recently cancelled his concert tour and went on a rant slamming politician, Hillary Clinton, who just lost the presidential election in America. Hollywood became enraged West spoke out in favor of Trump over Clinton and began threatening and attacking him for it, which did not help his depression and fragile mental state.
West also slammed his one time mentor, rapper Jay Z ad wife, Beyonce. So often Jay Z has used West to promote Beyonce, even to the point of embarrassment and disgrace. This time West said a mouthful and Jay Z had him committed to the psych ward, lest he cracks even more and divulges all the secrets of Hollywood's self-styled Illuminati (The Kabbalah Center).
West slammed Beyonce stating, "Beyonce, I was hurt 'cause I heard that you said you wouldn't perform unless you won Video of the Year over me and over 'Hotline Bling.' Now don't go trying to diss Beyonce. She is great. Taylor Swift is great. We are all great people. We are all people. But sometimes we be playing the politics too much and forgetting who we are just to win. F**k winning. F**k looking cool. F**k being cool."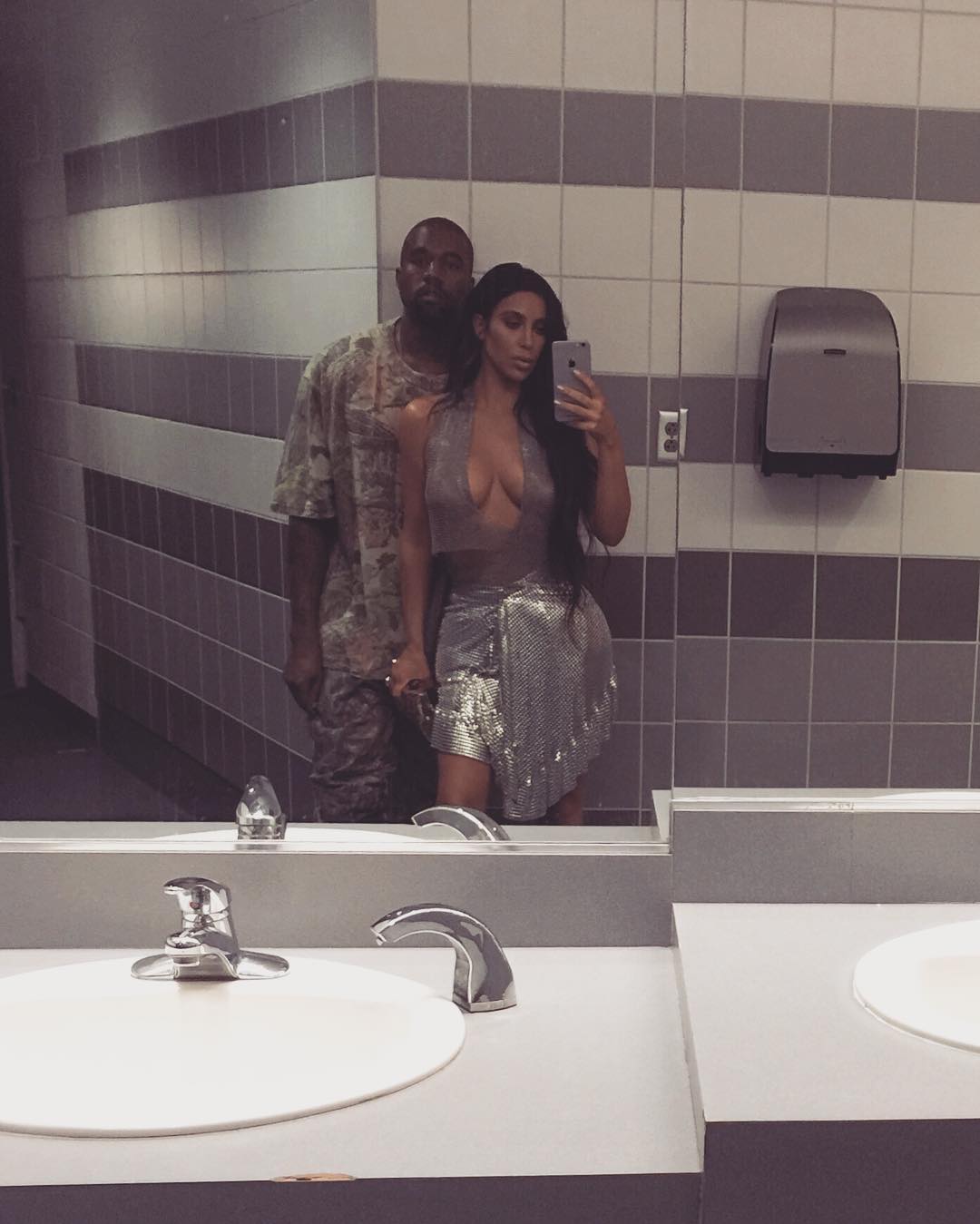 Kanye West and wife Kim Kardashian
West slammed Jay Z stating, "I've been sent here to give y'all my truth, even at the risk of my own life. At the risk of my own success. Jay Z, call me, bruh. You still ain't called me. Jay Z, I know you got killers. Please don't send them at my head. Please call me. Talk to me like a man."
West further ranted, "This Saint Pablo tour is the most relevant thing happening. If your old a** keeps following old models, you'll be Hillary Clinton. Radio, f**k you! Oh yeah, I'm on my Trump s**t tonight. Radio, f**k you. Right now, press, get ready to write your passive aggressive, LeBron James racist comments, Season 4 racist comments. Get ready to have a field day, press, get ready, get ready, because the show's over."
This is what happens when cults mess with people's minds. After a while they snap. Other members of the Hollywood Illuminati have also experienced psychotic breaks and ended up in psych wards for evaluation and psychiatric treatment (Britney Spears, Lindsay Lohan, Paris Hilton, Steve-O, Rosie O'Donnell, Amanda Bynes, Solange Knowles, Chris Brown and Blu Cantrell, among others).
Jay Z and Beyonce
West really gave Jay Z away. Jay Z likes to pretend he is a businessman, but he is an absolute criminal, thief and thug. In
my lawsuit
against Jay Z, I referred to him as murderous. Jay Z is a former drug dealer that used violent, strong-arm tactics to peddle crack cocaine and cocaine to young and old alike on America's East Coast.
Jay Z used said blood money to start a record label, Rocafella. Though Jay Z became famous, he continued to engage in bloody strong arm tactics and financial crimes. Jay Z stabbed music executive Lance Riviera and was nearly sent to prison for it (sentenced to probation, community service and a fine).
Jay Z sent thugs to beat a man outside a Las Vegas restaurant he briefly had that failed, after he stated something the deranged, crazy rapper interpreted as a sign of disrespect. Years ago the incident was leaked to the internet via a security tape from the back of the hotel. Outlets have also accused Jay Z of beating Beyonce and other women.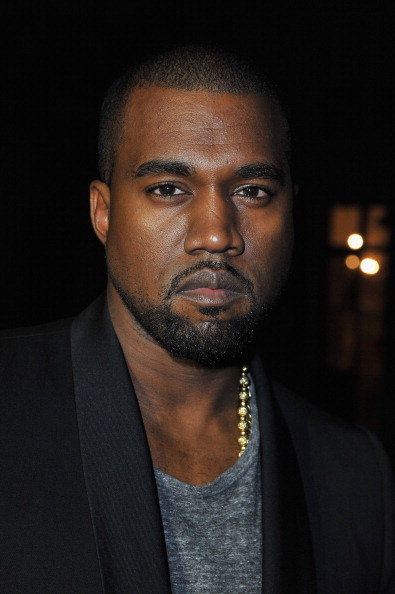 Kanye West
Kanye's mind is so broken due to what he got involved in via Hollywood, in selling his soul for money and fame. He, like many others in Kabbalah, can't even enjoy the money and fame, as they've done sick things behind closed doors that caused their minds to snap. These people worship the devil. It is not some notion, joke, fallacy or attempt at being different. They literally worship the devil.
You can't surround yourself with spiritual darkness and evil and it not massively damage or destroy you. Love will not exist where evil dwells. If you invite that evil and spiritual darkness into your life it will consume and destroy you. It will bring you down. Leave the negativity alone, as it will break you. People should find and embrace the good in life, as there is hope.
Kanye West Hospitalized Handcuffed in Ambulance
11/21/2016 5:32 PM PST BY TMZ STAFF - Kanye West has been taken to UCLA Medical Center for psychiatric evaluation. According to law enforcement sources ... cops responded to a call for a welfare check on Kanye around 1:20 PM PT. He was at his trainer, Harley Pasternak's home at the time and was "acting erratically."
We're told police called L.A. Fire, and by the time paramedics arrived Kanye was calmer ... but still resistant to going to the hospital. We're told everyone -- his management and law enforcement -- convinced him it was best he go. Law enforcement sources tell us Kanye was handcuffed to a gurney during transport to the hospital ... as standard protocol...
Kanye West hospitalized in Los Angeles, placed on psychiatric hold
By Travis M. Andrews November 21 at 10:00 PM - Kanye West was hospitalized at the Ronald Reagan UCLA Medical Center in Los Angeles on Monday, the Associated Press reported. NBC News, citing "multiple authorities familiar with the case," reported that the 39-year-old Grammy-winning musician remained under observation Monday afternoon at a hospital. At 1:20 p.m., police responded to a medical welfare call. It is unclear where he was the time...
Kanye West Lays Into Beyonce and Jay Z, Cuts Concert Short in Sacramento: Watch
11/20/2016 by Mitchell Peters - Kanye West went on another epic rant during his Saint Pablo tour stop at Sacramento's Golden 1 Center Saturday night (Nov. 19), lashing out everyone from Beyonce and Jay Z to Hillary Clinton and the radio industry before ending the show after about 30 minutes.
The concert got off to a rough start when the 39-year-old rapper arrived about an hour-and-a-half late to the stage. Once the show kicked off with a couple songs, however, things seemed promising. The crowd of about 13,000 was overjoyed to see West bring out rapper Kid Cudi, with whom he'd been feuding with earlier in the year. The two hugged and performed "Waves" together before West went off script...
RELATED ARTICLES