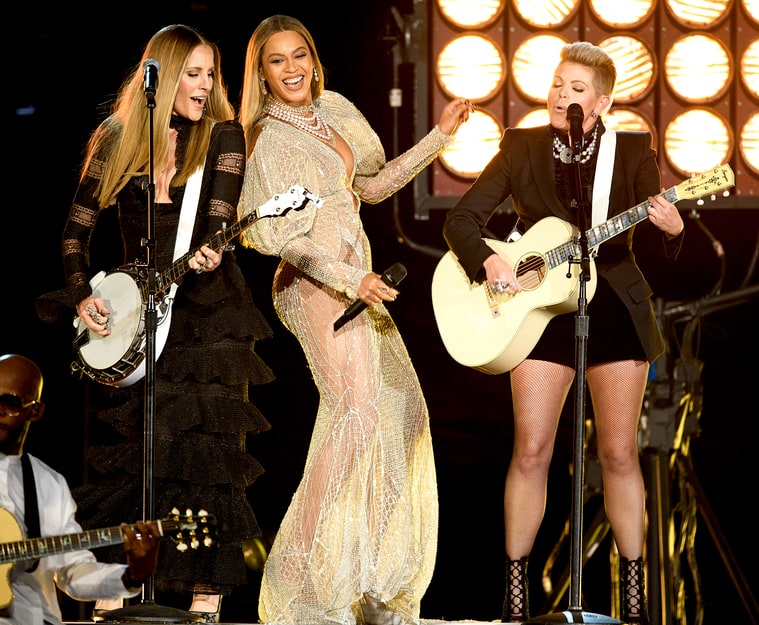 The Dixie Chicks with Beyonce at the CMAs
Attention seeking, publicity hound Beyonce made an appearance at the Country Music Awards (CMA) and it was disastrous. Beyonce appeared with the country music band the Dixie Chicks. This occurred despite the fact Beyonce knows nothing about country music, nor does she care about it. However, anything that will give her publicity, she will do.
One minute Beyonce is black panthers, the next she is faking country music. It's just too much of her. People are sick of seeing her. She is always in everyone's face. She is overexposed and a good manager would not have allowed things to get to this point. The CMA awards reaction is proof positive of that.
Social networking slammed Beyonce's appearance on the show. Country music fans were angered that she was on the show and unleashed a massive wave of insults online. Beyonce's ill-fitting inappropriate outfit did not help matters, as country audiences are more conservative. Over the past few years, Beyonce has been releasing profane, explicit, ungodly songs and music videos that promote the occult. Country music audiences are mostly Christian.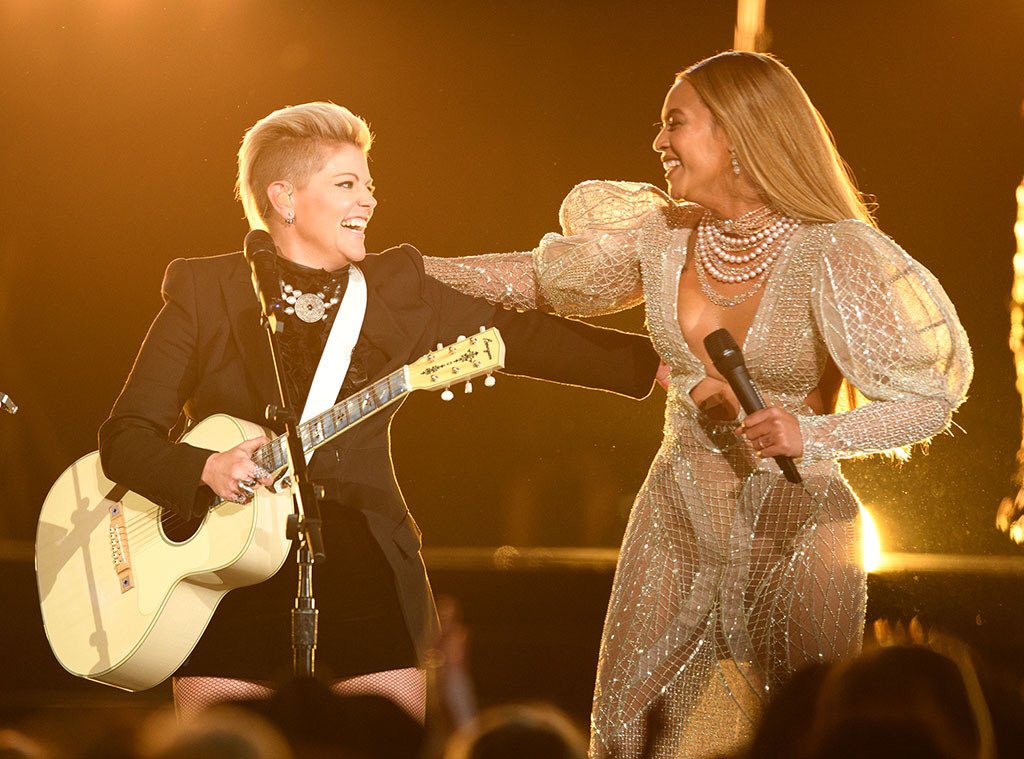 Beyonce trying to fake it at the CMAs

The majority of the comments on social networking slammed Beyonce for her music and videos that do not mesh with the country lifestyle, as well as her theme this year of slamming the police. Country music fans respect the police. The Judiciary Report does not agree with police brutality and has spoken out against it, but has maintained for years, nations need police and not all cops are bad.
Beyonce is an absolute fraud for going on the show, as she does not appreciate country music, used the platform for publicity when a more deserving artist in tune with the genre could have had the spot and like her dress, people can see right through the fakery. There are black artists who have done country music well, such as Charlie Pride and Johnny Mathis, but Beyonce is not one of them. The whole thing smacks of insincerity.
One of many Twitter users basically stated what many others also expressed, "Why is she at our country music show...since she hates cops, white people and supports Black Lives Matter." And that has become Beyonce's image - a cop hating, white people hating, militant, stripper/singer/softcore porn performer. Another stated on Twitter, "Beyonce performing at CMA Awards will make sense to me the day George Strait is asked to open the BET Awards with Amarillo by Morning."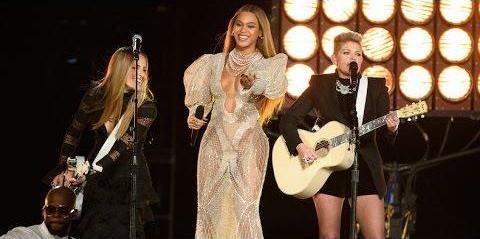 Beyonce's dress was terrible and unflattering

The Judiciary Report warned about Beyonce and others embracing
the Black Panthers
, a group whose members the FBI routinely targets and destroys. The Black Panthers engaged in acts of violence, terrorism and the murder of white people. This is not the way. That's as bad as white people lynching blacks.
The site also warned about not explaining to people that all lives matter. The Black Lives Matter movement would have been better off being named Black Lives Matter Too. When some people of other races hear "Black Lives Matter" they get the impression that only black lives matter (get mad all you want, I'm telling you the truth). And everyone matters, regardless of color. I embrace Dr. Martin Luther King Jr.'s vision of love and all people being created equal.
STORY SOURCE
Beyonce, Dixie Chicks Scrubbed from CMA Website, Social Media After Racist Fans Comment
11/3/2016 1:48 PM PDT BY TMZ STAFF - 2:45 PM PT -- The CMAs have started repopulating its social media with images of Beyonce and the Dixie Chicks. The images were only posted AFTER they became aware we were working on the story. Even the Dixie Chicks, who rarely say anything in the media these days, are reacting to the controversy on Twitter...
The performance of Beyonce's hit, "Daddy Lessons," with the Dixie Chicks was by all rights the highlight of the show. Thursday morning Bey and the Chicks had a prominent presence on CMAWorld.com. But check it out now ... it's gone ... completely. Sources directly connected with the CMAs tell TMZ, the honchos folded to fans who posted racist and other harsh comments. We're told the honchos were especially concerned about the reaction to Beyonce's support and the support of the Dixie Chicks for the Black Lives Matter movement.
Some of the comments included, "That's right folks. Beyonce performed at the CMAs last night & is on a mission to take country music away from us, hardworking white people!" And, "Beyonce overrated racist n***er bitch." The comments go on ... "@Beyonce the cop hater? No thanks," and, "What place does @Beyonce who vilifies police officers who keep us safe have to do with #CMAawards50?"
In addition to its website, the CMAs have scrubbed the women from all social media platforms. They did not delete the women from Snapchat ... they only deleted the ladies from CMA accounts where users can place comments. We're told the CMA people "just want this to go away" and feel it was probably a mistake to invite the 4 women in the first place.
http://www.tmz.com
Conservative country music fans lash out at CMA performance by Beyoncé and the Dixie Chicks
...But conservative country music fans were having none of it as Beyoncé and the Dixie Chicks worked into a grand performance oF "Daddy Lessons." Many, in fact, were baffled and downright angry. The song is from Beyoncé's recent album, "Lemonade," and takes a decidedly twangy turn — so much so that the Dixie Chicks have been covering it during concerts of late...
The playful performance featured a huge band of traditional country instrumentalists offering a platform for the rebel women to shine. But to some it was just too much. On Facebook pages such as the otherwise homespun Country Living, viewers were apoplectic. The question "What did you think of the Beyoncé and Dixie Chicks performance?" was answered by thousands of commenters. The vast majority had big problems with it.
The gist, according to one: "Figures they would pair up. One who has no respect for the American military and another who has no respect for the American law enforcement. Ashamed they would be allowed to perform at the CMAs at all." Virtually everyone was a music critic on the country music powerhouse CMT's Facebook page...
In a post on the performance, the cable station quoted country singer and CMA host Brad Paisley, who said: "Frequently, country crosses over. But every now and then a major pop superstar wants to be a part of this too. Welcome, Beyoncé." Replied many fans: Not welcome!
Screamed one: "SHE DOES NOT BELONG!!!! When have they ever invited ANY country singer to their BET awards...NEVER!!!!STOP IT. I bet Alan, George and Vince think CMT has gone NUTS."...
http://www.latimes.com
Beyonce Slammed Over CMA Awards Performance With The Dixie Chicks, Called N-Word And A 'Skank'
November 3, 2016 - Beyonce made a surprise appearance at the CMA Awards on Wednesday night, and she wasn't just there to take in the show. She and the Dixie Chicks took the stage together, and they tried to use their powerful voices to unite two groups of music fans from completely different worlds.
The group of women teamed up to perform Beyonce's "Daddy Lessons," a folksy tune that wouldn't sound out of place on country radio. However, some CMA Awards viewers refused to accept the "Formation" singer's olive branch to the many country music fans who don't agree with her political views. Critics of Beyonce's performance took to Twitter to voice their anger, and things took an ugly turn when some viewers started calling her racial slurs...
"Shameful the #CMAawards50 allows a cop hating, Anti-American Racist on their stage! When did country music lose its way?#SellOuts #Beyonce," @AmyMek tweeted after seeing Beyonce's CMAs performance. A photo posted by Beyoncé (@beyonce) on Feb 7, 2016 at 7:13pm PST.
Some Twitter users included the Dixie Chicks in their angry rants. The country group has their own experience with causing outrage by sharing their political views, as reported by Rolling Stone. In 2003, Natalie Maines said that she was "ashamed" of then-President George W. Bush because of his decision to go to war in Iraq. Twitter didn't yet exist, so furious Dixie Chicks fans expressed their anger by destroying the band's CDs and boycotting their shows.
"It figures that Cop-hating #racist would perform with the #DixieChicks! #Beyonce sucks! No place on the #CMAawards50 3antiAmericans," @MarcyBarnhart tweeted.
"Worst moment of the CMA's was pro cop killer Beyonce & the Dixie Trash! #PoliceLivesMatter," @PamelaRatt1 wrote.
Other CMA Awards viewers just decided to start calling Beyonce names, including the n-word.
"@CountryMusic get that f****** racist n****r b**** @Beyonce OFF the CMA's. #n***er #hateswhitepeople #boycottCMA," @HeIsCountry wrote in tweet that was later deleted.
"I'm at a loss for words over the @CountryMusic awards right now. I just turned it off for having a racist cop hating sk*** like Beyoncé on," @BrentAllenPhoto tweeted...