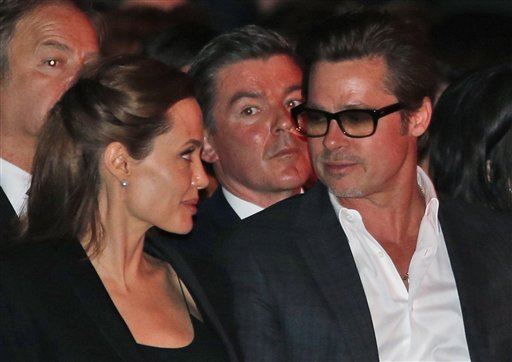 Angelina Jolie and Brad Pitt


The next day, on September 30, 2016, the television program Entertainment Tonight announced that Jolie and Pitt announced they would go to counseling and are hammering out a custody plan. Once again, they need to go to therapy as their family is firmly dysfunctional and that's not good for the children at all.
STORY SOURCE
Angelina Jolie and Brad Pitt Strike Temporary Custody Deal, Includes Therapy and Random Drug Testing

12:31 PM PDT, September 30, 2016 - Angelina Jolie and Brad Pitt have agreed to a temporary custody deal, ET can confirm. After the Department of Children and Family Services made its recommendations, Jolie and Pitt came to a temporary agreement that lasts until Oct. 20, a source familiar with the deal tells ET. The agreement is voluntary and is a DCFS safety plan -- also known as a structured decision making (SDM) safety plan -- which is standard practice in any ongoing child welfare investigation.
Jolie and Pitt each volunteered to participate in individual counseling, and Pitt also agreed to undergo drug and alcohol testing, though he was not required to, sources tell ET. "She is only concerned with the health and safety of her children, that is how she feels at this moment," a source close to the child custody dispute says of 41-year-old Jolie.
Full physical and legal child custody has not been determined yet, according to sources close to the situation. Pitt's first visit with his children will have to be with a therapist present, who can then either allow the actor future unmonitored visits, or insist on being present when he's around the kids, TMZ first reported. The public information officer for the Los Angeles County Superior Court tells ET they have not received court documents pertaining to the Pitt-Jolie child custody dispute.