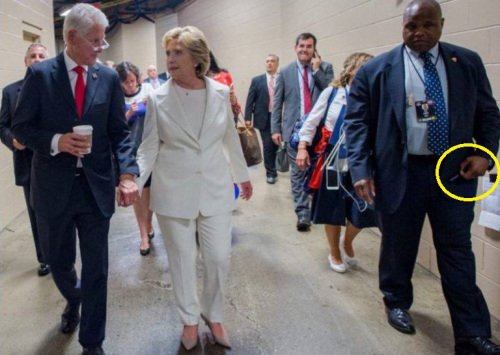 Bill Clinton, Hillary Clinton and Dr. Oladotun A. Okunola
Hillary Clinton's health is front and center in the 2016 presidential election again. Clinton suffers from a host of health problems, stemming from a life threatening blood clot she sustained in 2010. It has led to serious seizures, blackouts, fainting, concussions and broken bones. Clinton has been traveling with a man she has refused to name, whom many state is neurologist, Dr. Oladotun A. Okunola, who specializes in seizures/epilepsy, Parkinsons other brain issues as it relates to neurology. He wears a medical pin indicating he is a doctor.
People see neurologists occasionally…not everyday. The mere fact Clinton has a doctor on staff, 24-hours a day and not just a physician, a specialist, says she is quite ill. Clinton is attributing her persistent and painful cough to "seasonal allergies." She is also now claiming she has doubled up on anti-histamines but that's not true. As stated yesterday, I've had allergies since childhood. I've tried a number of allergy medications over the years and despite the fact some say non-drowsy, they do make you sleepy. If Clinton had truly doubled up on anti-histamines, she would be snoring during speeches and television interviews.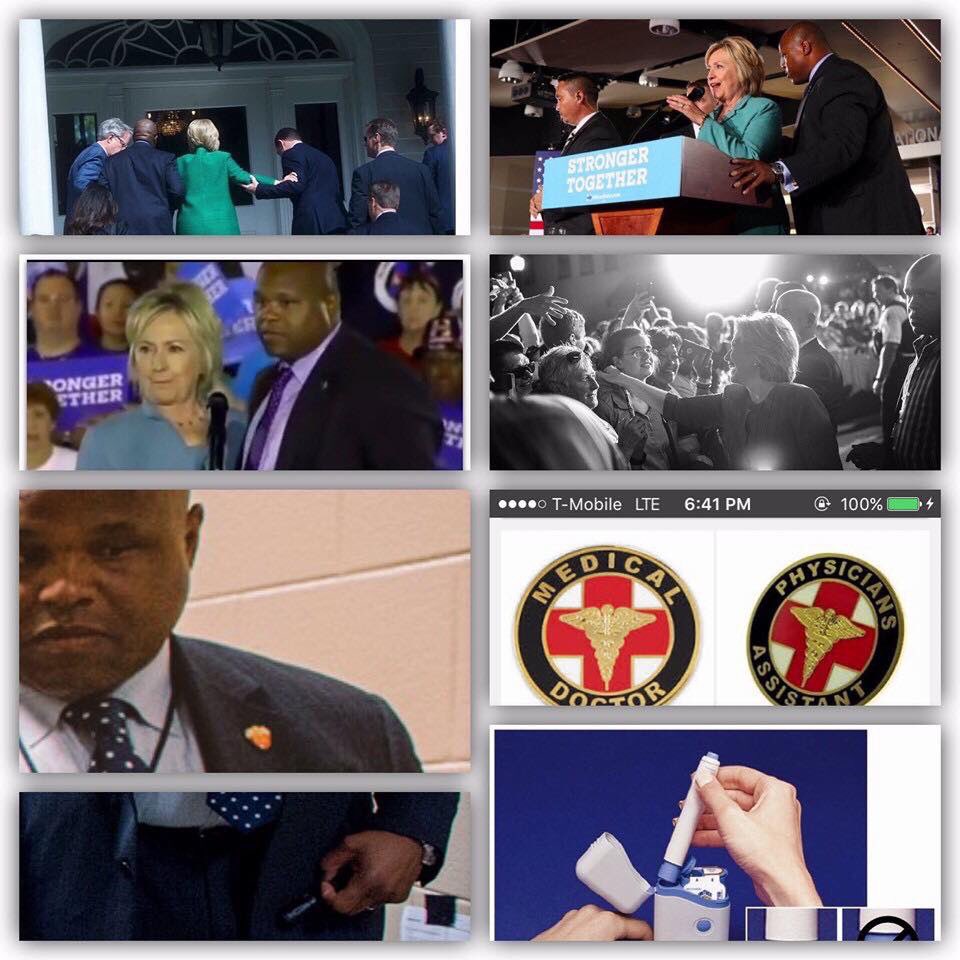 Hillary Clinton is pictured with medical specialist everyday indicating she is very sick but hiding it (Photos from Twitter)
Clinton is suffering from seizures and the early onset of Parkinsons. Clinton has a mark on her tongue that many are speculating about. Maybe she bit her tongue during a grand mal seizure.
The concussion and broken bones from blackouts and fainting associated with the blood clot she experienced has left Clinton with brain damage. At this point it's clear. Clinton is being propped up when she should be on bed rest. Clinton is being held together by duct tape.
Enough with the charade already. Just admit she is sick. There's nothing wrong with being ill. Millions of people around the world have health issues. However, Clinton is risking her health and life in an inadvisable, high pressure situation not meant for people with her dire medical profile. She is also doing the nation a disservice in putting her wants ahead of what's best for the country, a president in good health able to meet the mental rigors of being head of state.
America is facing a real conundrum -
crooked, corrupt Hillary
who is so sick she is liable to drop down at any time or divisive Donald Trump, who is now trying to mend fences after offending so many people.