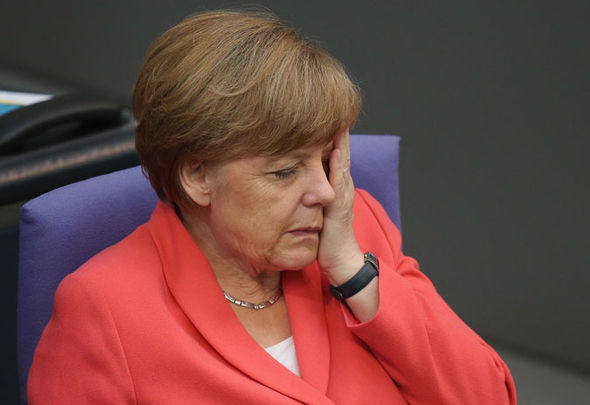 Angela Merkel

The Judiciary Report's political sensibilities have proven correct again. CDU, the political party of German Chancellor, Angela Merkel, have been defeated in a state election. The defeat occurred in Merkel's home state of Mecklenburg-Vorpommern. The issue that caused the CDU's defeat is Merkel allowing over 1,000,000 migrants into Germany in less than a year, under an open door immigration policy.
Merkel meant well, but the social and physical logistics of such a maneuver, as well as the financial price tag, proved her party's undoing in the state election, where they placed third. The newly created far right Alternative for Germany (afD) political party defeated Merkel's CDU, placing second. The Social Democratic Party placed first. A report released today indicates Merkel has now changed her focus to the deportation of immigrants who have been denied asylum. Merkel stated in Parliament, "The most important thing in the coming months is repatriation, repatriation and once more, repatriation."
Once again, the Judiciary Report is not anti-immigration. However, immigration has to be done in a controlled, orderly fashion to prevent financial and economic damage to the host nation. Immigrants must also assimilate for immigration to properly work. Issues have arisen in Germany, such as some migrants not wanting to work. Some have also been engaging in crime such as theft, assault and murder. The high profile murder of a pregnant German woman walking on the street, who was killed by a migrant has not helped matters. Other issues have surfaced, such as child brides, which is forbidden by law in the West. Once again, immigrants must assimilate and adhere to the laws of their new nation.
Side Bar: Once again, a committee is needed regarding the immigration issue in Germany. To have over 1,000,000 new people in one's nation and not truly knowing who many of them are is a national security risk. The German government needs to formulate a plan to obtain the identities of the migrants.
STORY SOURCE

'I'm very unhappy' Angela Merkel admits open-door policy DID cause defeat by far-right
PUBLISHED: 13:53, Mon, Sep 5, 2016 | UPDATED: 16:56, Mon, Sep 5, 2016 - ANGELA Merkel has admitted her hated open door policy on migrants led to her party's crushing defeat in this weekend's elections. But she basically went on to insist the German people did not know what was good for them and she just had to be more persuasive.
Mrs Merkel's CDU party was beaten into third place by the right wing Alternative for Deutschland (AfD) party in her home state of Mecklenburg-Vorpommern. CDU could muster only a pitiful 19.2 per cent of the vote compared to the victorious AfD's 21 per cent, leading to growing scepticism about Merkel's ability to cling onto power in Germany after her party also lost three elections to the AfD in March…
Today at the G20 Summit in Hangzhou, China, Mrs Merkel conceded the open door policy to migrants had swayed the election but added that she considered the "fundamental decisions" of the refugee policy were correct…