Last week I saw a video of a Muhammad Ali interview from the 1960s (posted above), featuring the late heavyweight boxing champion discussing the terrible abuse and discrimination black people face in America. Ali stated blacks were being discriminated against in attempting to open businesses. Ali correctly stated blacks were being discriminated against in trying to obtain business loans and retail real estate space.
Blacks are also being discriminated against when trying to lease real estate space for businesses. I can testify to this firsthand as well. 4-years ago, I encountered horrible discrimination in Miami, Florida in attempting to lease retail space for my business. In watching the Ali video posted above, it was a terrible reminder to me of how much things have not changed in America, in regard to discrimination against blacks and other minorities. I've been called everything from "
slave
" to "
nigger
" in America and in modern times.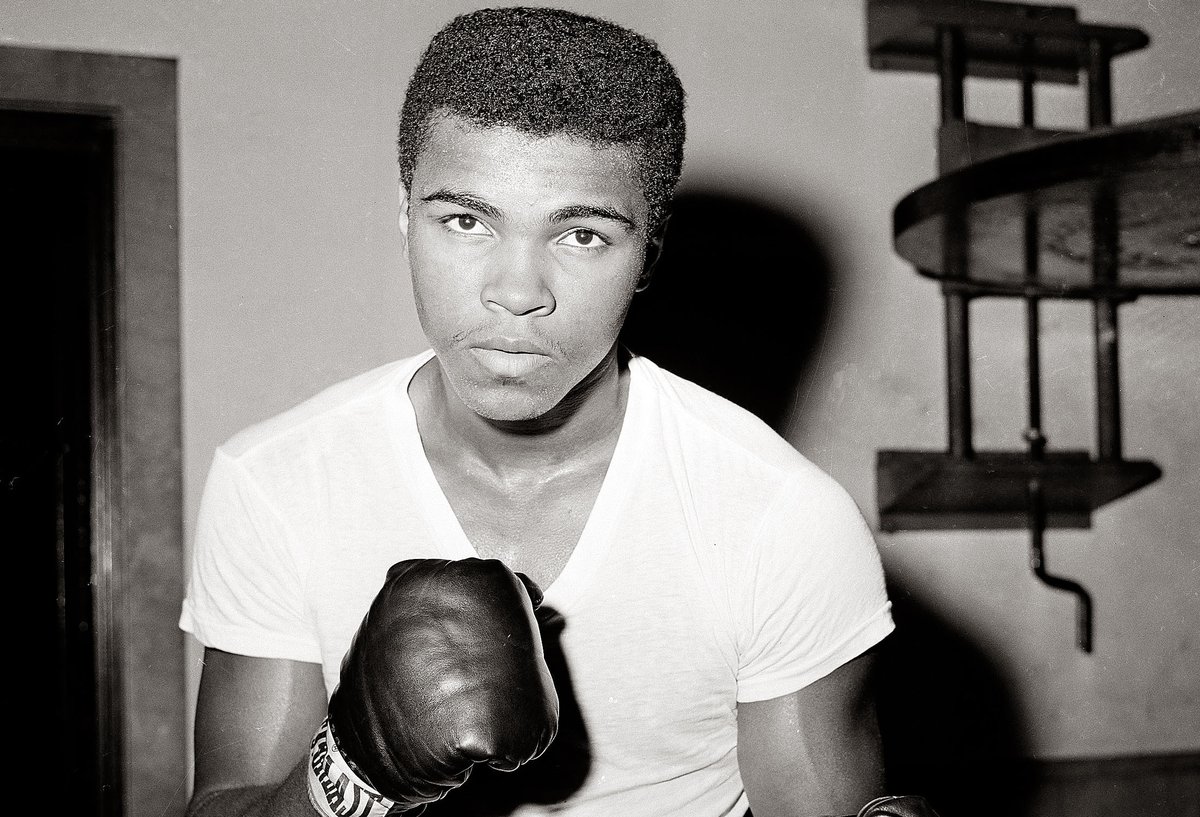 Muhammad Ali
Ali and I do not share the same religion. Ali was a Muslim and I am a Christian. Ali leaned more towards the ways of Malcolm X (black power), whereas I embrace the ideas of Martin Luther King Jr (equality for all races and all men are created equal). I don't share Ali's views on the English, as seen in the video posted above. However, Ali and I do agree on this - America has a massive problem with racism and discrimination. After all this time you would think things have changed, but sadly it's the same. The U.S. government and Wall Street have an ingrained contempt for minorities that manifests itself in discriminatory abuses and mistreatment.
Ali was brave to stand up for civil rights. He was unjustly stripped of his boxing titles and sentenced to 5-years in prison, for being a peaceful man who objected to the war and abuses against minorities. Ali's sentence was later overturned. Some may not understand Ali's anger in that video, but in his day blacks were being openly lynched, attacked with dogs, not allowed to eat in most restaurants, as they were "whites only" establishments.
Ali was repeatedly told at restaurants "we don't serve niggers" or "we don't serve negroes" - even after he won a gold medal for America in the Olympics. Now, there are mainstream reports of racist waiters and waitresses writing "nigger" or "nigga" on black people's receipts at restaurants. An improvement to some degree, but still disgusting nonetheless. I was a waitress for several months when I was 21-years-old and I never wrote anything on anyone's receipt. It's not necessary. You have to go out of your way to do that, which shows it is intentional when someone writes "nigger" or "nigga" on a restaurant receipt.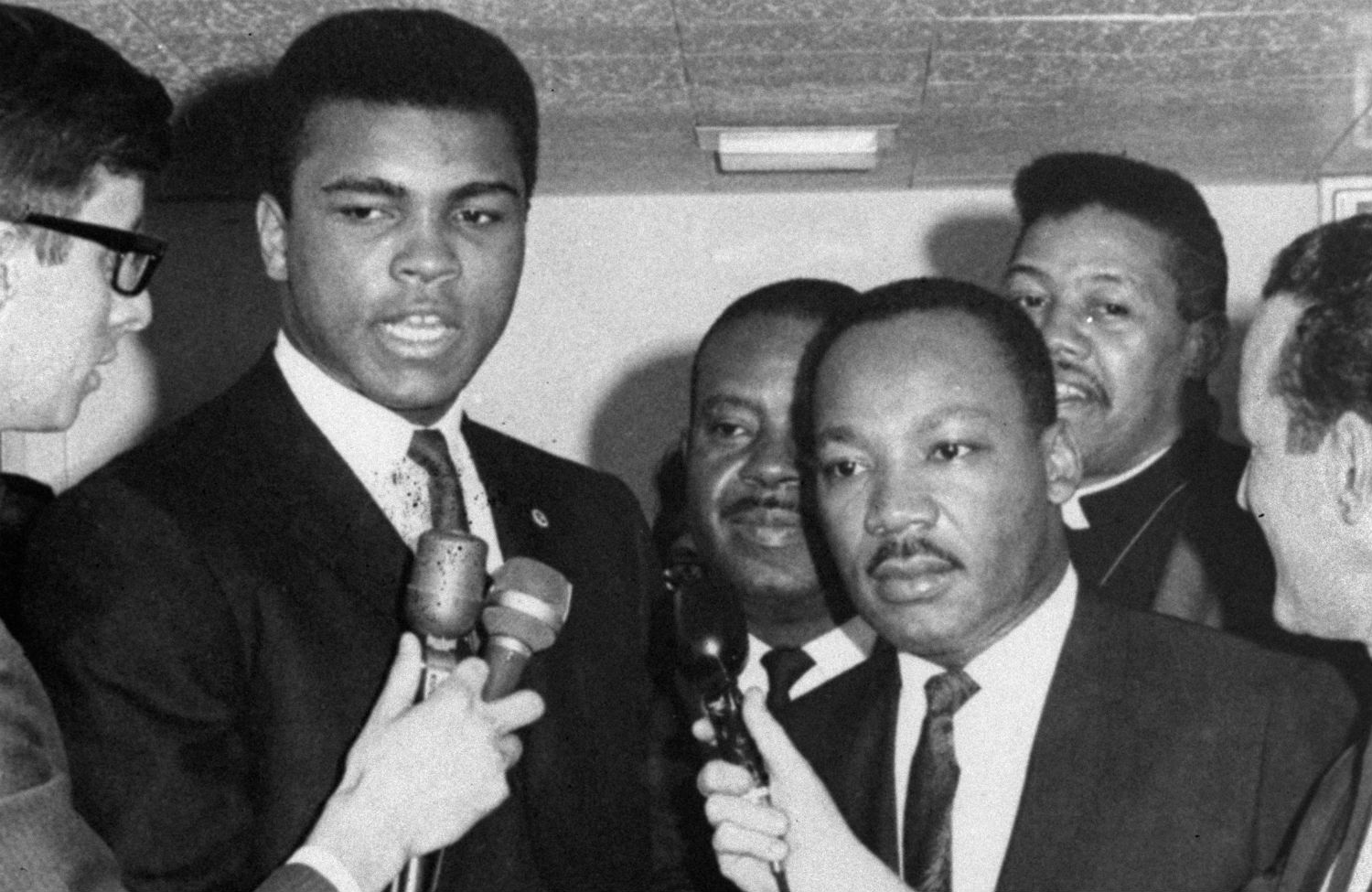 Muhammad Ali and Martin Luther King Jr
I love people of all races. I would marry a white man in a heartbeat and color wouldn't even be a consideration. I am not a prejudice person. However, I am not a person who is in denial, as there are serious problems in America that need to be addressed. Black people are being discriminated against, abused and in some cases murdered in racially motivated killings.
It's amazing how some of the same people in the U.S. government in the 1960s who vehemently opposed Ali and treated him like dirt are now applauding him as a hero, when he never changed his stance on human rights. Why does the U.S. government keep abusing people who go on to become legends. Why is it outstanding Americans who stand up for freedom and justice are more appreciated in the international community than by the U.S. government, who constantly keeps terrible, invasive files on them at the CIA and FBI.
Then when the legend dies, the FBI and CIA are quick to destroy some of the illegal files that are subject to FOIA requests, while heavily redacting others that shows the contempt and abuse they leveled at innocent Americans, who spoke the truth and took a stance against injustice and abuse by the government. So, you can go ahead and continue to hide the disgraceful, invasive, malicious Ali files at the FBI and CIA, but make no mistake, we saw what you did to him and will remember it.
Much like they keep hiding the Martin Luther King Jr files after they had him set up, spied on, assaulted, arrested and murdered (former FBI agents have stated the FBI murdered Martin Luther King Jr). Congress claims they have been trying to pass legislation regarding ordering the FBI to release Ali's full file, but corruptly have not done so. Yet they can quickly pass resolutions about eating fried chicken in Congress.
RELATED READING

Restaurant Claims Printing the N-Word on a Receipt Was a 'Joke'
Dec 15, 2014, 3:00p - The restaurant owner claims "no malice was intended." People really need to stop writing controversial/insulting/racist things on receipts: According to The Patriot News, one Pennsylvania man was shocked when he found the N-word on his receipt instead of his name.
Marquis Moore was about to eat an order of wings he had ordered for take-out from Zembie's Sports Tavern in Harrisburg when he noticed that the term "nigga" was printed near the check number.
Moore tells the paper that he is insulted and "will never go back" to the restaurant: "It makes me feel like I'm just low... nigga is an ignorant, disrespectful person. It has nothing to do with your skin color. What would possess you to put something like that on a piece of paper? You don't even know who I am."
The owner of the restaurant, Angelo Karagiannis, claims the incident was just a "misunderstanding," and that "no malice was intended." (Since when is that word an acceptable joke?) Karagiannis even falls back on the good old "we're can't be racist because we have black customers" excuse: "We have a Redskins fan club and every week there are 12-15 black guys who come in to watch the games. We are not racist at all and serve anyone."
http://www.eater.com
New Orleans Restaurant Employee Fired After Typing "Nigger" on Receipt Given to Neville Brothers' Sibling
May 22, 2015 - A member of one of the most famous musical families in New Orleans received a racially insulting message on her lunch receipt. Multiple news sources report Gaynielle Neville posted a photo of her receipt from Huck Finn's Cafe after she visited the restaurant Thursday afternoon. The type receipt used the N-word and said "100 percent dislike."
Huck Finn's Cafe posted a statement on its website apologizing for the actions of the employee, who was immediately fired. Neville is a sibling to The Neville Brothers, an R&B, soul and funk group, which has been performing since 1977.
September 13, 2012 at 2 p.m. - From 'Chinx' to 'Mc StinkyNigger': Five Racist Restaurant Receipts. Here we go again. Another restaurant, another racist receipt. This time, it was found at a Hooters in Queens. In the space reserved for the customer's name, an employee typed out the word "Chinx" to identify a Korean American couple. According to NBCNewYork.com, the couple noticed the hostess and another employee standing at the computer giggling and "gawking at them." Now the man, Kisuk Cha, is suing for racial discrimination.
It's the latest in a string of similar WTF incidents around the country, two right here in OC. Ah, the (not-so-distant) memories. Let's look back at the stupidity, shall we? "Mc Stinkynigger," "Mc Nigsh*t" and "Mc Cottonwood" at Landmark Steakhouse. From 'Chinx' to 'Mc StinkyNigger': Five Racist Restaurant Receipts. African American businessman Mark McHenry filed a lawsuit in OC federal court against Landmark Steakhouse in Corona del Mar after an employee repeatedly listed him on credit card receipts using the racial slurs. The employee, who never confessed, was fired and the lawsuit was settled.
Minhee Cho received this receipt at a New York City location. The image went viral when she tweeted, "Hey @PapaJohns just FYI my name isn't 'lady chinky eyes." Papa Johns apologized and fired the employee...
http://www.ocweekly.com
Did restaurant employee who wrote 'n-word' on receipt think it would slide?: Jarvis DeBerry
May 22, 2015 at 9:55 AM, updated May 22, 2015 at 2:51 PM - I have no problem with the use of the word "nigger" in Mark Twain's classic "Adventures of Huckleberry Finn," and I've decried attempts to scrub the novel clean of that epithet, but I raise my glass at the news that an employee of Huck Finn's Café was fired for writing that insult on a black customer's receipt.
What, did that employee think the black customer couldn't read? Did that employee think this was still the antebellum period and that black illiteracy was the general rule?
Even Jim stood up for himself. (I'm referring to the novel here.) He ran away to avoid being sold. Did the person who printed the racist epithet on the French Quarter restaurant's receipt think, "Black people are so docile. They take so much stuff. I can call them out their name and give them documented evidence that I did, and they won't dare report me"?
Should've read "Huckleberry Finn," I guess. Because when the title character plays a particularly mean trick on the man running away from slavery, Jim breaks all the conventional rules that prohibit black people from pushing back at white ones. He tells the boy that he's nothing but trash for doing what he did...
According to MSNBC's First Read, Republicans are peeved because Democrats are picking the menu: Domenico Montanaro: Congressional food fight? The presidential race is not the only place where change is an issue. Members of Congress returning to the Capitol this week are being confronted by transformational happenings that have shaken the building to its foundations: Democrats have hired a new company to run cafeteria services. Naturally, this has caused an outbreak of partisan skirmishing.
"I like real food," proclaimed Republican leader John Boehner when asked about the new menu by a producer for another cable news outfit. "Food that I can pronounce the name of."
Boehner is now forced to wrap his lips around such phrases as "broccoli rabe and shaved persimmon," "balsamic glazed butternut squash," and "calico pinto beans"…all on this afternoon's menu, along with the downright patriotic "American Regional Yankee Pot Roast," which, even Boehner would have to admit, kind of rolls right off the tongue. On Fridays, there is a real sushi bar tended by a bona fide Japanese sushi chef. Gone are such grade-school cafeteria specialties as Salisbury steak and fried chicken, slathered in gravy and served with a side of chips. Debate rages among regulars about the merits of the new offerings. One consensus downside: the prices have gone upscale right along with the fare.
The company that Nancy Pelosi and her people have hired has a mandate to "Go Green," complete with a mission statement posted outside the cafeteria on an eco-friendly LCD screen and a requirement to buy carbon offsets. Boehner doesn't think much of that either. "It reminds me of the Catholic Church in the Middle Ages, when we had indulgences," says Boehner of the offsets. Perhaps he will nail his theses to the cafeteria door. We'll ask for a photo-op if he does.