Gay For Pay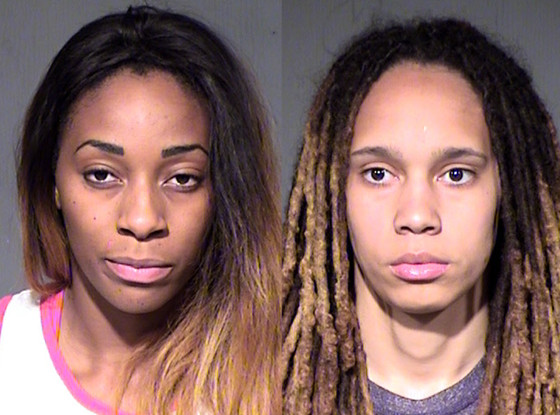 Glory Johnson and Brittney Griner

WNBA female basketball players, Brittney Griner and Glory Johnson, dated in 2014. Griner pursued a then heterosexual Johnson. They were arrested for domestic violence, on charges of assault and disorderly conduct. The fight was so bad, a second person present in the home, "Couldn't pull them apart." Both women had cuts. Griner also had bite marks. Johnson had a busted lip. After police observed injuries on the two women, when responding to a 911 call from a third party, regarding an incident of violence taking place, they were arrested on the aforementioned charges.
Shortly after the domestic violence incident, the women got married, Johnson underwent IVF treatments and her eggs were artificially inseminated with the sperm of a donor. Johnson's twins were born prematurely, weighing 1 pound each and experiencing significant, ongoing health problems. The marriage only lasted 28-days. They filed for divorce, with Johnson asking the court for the house, Mercedes and $20,000 per month in spousal support, as Griner makes much more money.
Now comes word Johnson is straight again and dating a man named Christopher Fry, who is from her home. During their short lived relationship, Griner tried to convert Johnson to lesbianism. However, it didn't truly work, as Griner ended up accusing Johnson in court papers of cheating with an ex-boyfriend, a fact she discovered via reading her text messages. Johnson was quoted as stating, "Not a lot of people understand it. They wanted me to be a lesbian who converted from being straight. It just doesn't work for me like that."
Johnson is like David Furnish, the partner of singer, Elton John. Furnish was heterosexual, but reveals when John took him to his mansion and he saw the entertainer's lavish lifestyle, they began dating. Some people are gay for pay.
STORY SOURCE

EXCLUSIVE: Women's basketball star finds love with hometown boy - after splitting from her WIFE of 28 days amid claims of domestic abuse before their twins were born
Published: 12:21 EST, 24 May 2016 | Updated: 02:40 EST, 25 May 2016 - A female basketball star has emerged after an acrimonious divorce from her ex-wife and found love with a new boyfriend. Women's NBA player Glory Johnson, 25, split from spouse and fellow player, Brittney Griner, 25, on June 5 last year after a 28-day marriage. The announcement came as a shock to fans as the day before, Johnson revealed the couple were expecting twins following IVF treatment using her egg and a donor's sperm. Amid a very public divorce battle, Johnson gave birth to twin girls, Ava Simone and Solei Diem, on October 12.
The babies were 15 weeks premature and each weighed only 1lb 70z when they were born. After a number of health complications, including undergoing heart surgery, they were able to leave hospital on February 1. Now, Daily Mail Online can reveal that after a tumultuous year, Johnson has found happiness with 30-year-old Christopher Fry, who lives in Seymour, Tennessee - a short distance from her family home in Knoxville. According to a police report, Griner told officers the couple had been arguing constantly and got in each other's faces after Griner said Johnson 'disrespected' her...
Griner admitted she had been part of plans to have children but in revised court documents she accused Johnson of texting an ex-boyfriend and sleeping with a man, who may or may not have been her ex, after the couple became engaged...