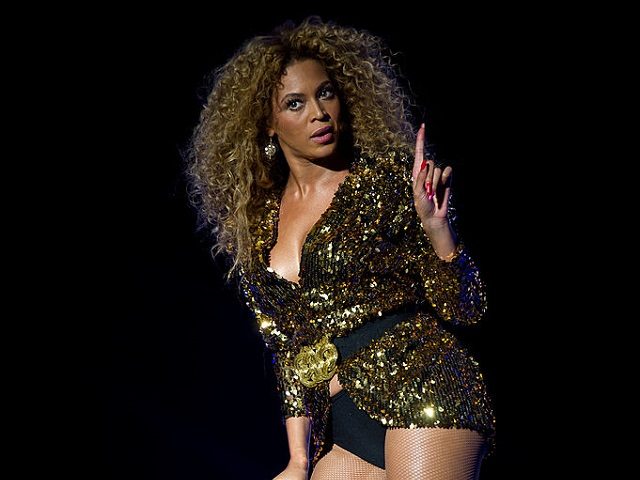 Beyonce

Radar Online website asked if self-professed "Queen Bey" is "losing her spot on the throne." First of all, there's only one queen in music and that's Aretha Franklin. Therefore, Beyonce needs to have a seat with that garbage. Secondly, Radar asked the question due to the fact Beyonce's new "Formation" tour is flopping. Beyonce has cancelled her Nashville, Tennessee tour date due to poor ticket sales. The Sandra Rose website reports, Beyonce performed to a "half empty stadium of less enthusiastic fans" in Atlanta, Georgia. The fact of the matter is many dates on the "Formation" tour are not sold out. A tour is not sold out when people can easily go online and buy tickets. Sales are weak.
Things are not looking well on the album front either. Beyonce's poorly written "Lemonade" album is doing less than half the number in sales of her previous 2013 self-titled album. Beyonce's 2013 album sold 1,000,000 in its debut week. "Lemonade" is on course to sell 485,000 in its debut week. Ironically, those figures include music streaming and due to the brazen dishonesty via sales tampering that repeatedly occurs at Tidal, a company she co-owns with husband Jay Z, the number is even less than the released data.
Beyonce and her cheating husband Jay Z are overexposed. It's just too much of them. They are in your face all the time. People are also tired of the treacherous couple constantly stealing copyrighted material from a number of people to prop up their careers. They have been hit with so many lawsuits that the public routinely mocks them online as "thieves" and "swagger jackers." Jay Z and Beyonce are so bold with the thefts, they are not even bothering to fully remove the original singers' vocals anymore. People are complaining all over social networking about the constant thefts. It's hurting their sales.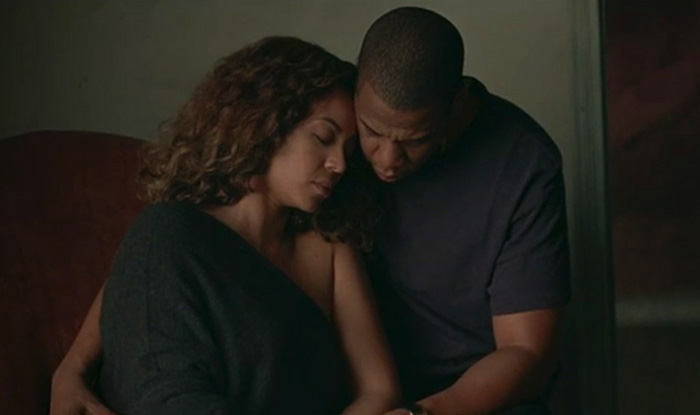 Jay Z and Beyonce

Beyonce using her marriage problems in including items on "Lemonade" about Jay Z's rampant infidelity has also not gone over well. The public realizing the couple's relationship is not what it appears. Beyonce's uncle insisted she married Jay Z as a business arrangement, deeming him "ugly." Jay Z married Beyonce for bragging rights, while cheating with his artist Rihanna, then Rita Ora as well (among others). The marriage is a sham (
Twitter Calls Jay Z Too 'Ugly' To Cheat On Beyonce
). The public needs to get better role models.
It's jarring the way some are holding on to the couple's relationship for dear life, when they have nothing to do with it. A few have become so obsessed they have completely detached from reality. A woman started a Beyonce cult, then created an altar full of Beyonce items and killed herself in front of it (23-year-old Taniya Hattersfield). Some are threatening to beat and kill Jay Z's mistresses. This is all going too far and over people you don't know, who don't care about you. They just want your money via buying their stolen products.
I read a strange and deluded item on social networking stating everyone has the same 24-hours in each day that Beyonce does, which I found hilarious. What does Beyonce do with her days, other than sit on her butt and steal from others, illegally taking payment and credit for things she did not do. Anyone can seem like they're winning doing that. However, God doesn't like ugly and there's always a price to pay for doing such things that does not make it worth it in the longrun.
STORY SOURCE

Did Beyoncé's 'Lemonade' Album Flop? Low First-Week Sales Despite 'Formation' Social Media Hype

May 2, 2016 - Did Beyoncé's decision to talk about her marital problems with Jay Z backfire as far as her music is concerned? It appears so. After HBO hyped up the mysterious TV special of what became Beyoncé's album release in the form of a televised movie, it appeared as if everybody couldn't hide their excitement for some new music from Queen Bey herself.
But despite having caused all this controversy with the divorce-inspired songs, the HBO special, and a devoted fanbase (who helped keep the hashtag #Lemonade trending for several days), when the album's first-week sales were officially confirmed, they weren't that groundbreaking, to say the least. Beyonce's Lemonade only managed to sell 653,000 copies in its first week — 485,000 when you exclude the Tidal streaming numbers, which is puzzling considering all the work Beyoncé put into the project in order to see it follow in the footsteps of her previous self-titled record.
Posted on May 2, 2016 @ 11:32AM - Beyoncé SHOCKS With Low Album Sales For 'Lemonade,' Cancels Upcoming Concert. The singer's world tour ticket sales have reportedly dropped too. Is Queen Bey losing her spot on the throne? After launching her Formation World Tour last week in Miami, the 34-year-old swiftly canceled an upcoming concert in Nashville. The star's team failed to answer why she chose to pull the plug on such short notice, but speculation has mounted that the decision came after the Nashville show, unlike other cities, wasn't sold out...

Beyonce Plays to Half-Empty Stadium in Atlanta; Cancels Nashville Concert Due to Slow Ticket Sales
Monday, May 2, 2016 - Reports coming out of Atlanta claim pop star Beyonce performed to a half empty stadium of less than enthusiastic fans on Sunday. The much-hyped Formation World Tour rolled into Altanta's Georgia Dome which seats 50,000 people. It took 6 days to set up Bey's elaborate stages which include a massive lighting and sound system, moving stages and a plexiglass walkway.
Maybe the rain and bumper-to-bumper traffic are to blame for the half empty stadium in Atlanta? The "Hold Up" singer cancelled her May 5 Nashville concert last week after reports suggest she failed to sell out the Nissan Stadium. Her camp blamed "construction" at the Nissan Stadium. But stadium officials tweeted Saturday that they were "ready and able to host the May 5 Beyoncé show"...
A 23-year-old American woman committed suicide in sacrifice to the singer Beyonce who she considered "lord and saviour", Pulse reports. US music star Beyonce Knowles is not only the singer admired by millions of people from all over the world, but also an object of worship by a group of people, the followers of National Church of Bey.
The newly-made religion is called Beyism. The church counts hundreds of members, who call themselves Divine Divas and consider Bey's music sacred. The deceased, Taniya Hattersfield, was reportedly a new member of the church. According to the local media, her dead body was found in the basement of her family home, College Park, Georgia, surrounded by a self-made shrine dedicated to the star.
Taniya's suicide note read that she made herself a sacrifice to her Beyonce, 'lord and saviour'. Incident caused rage among people, who urged the singer to speak against Beyism. However, no reaction is said to have followed. Meanwhile the church founder claims the number of its followers increases.