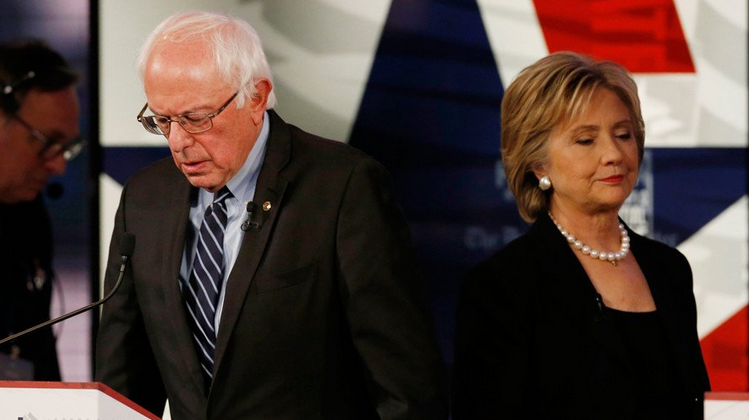 Bernie Sanders (left) and political rival Hillary Clinton (right). The 2016 U.S. Presidential election is being rigged for Clinton to win the presidency.
For the past few years, Americans have steadily been complaining online on a number of websites that the U.S. Presidential election is being rigged, as for the past three decades all of the winners have been related. According to genealogists George Bush, George Bush Jr, Dick Cheney, Bill Clinton, Hillary Clinton and Barack Obama are related, which has many Americans thinking and publicly stating online there is some sinister, insane Illuminati madness going on that this keeps happening (see external article excerpt below).
The current election has all the signs of being tampered with and rigged, as attested by news developments and mainstream articles. Case in point is Democrat, Bernie Sanders, has been the victim of election fraud in the U.S. states of Colorado and the District of Columbia (DC). Sanders name was left off the ballot in D.C. and another error was made in Colorado which cost him a "key delegate."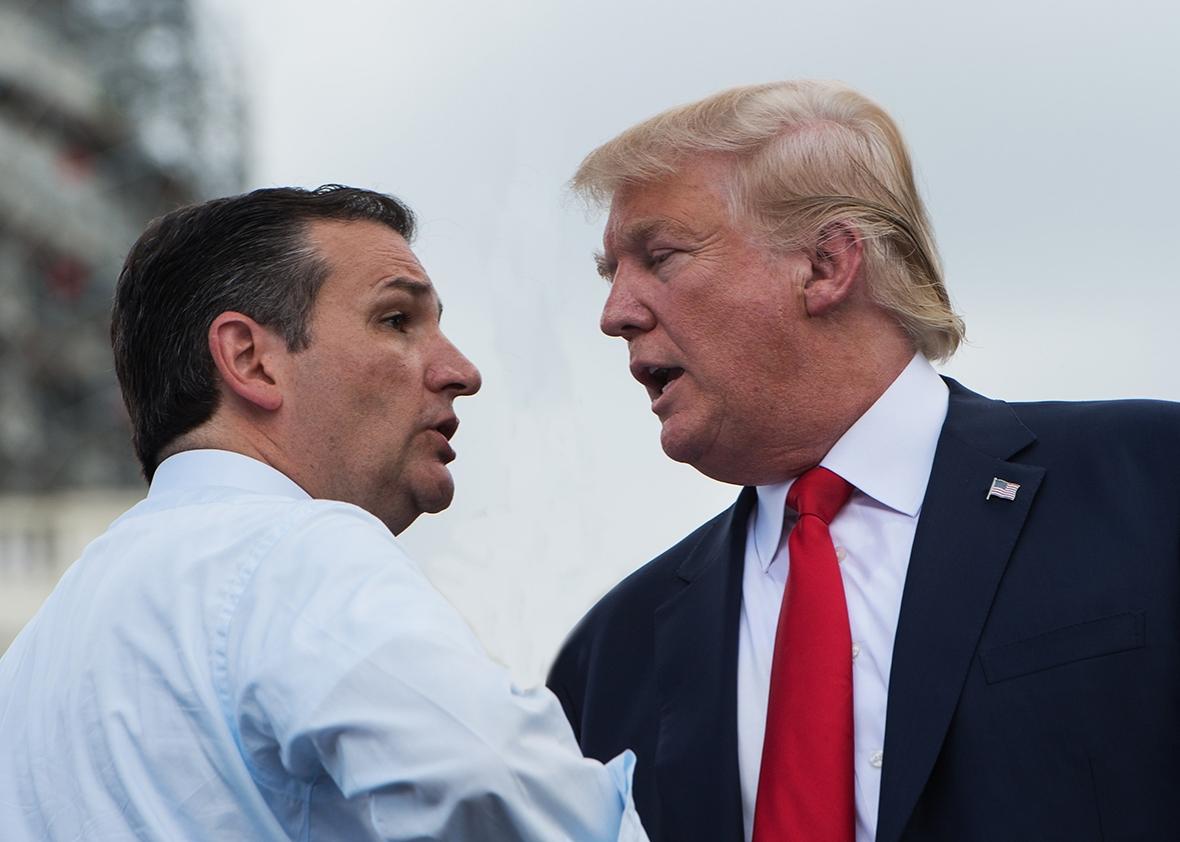 Ted Cruz (left) and Donald Trump (right)

Another example is Republican, Donald Trump, who has consistently won most of the votes, but due to election rigging delegates are going to rival, Ted Cruz, whom the establishment prefers. While the Judiciary Report does not agree with the racist and xenophobic statements Donald Trump has been making (and he used to be better than that) he has the right to free speech. Much like the American people have the right to vote for whomever they chose for president, including Trump. If Trump is who the American people want, that's who the American people should get.
It looks thoroughly dishonest and reprehensible to rig an election. That's not democracy. That's corruption and a dictatorship. The nation and the world are watching. Those involved in rigging the election should be ashamed of themselves. It's disgraceful and comes across as a pathetic and desperate power grab. The last person who stole the election (twice) is George W. Bush and that turned into massive disgrace and mass deaths.
STORY SOURCE

Colorado Democrats admit mistake that cost Bernie Sanders key delegate
Posted: 04/12/2016 05:01:00 AM MDT506 Comments | Updated: about 12 hours ago - Bernie Sanders won one more delegate in Colorado than first projected after the Colorado Democratic Party admitted this week that it misreported the March 1 caucus results from 10 precinct locations. The party discovered the discrepancy a week after the caucus but did not correct the public record. Hillary Clinton's campaign discussed the error with state party officials last week, but the Sanders campaign apparently didn't realize the issue until being informed Monday evening by The Denver Post.
The mistake is a minor shift with major implications. The new projection now shows the Vermont senator winning 39 delegates in Colorado, compared to 27 for Clinton. Even if Clinton wins all 12 superdelegates in the state, Sanders can finish no worse than a split decision. The new count contrasts with prior projections from The Post, Bloomberg Politics and The Associated Press that indicated Clinton would probably win the majority of the 78 delegates in Colorado because of her support from party leaders with superdelegate status...
http://www.denverpost.com
EXCLUSIVE — Trump Campaign: Cruz Staged 'Attack' In Georgia To Steal Delegates…'Not Grassroots Activism'
17 Apr 2016 - The Donald Trump campaign is accusing the Sen. Ted Cruz (R-TX) campaign of staging a coordinated "attack" in Georgia that led to pro-Trump delegate candidates being challenged and deposed in every corner of the state, which Trump had won resoundingly in the primary. "Private backroom nominations committees producing 'recommended' slates, county delegations voting in blocs, floor motions made targeting our supporters," Trump national delegate director Brian Jack claimed, in an exclusive interview with Breitbart News. "This is the machine politics we read about in school, not the grassroots activism our campaign encourages." Trump supporters walked out of the district convention in Buford Saturday after a Cruz-Sen. Marco Rubio (R-FL).
Because of an error by the D.C. Democratic Party, Sen. Bernard Sanders' name is not on the ballot, according to a report by WRC-TV, the local NBC affiliate. Both the Vermont senator's team and the campaign of rival Hillary Clinton submitted the required $2,500 registration fee and other paperwork, but the party did not notify the D.C. Board of Elections by a key deadline.
The registration deadline was March 16, but the party did not send the board Mr. Sanders' registration information until the 17th, according to the affiliate. As a result of this error, Mr. Sanders' eligibility to appear on the ballot is being contested. Confusion appeared to reign late Wednesday over just what happened and whether it could be fixed.
D.C. Democratic Party Chairwoman Anita Bonds told The Washington Times that the party's primary plan, which included the paperwork for all candidates, was submitted by 7 p.m. on the 16th, per the rules of the Democratic National Committee. But the D.C. Board of Elections offices closes at 4:45 p.m. Ms. Bonds said the extended hours for submission is permitted and has been acknowledged. She also said that "clarifying legislation" could be passed by the board or the D.C. City Council soon to resolve any disputes.
When asked, Ms. Bonds said she did not know why WRC would report, based on the party's missing a deadline to submit all paperwork, that Mr. Sanders' name was left off the ballot but not Mrs. Clinton's. She did tell The Times that there is at least one outstanding citizen-challenge to Mr. Sanders' eligibility to be on the ballot...
APRIL 17, 2016 - Insisting that the delegate selection process is "corrupt and crooked," Donald J. Trump offered a vivid example on Sunday to prove his point. "Look, nobody has better toys than I do," he told reporters at a hotel on Staten Island, where he pressed his case that the system was rigged against him. "I can put them in the best planes and bring them to the best resorts anywhere in the world."
But Mr. Trump said that was unseemly. "You're basically buying these people," he added. "You're basically saying, 'Delegate, listen, we're going to send you to Mar-a-Lago on a Boeing 757, you're going to use the spa, you're going to this, you're going to that, we want your vote.' That's a corrupt system."
Mr. Trump's comments were the latest salvo in an escalating war against the Republican National Committee over how delegates were being selected in the presidential race. On Sunday, two days before New York's primaries, Mr. Trump was the only Republican presidential candidate to campaign in the state, where polls showed him with a wide lead.
During his visit to Staten Island, a stronghold of his support, he accepted an award from the New York Veteran Police Association and spoke at a party brunch. At a rally in Poughkeepsie, he berated party officials once again. Still, speaking to reporters on Staten Island, Mr. Trump said he hoped that the July convention "doesn't involve violence." "And I don't think it will," he said. "But I will say this: It's a rigged system. It's a crooked system. It's 100 percent crooked."...
Tuesday 25 March 2008 20.35 EDT last modified on Thursday 7 January 2016 07.19 EST - Barack Obama often jokes in his campaign speeches about a genealogical survey last year that found he is a distant cousin of Dick Cheney. Now there is more bad news for Obama: a study published yesterday found he is related to George Bush as well. Researchers at the New England Historic Genealogical Society, founded in 1845, said Obama, the son of a white woman from Kansas and a black man from Kenya, can call six US presidents his cousins: both Bushes, Gerald Ford, Lyndon Johnson, Harry Truman and James Madison. The society, a non-profit organisation, found he is also related to Churchill.
8:55PM GMT 25 Mar 2008 - Genealogists have claimed that Hillary Clinton and Barack Obama share an unlikely kinship with one of Hollywood's most glamorous couples. The New England Historic Genealogical Society reported that Mr Obama is a distant cousin of actor Brad Pitt, while Mrs Clinton is related to Pitt's girlfriend, Angelina Jolie. Releasing the findings of a three-year-long study, the society issued a bizarre - if intriguing - array of blood ties between the presidential candidates and the great and the good on both sides of the Atlantic.