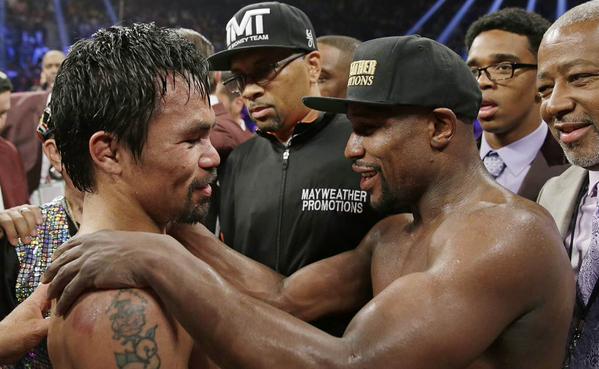 Manny Pacquiao and Floyd Mayweather after historic May 2, 2015 fight
A waiter in Los Angeles, Gabriel Salvador, has sued boxer Manny Pacquiao, his trainer Freddie Roach, CBS and Showtime, alleging breach of contract. Salvador states he arranged a meeting with Roach and CBS executive, Les Moonves, which led to the most lucrative boxing match in history, 2015's Mayweather vs. Pacquiao. The fight grossed over $600,000,000. Salvador wants a "2% finders fee" of $8,600,000. That figure, much like Kim Kardashian's butt, is artificially inflated and preposterous.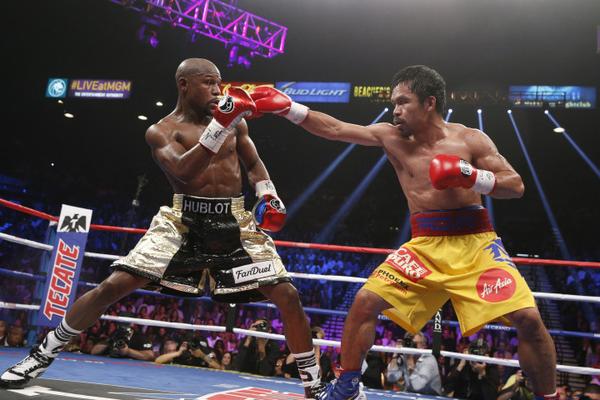 Floyd Mayweather and Manny Pacquiao
It is highly unusual and unorthodox that a trainer or television executive would make an oral agreement of that nature, with a waiter, guarantying a percent of profits from a project. Salvador is asking for more money than most boxers make in a lifetime (and the waiter didn't even throw a punch in the ring). It's just too much for a non-party to the fight. As a token of goodwill, they could give Salvador $50,000. However, it should be noted they gave Salvador $10,000, tickets to the fight, a first class airplane ticket and hotel accommodations, which was reasonable. It's not like they told him to go kick rocks. Furthermore, suing CBS and Showtime over the fight, when he is an aspiring actor wanting to work in Hollywood, is a bad idea, as they will unquestionably blacklist him.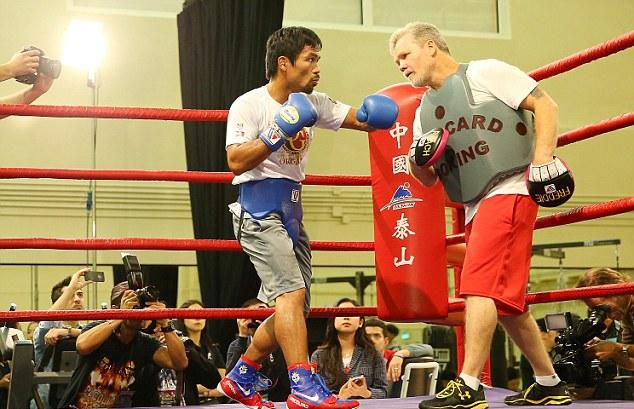 Manny Pacquiao and trainer Freddie Roach
While I'm certainly no fan of Hollywood, due to the dirty dealings that go on, I'm a fair, truthful and unbiased person. Not to be unkind, but a waiter in Hollywood does not have more influence in the entertainment and or sports industries than an accomplished trainer, who has coached world famous boxing champions, is used to television deals and has been apart of other multi-million dollar fights. That's a hard sell in court to state otherwise.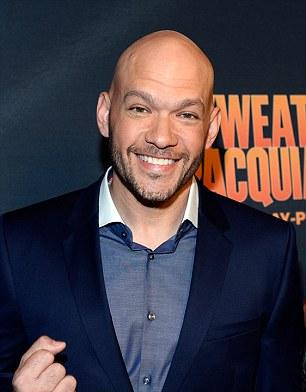 Gabriel Salvador
At the end of the day, the fight was going to be made one way or another. Mayweather was being taunted via claims he was scared of Pacquiao, but knew there was great public interest in the then potential fight. It is highly unlikely Mayweather was going to leave all that money on the table and not fight Pacquiao. Mayweather doesn't like sports pundits telling him what to do and calling him names, so he held out for a long time, being defiant.