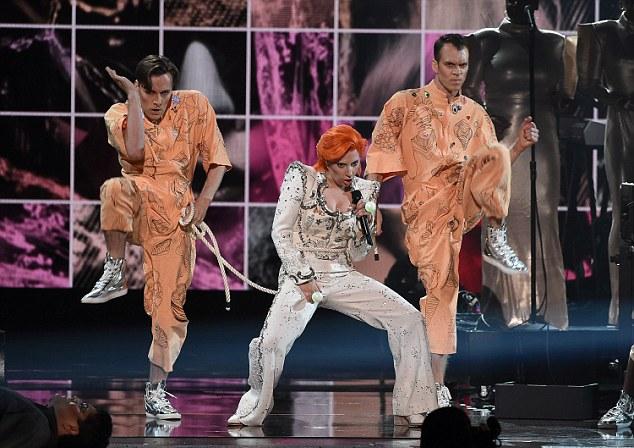 Lady Gaga as David Bowie
The Grammys are still being slammed over their telecast this past Sunday that suffered the lowest rating in 7-years. I did not watch the show (I'm boycotting them over
giving copyright infringing artists Grammys
), but I have read articles on the telecast and seen a clip on Twitter of Lady GaGa's tribute to the late music legend David Bowie.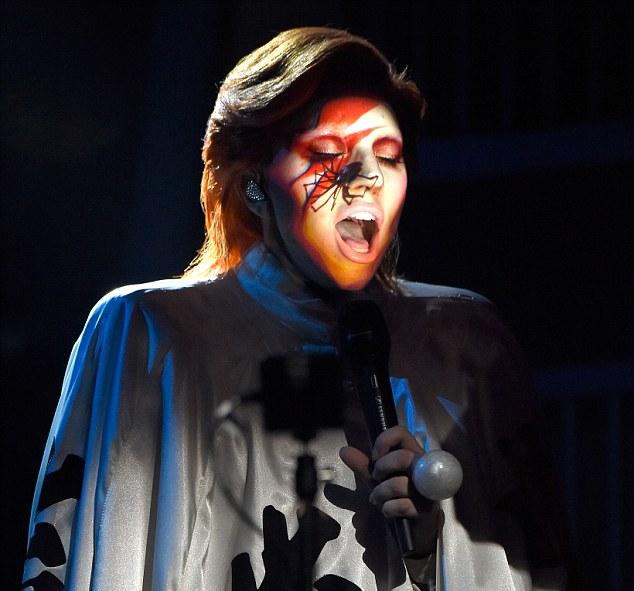 Lady Gaga as David Bowie
Lady GaGa can sing, but it would have been better had she not tried to dress like Bowie and franticly moved around the stage like an escaped mental patient. Bowie's performances were not like that. GaGa looked clumsy trying to be Bowie and the make up was amateurish and symmetrically uneven. They did not correctly recreate his look. Bowie simply didn't look that way.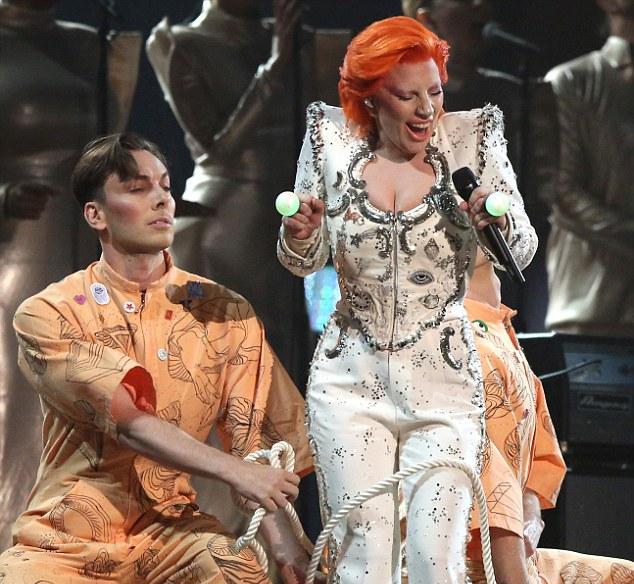 Lady Gaga as David Bowie
The Grammy committee could have allowed Gaga to do ONE song not EIGHT, which led to other tributes being scrapped. They could have also invited Bowie's friends Mick Jagger and Grace Jones to America from England to do a tribute, as they knew him and are apart of that time in music, having lived it with him during their respective hay days. The Gaga tribute was very misguided and strange to the point it even offended Bowie's son.
The family of the late music legend, Natalie Cole, has slammed the Grammy committee for omitting a tribute to the singer who died last December. As stated in previous articles, I am not of the belief the snub was racially related, as the Grammys have given many awards to minorities over the years.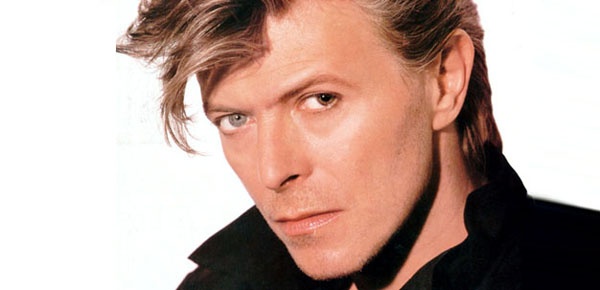 David Bowie
I remember when I was a kid Cole dominated a Grammy telecast with the song "Unforgettable" winning multiple awards for her moving duet with her deceased dad, Nat King Cole. However, the Grammys scrapped a musical tribute to Cole and others because Gaga's overindulgent 7-minute set to Bowie that audiences deemed a big commercial for her sponsor Intel, took over the show.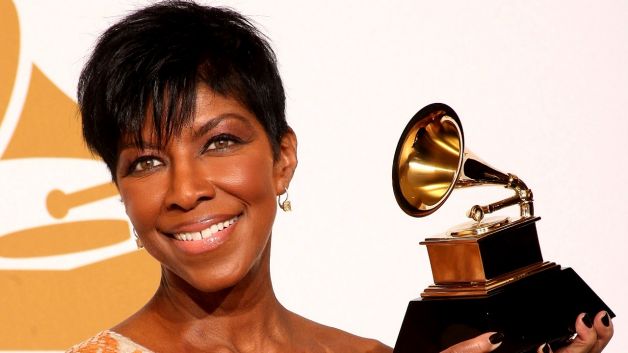 Natalie Cole won 9 Grammys in her career and received 21 nominations
No one would have been offended at such a montage and performance sequence. If they had closed out the tribute section with "After The Love Is Gone" people would have been tearful, due to the song's lyrics and tone indicating a goodbye (which audiences would be saying goodbye to the stars who had passed away).
It should be noted, the Grammys reversed their position on Maurice White, as articles reveal a musical tribute to him was added and he was awarded a posthumous lifetime achievement award. However, no musical tribute was added for Cole and they really could have shaved some of GaGa's time to do so.
STORY SOURCE

Natalie Cole's family 'outraged' over Grammy snub
Wednesday 17 February 2016 04.20 EST Last modified on Wednesday 17 February 2016 04.24 EST - Natalie Cole's family have shared their disappointment following the "disrespectful tribute, or lack thereof" for the late singer at the Grammy awards this week. While Cole, who died on 31 December, was acknowledged during a short "in memoriam" montage to artists who died in the previous year, members of her family have said she deserved a longer homage.
Cole's sisters Timolin and Casey, told ET Online: "Words cannot express the outrage and utter disappointment at the disrespectful tribute, or lack thereof, to a legendary artist such as our sister." "Here is a woman who has been in the business for four decades, had 21 Grammy nominations and won nine Grammys," the singer's son, Robert Adam Yancy, said. "She deserves more than [to be a part of] a minute-and-a-half tribute." Yancy called the Grammy's brief tribute "shameless", in light of individual performances during the ceremony that were dedicated to David Bowie, the Eagles' Glenn Frey and BB King...