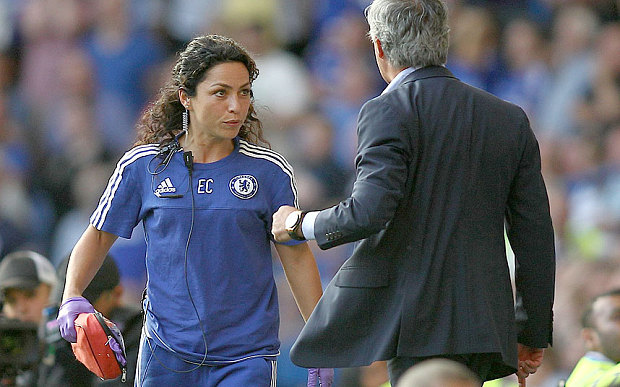 Eva Carneiro being yelled at by Jose Mourinho


This week in London, England, an employment tribunal case and separate legal proceedings commenced against Chelsea F.C. and its former manager (coach) Jose Mourinho, for dismissing the team's lead doctor, Eva Carneiro. She has brought a "constructive dismissal" claim, meaning she was dismissed (see: fired, terminated) from her post, then demoted to a secondary medical team that do not occupy the bench on match day.

Carneiro's removal from her position occurred after she and physio Jon Fearn rushed onto the pitch to treat injured footballer, Eden Hazard, during this season's opening day match. After treating Hazard, they escorted him off the pitch. Mourinho became enraged that one of his main footballers was no longer in the match and the team was temporarily left with nine men on the pitch.

Mourinho was accused of yelling sexist slurs at Carneiro in front of rolling cameras covering the match. He later branded her "impulsive and naïve." Carneiro's dismissal from her position as lead doctor due to the demotion, meant she lost the coveted post on the first medical team, prompting her to leave Chelsea shortly after. In an ironic twist, Chelsea, who are the reigning champs of the Premier League, are having an awful season, prompting the club's owner to fire Mourinho over the Christmas season. What goes around comes around. What Mourinho did to Carneiro has befallen him.





Jose Mourinho


ITV News is reporting, "Carneiro has also had backing from FIFA's medical chairman Michel D'Hooghe, who contacted the doctor to offer his support and that of the world governing body. He has backed Carneiro's insistence that she was simply doing her job." Social media comments by the public also reveal support for Carneiro.

In another ironic twist, after Mourinho's sacking, the team began playing better. Some are accusing the Chelsea squad of being so unhappy working with Mourinho, that they deliberately played badly to get him fired. It is a difficult accusation to prove, as Mourinho has been very surly and verbally abusive with the squad, Careniro (and for all to see during his vitriolic outburst) and other Premier League managers, such as Arsenal's Arsene Wenger. It can be argued the Chelsea squad became dispirited and played badly due to Mourinho's conduct. Humility is important in life.

Mourinho is a very accomplished manager. However, he is having problems in his personal life and took it out on the squad and other Chelsea employees. As difficult as it may be, one must separate one's personal problems from one's business life. When the unprovoked insults are spiteful and cruel, they are deemed personal attacks. Football is fun and full of good-natured ribbing. Things should not reach the levels of animus Mourinho ventured into during his tenure at Chelsea.

On another note, Hazard was also billed as the next big footballer, but it has not materialized, indicating he needs more assistance in his development. This happens sometimes when great expectations are placed on athletes. Being a top athlete requires skill, mental grit and the ability to play under pressure. One must follow through on the initiative.

Being a football manager is not easy either. To be great at it you have to be a fair disciplinarian, planner, strategist, instructor and motivator in what will be a cycle of wins and losses. There's nothing wrong with being a disciplinarian, regarding maintaining proper rules and codes of conduct for a team, but when it ventures into mean-spirited verbal abuse and venomous conduct, a manager will lose his audience that is the squad. When you break people's spirit, they are not going to give you their best. Correct them on what they did wrong, but compliment them on what they did right. There needs to be a balance. Be fair.

In closing, no manager is greater than the squad. No footballer is greater than the squad. To get the best results, the manager and squad must function as an equal whole.





STORY SOURCE




Ex-Chelsea doctor Eva Carneiro set for constructive dismissal tribunal hearing


5 January 2016 at 4:19pm - Former Chelsea team doctor Eva Carneiro's constructive dismissal case against the club will have its first tribunal hearing on Wednesday. The preliminary hearing will take place at the London South Employment Tribunal in Croydon, and is expected to be in private before an employment judge.

The hearing will fix the timetable for the case, and deal with witness statements and disclosure of documents - including texts and emails - by each side, as well as any legal procedural disputes that current exist between the two parties...Chelsea filed their defence in the case last month. Carneiro also has a separate personal legal action against former Chelsea manager Jose Mourinho, who left the club in December, for alleged victimisation and discrimination.

The 42-year-old doctor was dropped from first-team duties after Mourinho criticised her and the first-team physio Jon Fearn for going onto the pitch to treat Eden Hazard on the opening day of the season. The action meant that Chelsea were temporarily down to nine men against Swansea, and afterwards Mourinho called Carneiro and Fearn ''impulsive and naive''. Carneiro did not appear on the bench again for first-team duties and later parted company with the club...








RELATED ARTICLE