Steve Harvey announces the wrong Miss Universe:
Actor/comedian Steve Harvey, made a massive error in announcing the new Miss Universe at the pageant this past Sunday in Las Vegas. Harvey stated the new Miss Universe is Miss Colombia, Ariadna Gutierrez, when the winner was actually Miss Philippines, Pia Wurtzbach. In an awkward scene, live on air, the crown was removed from Miss Colombia's head and placed on Miss Philippines.
Steve Harvey blames mix up on the teleprompter:
It has made the news all over the world and has become the source of intense laughter on social networking. Harvey later apologized to Miss Philippines for the blunder he blamed on the teleprompter. Harvey revealed the teleprompter stated Miss Colombia, but the paper he was given stated Miss Philippines.
Miss Germany's reaction is being heavily criticized on Twitter:
People online are crying foul, stating the incident is a cruel publicity stunt, as U.S. presidential candidate, Donald Trump owns the Miss Universe pageant and had a global scandal with the previous contest (
Global Backlash As Miss Jamaica Places 5th In The Miss Universe Pageant
). Some believe the incident was orchestrated for ratings at the expense of Harvey, Miss Philippines and Miss Colombia.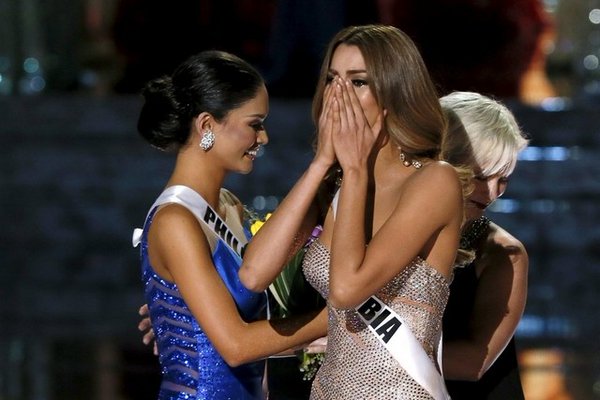 Miss Philippines (left) being given the flowers that had been given to Miss Colombia moments prior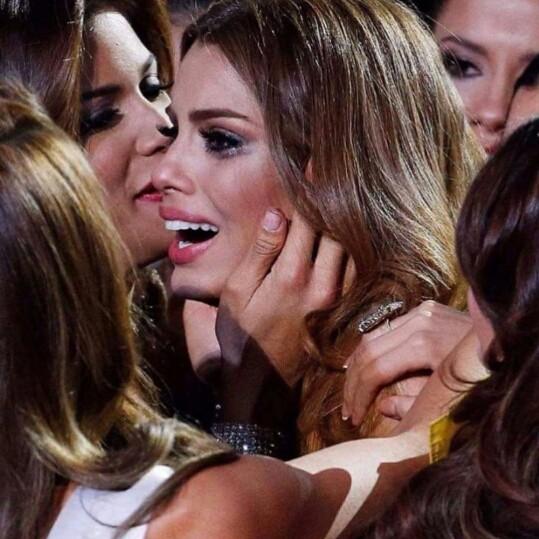 Miss Colombia crying after crown removed from her head and flowers taken back
Then another controversy erupted online when Miss Germany, Sarah Lorraine, made comments in a video interview about Miss Philippines that were slammed all over social networking. Miss Germany began to trend on the social networking website Twitter for all the wrong reasons, as people lashed out at her comments.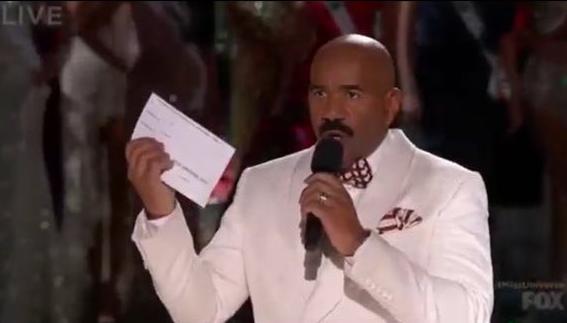 Steve Harvey realizing the error of having crowned the wrong woman
Photos also emerged of poor Miss Colombia devastated and crying. It is understandable under the circumstances, as that was a traumatic shock to sustain. However, she needs to spin this thing into gold, by getting commercials that spoof or poke fun at what happened at the pageant. I also feel sorry for Miss Philippines, as her moment was somewhat ruined.
Steve Harvey's apology on Twitter: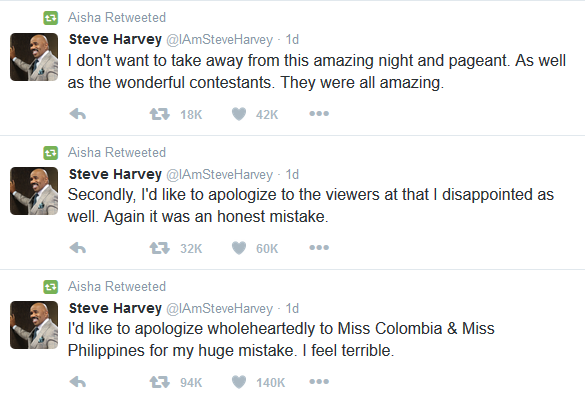 It was a sad mix up, but it is better to laugh at it than cry. Here are some of the funnier tweets on Twitter about the pageant: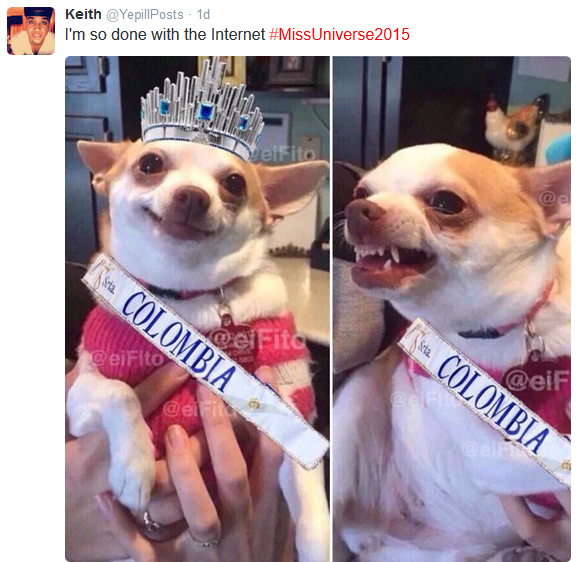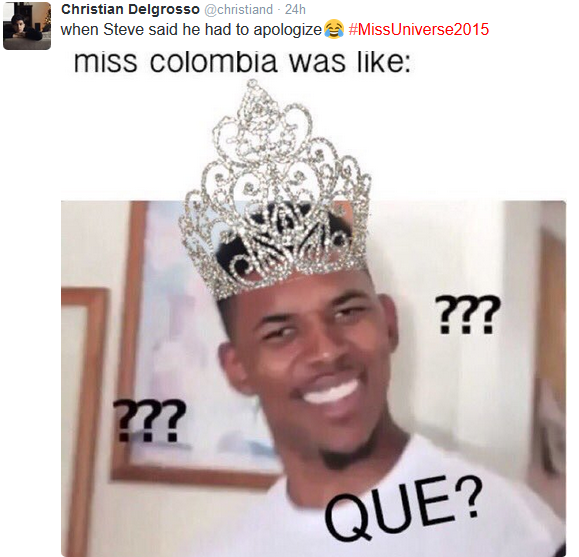 My tweets about the pageant: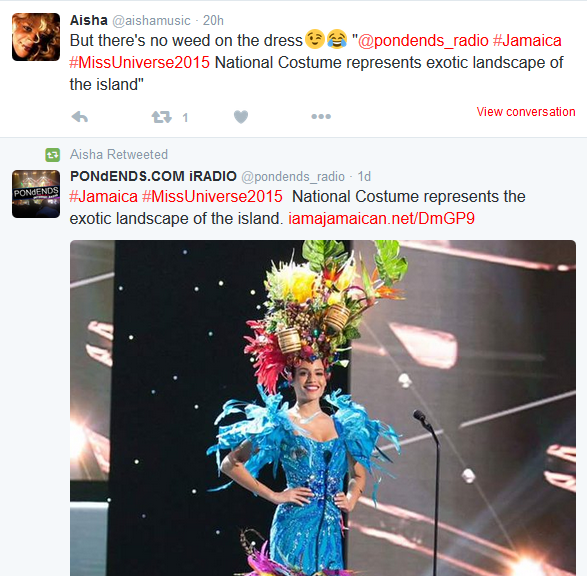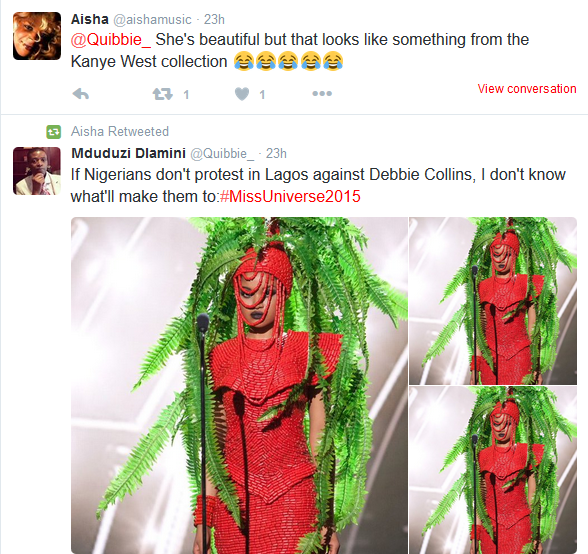 STORY SOURCE
Miss Germany's controversial reaction to Miss Universe 2015 [FULL TRANSCRIPT]
Published on Dec 21, 2015 - In an unexpected and surprising turn of events, Miss Germany has expressed discontent and disgust at the results of the recently concluded Miss Universe 2015. She has surprisingly thrown shade at Miss Philippines' win after expressing that none of the contestants have supported Miss Philippines win. See full transcript.

__start__
Miss Germany, of course, you were participating in this event. What was your reaction when you saw that Ms Colombia was the Miss Universe, and then all of a sudden, they said it was a mistake and she was not Miss Universe anymore?
Ms Germany: I couldn't believe it. I was so upset. For me, Miss France was the real winner. I was very happy for Colombia. Actually she really deserves it(Miss Colombia), but I'm really not happy with the result and so were the other girls. I'm sorry to say that.
You, and all the candidates, went to Miss Colombia directly. When you saw they were taking the crown from her, why did you go to Miss Colombia instead of going to congratulate Miss Philippines?
Ms Germany: Because none of us voted for Philippines. I'm sorry to say that.
Can you elaborate on that?
Ms Germany: No, I don't want to elaborate on that. But we really like Colombia and we're really happy for her. I just can't stop my emotions right now. I'm really not happy with the results. I wish Pia the best in life and career. But I'm really not happy with the results.
What have you done if that would have happened to you (what happened to Miss Colombia)?
Ms Germany: Well, that's probably like the most, like, awful situation ever and ever. Like that's not fair. You get crowned Miss Universe…like there are so many things…that you need to take away the crown. I'm so sorry for her. That's probably the first that ever and ever happened in her life. Well, I would handle the situation properly. You have the crown, like, be proud, to represent my country and I'm proud. Best crown.
Thank you so much. What is your name?
Ms Germany: Sarah Lorraine.
https://www.youtube.com/watch?v=lbIZcgBn2K4
RELATED ARTICLE