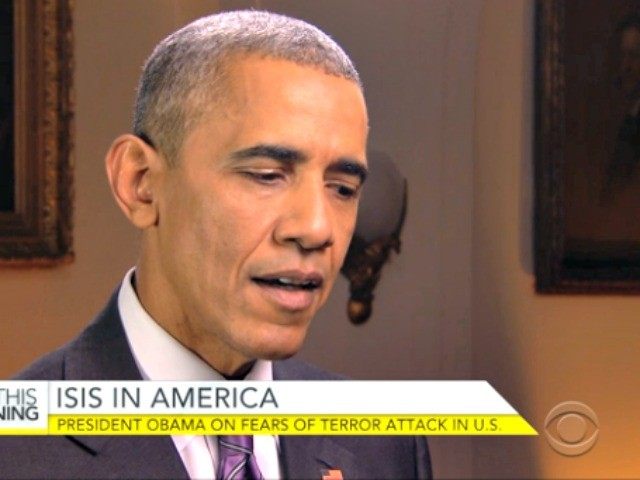 Obama on CBS News addresses public fears of a terrorist attack in America by stating the nation is "safe" from it


On November 13, 2015, U.S. President Barack Obama did a television interview proclaiming his administration had the terrorist group ISIS "contained." Roughly 12 hours later, ISIS struck in Paris, killing 130 people (ISIS Launch Several Attacks On Paris Leaving 130 People Dead In Retaliation For Jihadi John's Death).

Fast-forward to December 2, 2015, Obama does another television interview telling the American people the country is safe from terrorism. Roughly 8 hours later, another terrorist cell is activated and an attack occurs in San Bernardino, California at a disability help center, killing 14 and wounding 20 people (14 Dead And 17 Wounded In Shooting By 3 Jihadis At A California Disability Center).

These incidents reveal a patter of ISIS challenging and daring Obama each time he states he has them under control, when he clearly does not. The president needs to choose his words wisely as they are acting as a trigger for a dangerous, vicious, bloodthirsty terror group that hates the west.






STORY SOURCE




President Obama Asserted America Was Safe from Islamic State Right Before California Attack


3 Dec 2015 - Right before the attack in California happened, President Obama explained to CBS's Norah O'Donnell that America was safe from the Islamic State and urged Americans to feel safe. "ISIL is not going to pose an existential threat to us," he said, insisting that although they were a "dangerous organization," the country had strengthened national security under his administration.

Obama taped his interview with O'Donnell on Wednesday, right before the attacks occurred. The interview was aired on CBS this morning. "[W]e have hardened our defenses, our homeland has never been more protected by more effective intelligence and law enforcement professionals at every level than they are now," he said, prior to the attack in San Bernardino later that day.

RELATED ARTICLE