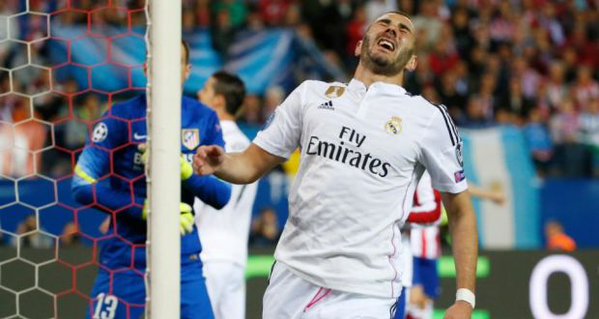 Karim Benzema
As the phrase goes, "When it rains it pours." Real Madrid football player, Karim Benzema, has gotten himself into a world of trouble that is damaging his name, freedom and football career. Benzema was held in jail overnight until he made bail, but he was officially charged today with blackmailing and extorting French national football teammate, Mathieu Valbuena, over a secret sextape. This past July, Valbuena lodged a formal police complaint about Benzema and his cohorts' criminal conduct.
Reports indicate police began investigating Benzema and placed a lawful wiretap on his phone line. Mainstream European outlets are reporting in reference to Valbuena, police overheard Benzema state to a childhood friend, who is a criminal, "Do not worry. He has no choice. I'll make him understand. He'll pay." For his part, Benzema is denying the charges. However, the mere fact Valbuena went to police, it is being stated wiretap information incriminated Benzema and the fact he has indeed been charged with a crime, indicates there exists a reasonable suspicion of guilt.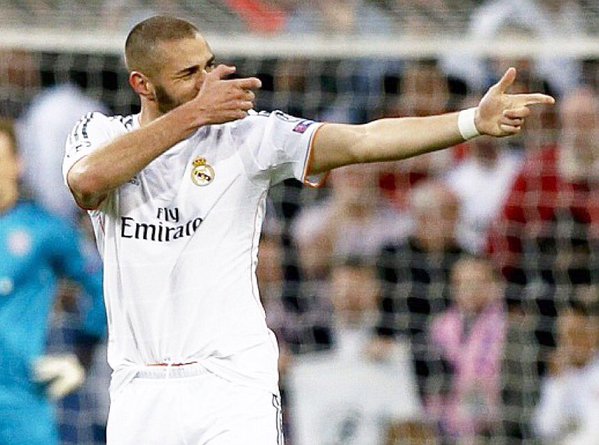 Karim Benzema
To make matters worse, Benzema was today linked to a cocaine trafficking scandal in France. Le Point has stated Benzema is implicated in the biggest cocaine trafficking case in French history, known as "Air Cocaine." Benzema is listed as a reason two major drug traffickers were identified and arrested by police, as his ties to the drug dealers led authorities right to them. Benzema, like his sex partner in June of this year, Rihanna, has a penchant for cocaine. He stands accused of financially underwriting the drug operation.
La Liga's Real Madrid is a superb football club. It is one of the best in the world. Benzema was presented with the opportunity of a lifetime to play football for a team most people only dream of being apart of and has been well compensated. He should not have jeopardized it.
Poor decision making is destroying the great opportunities in his life.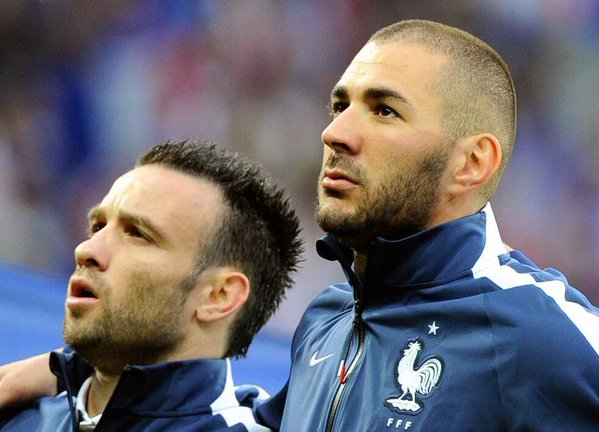 Mathieu Valbuena and Karim Benzema
Another lesson to be learned in this saga is one the Judiciary Report has consistently written about for years - bad friends bring people down. I've seen so many entertainers and athletes get into serious trouble, due to the terrible things toxic, lecherous friends encouraged and egged them on into doing. No one needs friends like that. If you are not smart enough in life to recognize that, you are headed for some very painful and costly lessons.
STORY SOURCE
Benzema dropped from the France squad
11/05/2015 - Didier Deschamps has not called up Karim Benzema or Mathieu Valbuena for France's upcoming friendlies against Germany and England, although he explained that the Real Madrid man was left out because of injury. "I decided not to name him in the squad after speaking with him on Monday. He hasn't recovered from his injury. With regards to the court case, I've not heard anything. Let's allow the law do its job", said Deschamps. Regarding Valbuena's absence, he said: "You'll understand that he isn't in the best mental state right now because of this case"...
Benzema charged with conspiracy to blackmail in Valbuena case
Nov 5, 2015 13:05:00 - If found guilty the French international faces a prison sentence of up to five years, but his lawyer insists he didn't participate in anything he has been accused of
Real Madrid striker Karim Benzema has been charged with conspiracy to blackmail in the Mathieu Valbuena sex tape case. The French international has also been placed under judicial supervision, which means he is prohibited from meeting with Lyon midfielder Valbuena or any other people charged in the case. If found guilty, he could face a maximum prison sentence of five years...
After presenting himself at the police station in Versailles on Wednesday, Benzema remained in custody overnight after being questioned as part of the investigation into the blackmail case over a sex tape involving his international team-mate...The case has been under investigation since earlier this year when Valbuena took legal action after being contacted by someone claiming to be in possession of an sex tape.
Karim Benzema recorded on a wiretap saying Mathieu Valbuena 'will pay' for the sextape [M6]
November 5, 2015 - More details are coming out in the Karim Benzema-Mathieu Valbuena sextape blackmail case, and the details are salacious. To recap, after going into custody on Wednesday, the 28-year-old Real Madrid star was kept in jail overnight, and on Thursday he was charged with involvement in the blackmail saga.
As reported by Eurosport via the AFP, one source has made the following claims to the news agency: Karim Benzema has recognised that he intervened with Valbuena at the request of a childhood friend approached by three crooks who had a sextape in their possession. He said that he agreed with a childhood friend about what he would say in order that his team-mate would negotiate exclusively with him.
Benzema also stands accused of having discussed the matter with his international teammate Valbuena in October when France met up for matches against Armenia and Denmark. Now French news outlet M6 (as reported by Get French Football News) are reporting that there is evidence to back up those allegations. Benzema has reportedly been recorded on a phone call talking directly about the Valbuena sextape. The Los Blancos forward apparently said: Do not worry. He has no choice. I'll make him understand. He'll pay...
After the Valbuena sextape blackmail, Karim Benzema is linked to a cocaine trafficking scandal [Le Point]
November 5, 2015 - Karim Benzema's life appears to be crumbling in every direction. The Real Madrid striker is facing a five year jail term after he was today charged with blackmail in the Mathieu Valbuena sextape scandal. As if it couldn't get any worse for the 28-year-old striker, French news outlet Le Point are now raising the possibility that Benzema could be facing a secondary charge in respect of a completely unrelated cocaine trafficking case. Unbelievable!
Away from the world of football, one of the biggest stories gripping France right now is the "Air Cocaine" scandal. Two French pilots were recently sentenced to 20 years in prison for possession of cocaine with intent to traffic. They were arrested on the tarmac at Dominican Republic's Punta Cana airport in 2013. The French duo have always pleaded their innocence, while, in a twist out of a movie, the pilots managed to leave the Dominican Republic in what appeared to be a well-planned escape by speedboat...
As explained by the excellent Get French Football News, translating the article from Le Point: Le Point have revealed that the number one suspect in the Air Cocaine case, an individual who is accused of having paid for and sponsored transatlantic flights to the Dominican Republic and Ecuador from France, was identified through his links with Karim Benzema.
The judge in charge of the case Christine Ruellan-Saunier has struggled so far to understand who had the financial capacity to pay for several transatlantic flights costing hundreds of thousands of euros. Who could have access to 700kg of drugs in the Andean market to then allow for them to flow to Europe making millions of euros in the process?
The alleged organisers of the flights, Frank Colin, and Nicolas Pisapia, a passenger who was arrested in Punta Cana in March 2013, have both always claimed that the real mastermind behind these transatlantic flights was a man known as "Daryan" or "Rayan", a football agent and a big football fan.
It was allegedly he who paid for the use of these airliners. According to several people who met this individual, who have now testified before the investigators, "Rayan" appeared to live in Spain or Italy, each time in close proximity to Karim Benzema. Frank Colin has never revealed the true identity of "Rayan", perhaps because he simply does not know, or perhaps out of fear...
RELATED ARTICLES