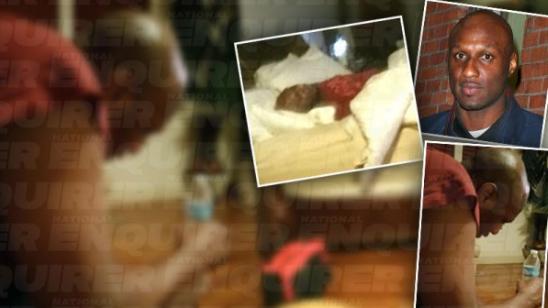 Pictures of Lamar Odom from inside the brothel. The photo at the center is said to be him in a state of overdose.

Dennis Hof, the pimp who owns the Love Ranch brothel (among others) that "Keeping Up With The Kardashians" reality star and former Los Angeles Laker, Lamar Odom, overdose in has been disgracefully exploiting the tragedy for money and fame. Odom is now attempting to recover, but Hof is on television and giving print interviews promoting his disgraceful den of iniquity. Hof's brothel also sold secretly taken pictures of Odom as he lay in a state of medical emergency, his life in the balance, in a room of the Love Ranch. The National Enquirer bought the photos and published them.

Hof is also bragging that business in up at the brothel, with the prostitutes seeing 75 men per day at the Love Ranch. There's no love in that. Hof's prostitutes are so ashamed and distressed by what they are doing in having sex with men for money, they drink alcohol to help give them courage and then to (temporarily) forget how they are selling themselves.

Odom has just been flown from the Sunshine Hospital in Las Vegas, Nevada to Los Angeles, California, where he has been admitted to a rehabilitation facility, after sustaining several strokes, kidney failure, as well as lung, liver and heart damage, due to overdosing on crack cocaine, cocaine, fake Viagra known as "Reload" and alcohol. Odom was also eating three large t-bone steaks per day, which helped to clog his arties, worsening the strokes.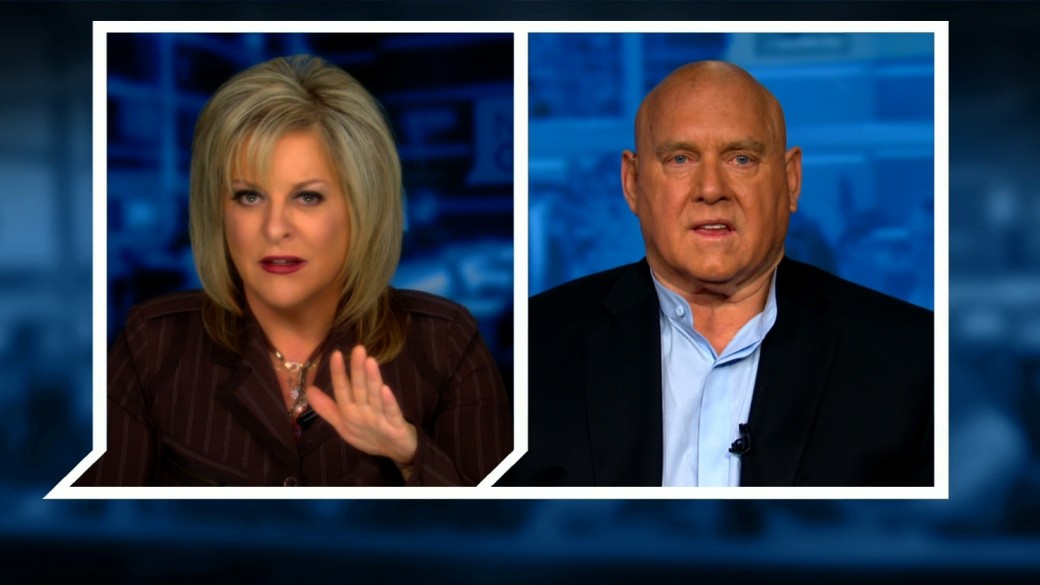 Dennis Hof on the "Nancy Grace Show"




Odom now has to relearn how to walk and talk properly. His vision is still fuzzy and bleary from the strokes, but with time that can improve. Odom experiencing kidney failure and liver damage is not surprising. Even basic over the counter pain medications such as Tylenol (Acetaminophen) bear warnings not to exceed the daily dosage or you will experience liver damage within 24 hours. Odom was taking illegal drugs plus banned fake Viagra "Reload", all of which wreaked havoc on his kidneys and liver.

Odom has been receiving dialysis as a result of the damage to his kidneys (outlets TMZ and USA Today are reporting from the Kardashians that Odom may need a kidney transplant, which is painful to recover from). Odom's heart began intensively laboring to work efficiently in the face of the walloping it took from the crack cocaine, cocaine, speedball, "Reload" and having sex with two prostitutes (sex increases the heart rate). This caused the blood to pump at a greater rate, for an aggregative and culminative effect that negatively impacted his heart, arteries and blood vessels. That was way too much pressure, activity and stimulation for the heart.

If Odom removes stress from his life, eats a balanced and healthy diet (avoiding salt and fried, fatty foods), refrains from drinking alcohol and engaging in illegal drug use, the blood from the strokes should reabsorb into the brain within 6-months, without a repeat occurrence (I am assuming Odom's "strokes" were multiple hemorrhagic, as he was reportedly found with blood coming from his nose/mouth, which is sometimes associated with cocaine overdose and intracranial bleeding from the pressure said conduct placed on his blood vessels and arteries). If it was ischemic strokes, it's a different set of rules, as it is a type of stroke less likely to create the levels of permanent damage a hemorrhagic stroke can (and TMZ is reporting Odom has permanent damage).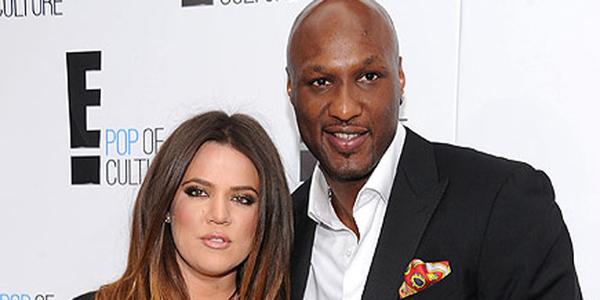 Khloe Kardashian and Lamar Odom




If that is the case, when the blood reabsorbs into the brain, some of the negative effects of the strokes will disappear. Odom will have to dedicate himself to physical and speech therapy to properly regain the use of his motor functions. Rehab for substance abuse is also highly recommended.

Doctors will conduct further tests on his brain to ascertain the full extent of the damage. Doctors are unaware of exactly how long Odom was in a state of medical emergency before being found by the prostitutes and it took over an hour to drive him to the hospital, as he was too tall to fit in the helicopter. During that time period, brain cells were dying from the strokes.

Note to the Kardashians: do try not to have cameras up Lamar's butt every 5-minutes while he attempts to recover from this tragedy, because that will create stress and anxiety, stemming from being filmed in that state. Stress promotes strokes (increase in blood pressure from stress and or cocaine can burst blood vessels leading to hemorrhagic stroke). TURN THE CAMERAS OFF.



RELATED ARTICLES