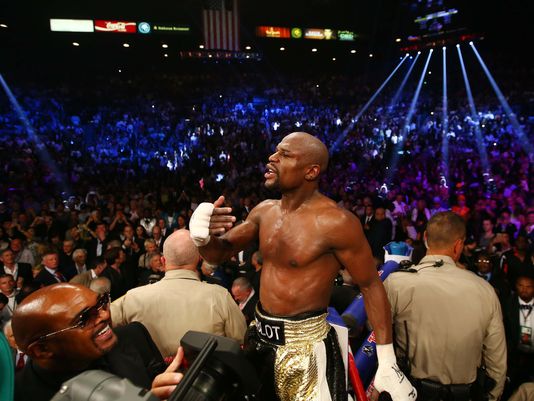 Floyd Mayweather


Recently retired boxer, Floyd Mayweather, has earned over $800,000,000 during his career (pre-tax, of course). Those are remarkable numbers, especially for a man who came from poverty. 19-years of boxing and winning everything in the sport led to Mayweather amassing a fortune. In a recent press conference, Mayweather, who is undefeated with a record of 49-0, discussed his career and hopes for the future.

Mayweather stated, "My 49-0 record is a part of boxing. Records are made to be broken. Hopefully someday we can find the next Floyd Mayweather. Now it's time to spend time with my family and children; make sure they get the proper education." Indeed, the Judiciary Report previously wrote that Mayweather needs to establish trust funds for his children and require they get jobs in their mid-teens to learn and understand the value of money and hard work.

Mayweather Promotions is the pugilist's boxing promotions company. The company has signed a number of boxers they believe will do well in the sport. Mayweather, is one of a few in the sport that understands the secrets if boxing (and there is a science to the sweet science, as it is called). It remains to be seen if he will share those secrets with the next generation of stars.





STORY SOURCE




'Money' earned over $800 million


13 September 2015, 10:10 - Floyd Mayweather says he made at least $70 million from his fight against Andre Berto at the weekend. And in remaining undefeated in 49 fights over 19 years he earned "upwards of $800 million from the sport". Now, having won his last fight, he wants to spend time with his family and train young boxers, Mayweather said after beating Berto on points over twelve rounds in Las Vegas on Saturday night.

The American, who retained his WBA and WBC welterweight titles, confirmed he was retiring, even though some fans and critics still believe he will try to take his professional record to 50-0. "I've had a great career. Very comfortable, made great investments. I am A OK," he said at a press conference where he talked at length about his career and plans for the future.

"I think you all need to go the Floyd Mayweather way. I know no one who made upwards of $800 million from the sport." Mayweather, widely regarded as the best boxer of his generation, was adamant it was time to let someone else grab the limelight...