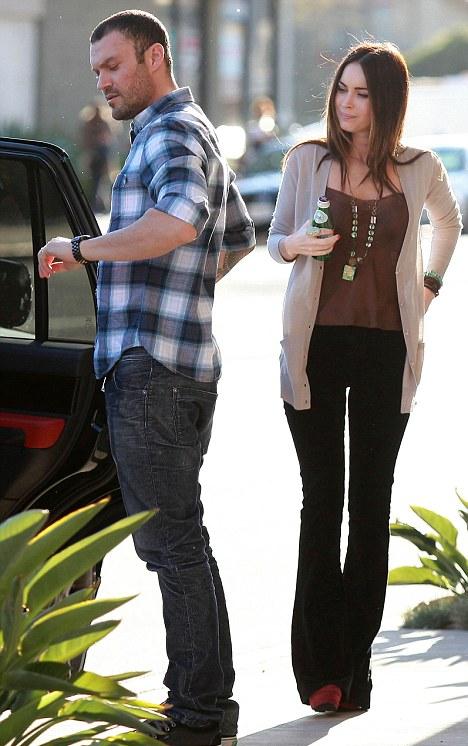 Brian Austin Green and Megan Fox
On Thursday, August 20, 2015 the Judiciary Report stated actress Megan Fox is filing for divorce from actor Brian Austin Green due to his cheating and the two are currently separated (
Megan Fox And Brian Austin Green Divorcing After His Cheating
and
on the blog
). They did not reconcile, as the next day on August 21, 2015, Fox filed for divorce in court citing "irreconcilable differences" (see article excerpt below from the TMZ website).
Previously, TMZ reported Fox and Green were in an accident in December 2014, but escaped uninjured. TMZ has since retracted that claim. This week TMZ is stating Green was seriously injured in the accident and now suffers from a severe case of vertigo that often leaves him bedridden.
Green is seeking spousal support in the divorce, as he is physically ill and unable to work, whereas Fox has made millions of dollars over the past several years from films such as "Transformers" "Transformers 2" and the "Teenage Mutant Ninja Turtles" reboot in 2014. It is the Judiciary Report's view Fox should provide him with financial assistance.
This is not like the case regarding Halle Berry's ex-boyfriend, Gabriel Aubry, who is the father of her child, disgracefully trying to extract large sums of child support from her, mainly for himself ($16,000 per month). Aubry did not help Berry become a star nor has he ever financially provided for her. When Fox was broke and struggling in Hollywood to become a star, Green was already established. He began dating her and financially taking care of her. Green even moved Fox into his Hollywood mansion (the Judiciary Report does not promote cohabiting before marriage).
Even though Green cheated on Fox, which was wrong and downright foolish (she is beautiful, the mother of his children and is a millionaire) he helped her when no one had, provided for her and used his contacts to help her get work in Hollywood. A person should never forget those that help them get to where they are in life, especially those who help you with your career in achieving your dreams.
It is also the Judiciary Report's view that Fox and Green should reconcile. The cheating is a very tough thing to address in a marriage, but they have two small children and have been together for years. Fox has also helped Green raise his son Cassius for years. They should try to give their marriage another chance with fidelity as the goal and keep their family together. In such situations forgiveness is tough, but it is key.
STORY SOURCE
Brian Austin Green Spousal Support Necessary Vertigo Derails Work
8/24/2015 1:00 AM PDT BY TMZ STAFF - Brian Austin Green will almost certainly get spousal support from Megan Fox in their divorce, and the reason appears to stem from a terrible car accident. TMZ broke the story, Megan filed for divorce Friday. As we said, our sources say it's likely she'll end up paying Brian spousal support, because of the large disparity in income and income potential.
We're told Brian has worked very little since last December, when he was in a head-on collision. As we reported, Brian and Megan were driving when they were hit by a drunk driver who was arrested. Brian says the guy was going around 50 MPH and it was severe enough for the airbags to deploy.
At the time of the accident TMZ was told Brian and Megan were not injured. But now we're told the accident triggered a serious medical condition ... vertigo, which affects balance. Our sources say Brian's vertigo is so bad he can't get out of bed. We're told he hasn't worked since the accident. As we reported, Brian and Megan -- who is working steadily on huge movies -- are still living in the same home.
RELATED ARTICLE