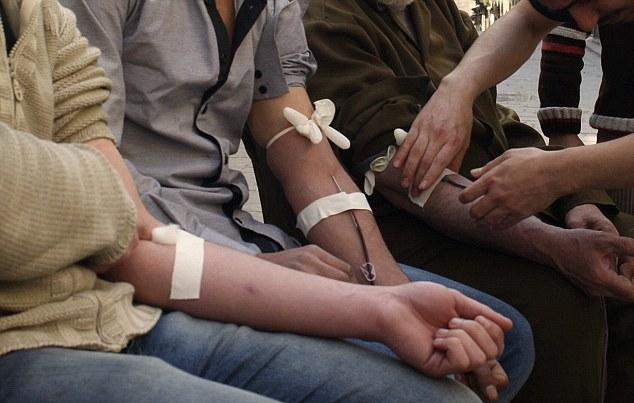 A report in the Daily Mail newspaper reveals, members of the terrorist group ISIS have contracted HIV. The outbreak has occurred due to ISIS terrorist swapping wives and sex slaves. It is thought a 15-year-old girl, who was raped by two terrorists as an ISIS sex slave, brought HIV in their midst and is the source of the outbreak. A Syrian physician who was forced to treat the ISIS terrorists made the deadly discovery. It has also been revealed, the ISIS terrorists who have tested positive for HIV, are now being used to carry out suicide bombings.
The New York Post reported young girls who were kidnapped by ISIS and forced to become what is informally known in the west as "Jihadi brides" were subjected to "brutal and abnormal" sex acts that resulted in their hospitalization. One underage girl that was captured to be a bride, killed herself not wanting to marry into ISIS.
Many precious underage girls online who are being swept up into a false fantasy about joining ISIS as a bride, are unaware of the realities that face them - barbaric sex creating injury and HIV. These young girls and women need to stay with their families, go to school, date and marry nice local men, who will help them lead normal lives.
Stay away from terrorism. Being in a terror group on the run with massive bounties on your head and living in rough accommodations is a very difficult life. Give yourself a chance at having a nice, normal life with family, friends and the man you love, doing fun things like going to the movies, the gym, the park, the mall, restaurants and celebrating life's important moments in peace.
STORY SOURCE
Revealed: 16 ISIS fighters who contracted HIV from two Moroccan sex slaves are ordered to become suicide bombers
PUBLISHED: 15:32, 20 August 2015 | UPDATED: 15:36, 20 August 2015 - At least 16 ISIS fighters who contracted HIV after having unprotected sex with two Moroccan sex slaves have been ordered to carry out suicide attacks, a doctor forced to treated them has claimed.
The men, most of whom are foreign fighters, were treated at an ISIS-run hospital in the east-Syrian city of Al-Mayadeen and then quarantined, it is reported. ISIS beheaded a fighter who knowingly allowed his HIV-infected blood to be transfused to another terrorist this year.
ISIS fighter is executed for spreading Aids after he donated... A media account affiliated with the Islamic State group has released a statement on Friday that claims a female American hostage held by the group was killed in a Jordanian airstrike in Raqqa, Syria.
The fighters had sex with the women before it was later revealed they had HIV, medical sources told ARA News. The source, whose name has not been reported, said they were 'ordered by the group's leadership' to quarantine the infected in the city centre. He also said the Moroccan women escaped to Turkey because they feared ISIS would execute them.
It caused widespread panic among the group's leadership which will 'assign suicide attacks for militants who tested positive with HIV,' an activist in Al-Mayadeen told ARA. In June, ISIS executed an Indonesian fighter for knowingly passing on the disease on to his 15-year-old Yazidi sex slave and donating his blood to an ISIS-run hospital. An Egyptian extremist who received his blood and two Saudi-nationals who raped the teenager all contracted it...
It said the virus is prevalent in ISIS because a large number of fighters 'are drug addicts or have criminal backgrounds' and disease spreads quickly because the extremists frequently swap wives and sex slaves.
Female ISIS captives endure 'brutal and abnormal' sex
February 18, 2015 | 2:08am - Perverted ISIS militants are trying to score Viagra to fuel their lust for "brutal and abnormal" sex, according to a shocking report from activists in the terror group's main Syrian stronghold. The supposedly ultra-conservative Muslim fundamentalists have been forcing women in the city of Raqqa to marry them and engage in savage sex acts that result in hospital treatment, the report says.
The jihadists also buy kinky lingerie — described in the report as "strange underwear" — for their reluctant brides, according to the "Raqqa Is Being Slaughtered Silently" activist group. "A large section of ISIS members suffer from sexual anomalies and brutal instinctive desire for sex," the group wrote on its website.
Several families have reportedly fled the city — and one girl committed suicide — to avoid the lusty ISIS terrorists' clutches.

ISIS overran Raqqa in 2013 and turned the northern Syrian city into its de facto capital, imposing harsh religious laws and publicly beheading and crucifying opponents in the ironically named Paradise Square.
In a related development, two British human rights groups on Wednesday said ISIS kidnapped at least 3,000 women and girls last year from the areas it controls in Iraq. Some victims were forced to marry ISIS terrorists, while others were sold into sexual slavery, according to a report by Minority Rights Group International and the Ceasefire Centre for Civilian Rights.
The report said firsthand accounts from victims who spoke secretly by phone in August revealed that ISIS fighters were raping women on a daily basis, with some victims begging the activists to arrange airstrikes on their locations and end their suffering. One kidnapped girl who belongs to the minority Yazidi religious group also said she was among 350 girls transported to Syria and offered for sale "as if in a chicken market."
RELATED ARTICLES