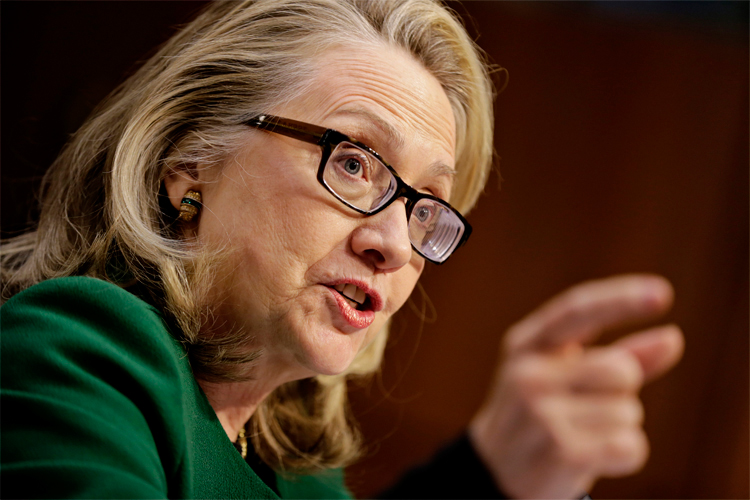 Hillary Clinton
Once again perennial presidential candidate and former Secretary of State, Hillary Clinton, is in the race for the U.S. White House. Clinton lost the nomination in 2008 to fellow Democrat, Barack Obama, who is now the incumbent president. The Federal Bureau of Investigation (FBI) recently announced that Clinton is under criminal investigation regarding government emails being sent from her personal box/server, which is prohibited.
The FBI has confiscated Clinton's personal email server and is working to retrieve all the deleted emails to check them for illegality. It is technologically possible to retrieve deleted emails from servers. The technician runs the drive back and its contents reappear. If the emails contain items such as violations of federal law in the form of improper financial transactions or poor safety measures regarding national secrets, it would be referred for prosecution.
I'm sorry but Hillary to some degree is trading off her husband's name and accomplishments as head of state (former President Bill Clinton). Clinton, America's most successful president in the area of economics, had a very tumultuous presidency, due to his personal failings (adultery) which I do not support, but how a legal, but unethical matter in his marriage became a criminal case is a disgrace and still befuddles me to this day.
They acted like Clinton shot somebody (the only person he proverbially shot in that case was Monica Lewinsky - okay that joke was wrong LOL ). Due to the probe into Bill Clinton's sex life that was made public via a report, children in the 1990s were exposed to graphic information about oral sex, sexualizing them in their youth, regarding sexual practices that should be reserved for adulthood/marriage.
Lastly, Hillary Clinton is not a suitable candidate for president. In 2005, I filed a complaint with the FBI regarding
Madonna, Kabbalah
and their private investigator, Anthony Pellicano, criminally wiretapping and hacking the computers of people celebrities paid him $100,000 each to target (the FBI arrested him 4-months after they interviewed me twice and I gave them information and evidence in the case).
Pellincao had also engaged in identity theft, threats of violence, assault, vandalism, arson. On a more perverted level, Pellicano and thugs he hired committed break-ins to plant audio listening devices and hidden cameras in cars, businesses and homes (in cable boxes and home cable TV satellite systems) in order to insidiously and perversely spy on people he was paid to target.
Pellicano even stole people's beloved animals to harass and distress them as apart of the $100,000 fee paid by celebrities to target people they deemed rivals or enemies. It is now a well known fact Hillary Clinton was a client of Anthony Pellicano (Paul Jones case, among others). People only went to Pellicano because he was working outside of the law (wiretapping, computer hacking, phone hacking, burglary) to obtain very invasive information on others and is a member of the Colombo family Italian mafia, willing to resort to vicious acts of violence to harm his clients' enemies. I know for a fact from the case that Hillary was illegally made privy to criminally obtained surveillance items Pellicano and others passed on to her. You can't trust a woman (or man) who knowingly hired someone with such a reputation and track record.
STORY SOURCE
ABC News: 'Highly Likely' FBI Will Find Back-Up of Hillary's Deleted Emails
Guy Benson | Aug 17, 2015 - ABC News followed up on Friday's Bloomberg piece with a report that aired Sunday morning on This Week. The network's Chief White House correspondent, Jonathan Karl, laid out the latest developments in Hillary Clinton's email scandal, including an "intriguing" quote from sources at the private company that set up her improper and unsecure server (via America Rising):
"Platte River Networks, the Colorado company that set up Clinton's server, told ABC News that it is highly likely that a full back-up of the server was made -- meaning those thousands of emails she deleted may still exist. The company says it's cooperating with the FBI."
Those last two sentences must send a shiver down Team Hillary's collective spine. They're casting about for methods of distraction and attack -- issuing nonsense spin memos, attempting comedy, blaming Republicans, etc. -- but the bottom line remains that the Obama Justice Department is investigating the gross mishandling of classified material (the existence of which she denied) on Hillary's rules-violating server. The probe was triggered by serious concerns put forward by two independent Obama administration Inspectors General.
And those 'permanently' destroyed emails may still be intact somewhere. Their contents could be devastating. There are two pieces you should read about the legal side of this scandal; the first is an interesting and thorough explanation of the type of classified information that's been discovered on the infamous server, written by a former NSA analyst. The second is an excellent column by former Attorney General and federal judge Michael Mukasey, enumerating the laws Mrs. Clinton and her team may have broken. In addition to the legal hot water, Mukasey concludes that Clinton's actions and shifting justifications defy common sense..
The investigation into Hillary Clinton's private email is being run out of FBI headquarters — and that's unusual
Aug. 16, 2015, 7:27 PM 132 - The FBI is investigating Hillary Clinton's private email server out of its headquarters in Washington, D.C., in an "unusual move," The New York Times reported. "Nearly all [FBI] investigations are assigned to one of the bureau's 56 field offices," according to The Times. "But given this inquiry's importance, senior F.B.I. officials have opted to keep it closely held in Washington in the agency's counterintelligence section, which investigates how national security secrets are handled."...
Bob Woodward: Clinton emails 'reminds me of the Nixon tapes'
8/17/15 7:50 AM - Veteran Washington Post reporter Bob Woodward on Monday compared the email controversy engulfing Democratic presidential candidate Hillary Clinton to the downfall of President Richard Nixon. On MSNBC's "Morning Joe," Woodward, who through his reporting helped break open the Watergate scandal, said it's at least suspicious that Clinton's emails from her tenure as secretary of state were wiped away from a server she owned privately.
"Follow the trail here," Woodward said. "There are all these emails. Well, they were sent to someone or someone sent them to her. So, if things have been erased here, there's a way to go back to these emails or who received them from Hillary Clinton. So, you've got a massive amount of data in a way, reminds me of the Nixon tapes: Thousands of hours of secretly recorded conversations that Nixon thought were exclusively his."...
RELATED ARTICLE