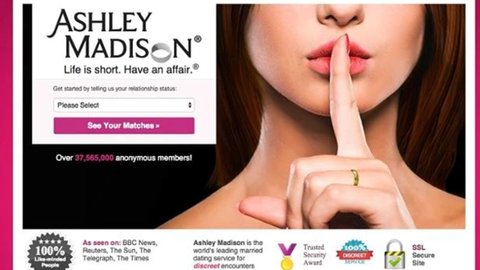 Ashley Madison website
The invasive computer hack of the Ashley Madison website for adulterers has claimed three lives. It is being reported that San Antonio, Texas Police Captain Michael Gorhum and two unnamed Canadians have committed suicide after cruel, vile hackers exposed them and over a million other individuals as cheating on their spouses via the Ashley Madison website.
The felonious hackers going by the name the Impact Team hacked over 1,000,000 unique users and exposed their real names, credit card numbers and private sexual fantasies online for anyone to read. It resulted in people filing for divorce from their spouses and many ruined reputations. The hack was highly illegal and has attracted the attention of the FBI in America and authorities in Canada, who have open investigations into the matter. The Ashley Madison website is owned by Toronto based, Avid Life Media, run by Noel Biderman. The company also maintains an office in New York.
It is the Judiciary Report's view that not only should said hackers face computer intrusion and identity theft charges, they should also be brought up on manslaughter charges for the deaths of the aforementioned three people. What you did is not cute or funny. It was sick. Choices have consequences. What goes around comes around. You don't cost people their lives and get away with it. Make no mistake, it will come back to you and the same suffering you have inflicted on others will befall you.
STORY SOURCE
Police Captain and 2 Other People Reportedly Kill Themselves After Ashley Madison Hack
12:41 PM EDT, August 24, 2015 - Three people - including a Texas police chief - have reportedly taken their lives after their email addresses were part of the Ashley Madison hack last week. Hackers claimed they released details of more than 30 million people who had accounts with the website, which spouses use to find affairs.
Captain Michael Gorhum, who had worked for the San Antonio Police Department, died from a self-inflicted gunshot wound last Thursday, KSAT reported. His official email address was among those released in the hack, according to the IB Times. INSIDE EDITION has confirmed that an email address in his name is listed...
Toronto police report two suicides associated with Ashley Madison hack
Monday 24 August 2015 16.23 BST Last modified on Monday 24 August 2015 18.34 BST - Unconfirmed reports suggest that two people in Toronto have killed themselves over the Ashley Madison hack, local police said in a briefing providing details about the beginning of the leak.
"As of this morning, we have two unconfirmed reports of suicides that are associated because of the leak of Ashley Madison customers' profiles," Toronto police service staff superintendent Bryce Evans said at a press conference on Monday. Evans said the nature of the dating site for married people was "of no interest to us as the investigative teams".
Security analyst Brian Krebs said last week he feared exactly that outcome. "There's a very real chance that people are going to overreact. I wouldn't be surprised if we saw people taking their lives because of this, and obviously piling on with ridicule and trying to out people is not gonna help the situation," Krebs, who first reported the hack, said on Wednesday.
The hack, in which some 33m profiles from the service were published online, has been the focus of extortion and phishing attempts. Among them are "hack checking" websites that compile the emails of the curious entered into them and then send malicious software to those emails. Evans also said that a new scam, claiming to erase names from the Ashley Madison database in order to preserve users' privacy, had sprung up in the few days since the hack.
"By clicking on these links, you are exposing your computer to adware, spyware, malware and viruses," Evans said. "Multiple sites have now downloaded [the Ashley Madison user database] and are present. Nobody is going to be able to erase that information. There are confirmed cases of people trying to extort Ashley Madison clients."
On 12 July, Evans told reporters, workers at the Toronto-based company logged into their computers and were greeted with "a threatening message" read over AC/DC's Thunderstruck by hackers (or hacker) the Impact Team. The hack was made public on 20 July by the Impact Team alongside a note demanding Ashley Madison cease operation; on 20 August, Impact Team released all the information onto a deep-web site with a message that began "Time's up!" Information from Ashley Madison's sister site, Established Men, has not been released.
"When reporting these events to the police, Avid Life Media advised that the suspects had already made good on the threat by releasing the information on two Ashley Madison clients, one from Mississauga, Ontario, and the other from Brockton, Massachusetts, through the internet, which happened on July the 19th," Evans said.
Avid Life Media, the company behind Ashley Madison, has offered a $500,000 Canadian dollar ($380,000 US) reward for information leading to the arrest of the hackers.
• In the US and Canada, the National Suicide Prevention Hotline is 1-800-273-8255. In the UK, the Samaritans can be contacted on 08457 90 90 90. In Australia, the crisis support service Lifeline is on 13 11 14. Hotlines in other countries can be found here.
Ashley Madison: 'Suicides' over website hack
7 hours ago- Two individuals associated with the leak of Ashley Madison customer details are reported to have taken their lives, according to police in Canada.
The police in Toronto gave no further information about the deaths. Ashley Madison's Canadian parent company Avid Life Media is offering a C$500,000 (£240,000) reward for information on the hackers, they added.
Details of more than 33m accounts were stolen from the website, which offers users the chance to have an affair. Addressing the hackers, known as The Impact Team, acting staff superintendent Bryce Evans of the Toronto police said: "I want to make it very clear to you your actions are illegal and we will not be tolerating them. This is your wake-up call."
Police are seeking information from members of the wider hacker community that might aid their investigation. The breach was "very sophisticated", said Detective Menard from the technological crime unit of Toronto Police. Mr Evans confirmed that credit card data was included in the original data dump released by The Impact Team...
"This hack is one of the largest data breaches in the world and is very unique on its own in that it exposed tens of millions of people's personal information," he added.
Police have set up a Twitter account, @AMCaseTPS, and hashtag, #AMCaseTPS, in a bid to gather information about the hack from members of the public.
RELATED ARTICLE