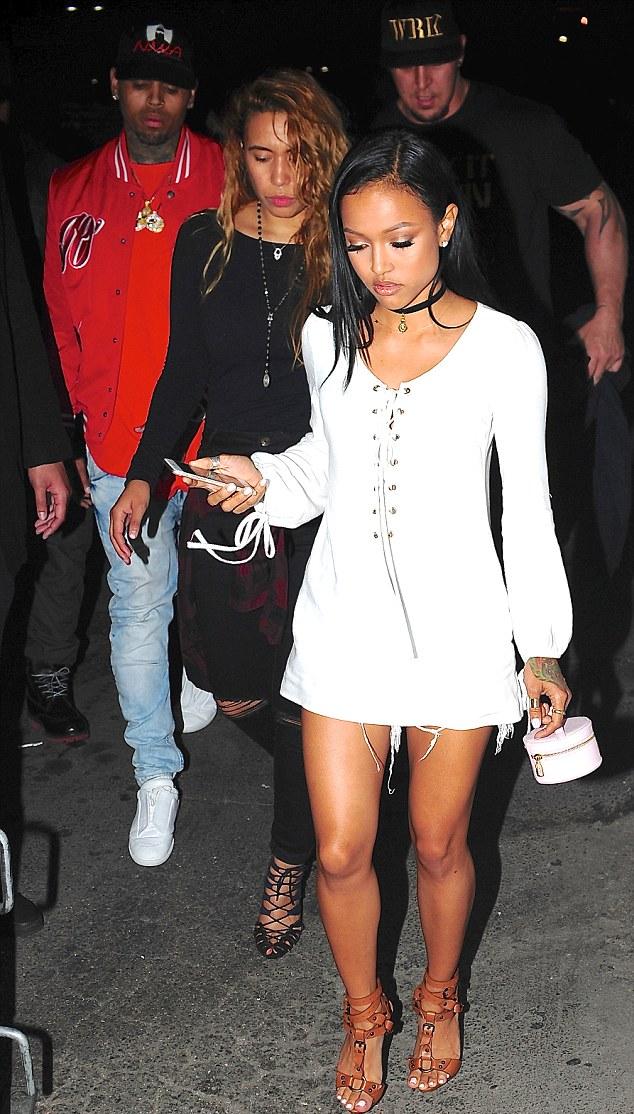 Karrueche Tran hastily leaving club with Chris Brown following her against her wishes


In the May 25, 2015 article "Chris Brown Having Ex-Girlfriend Followed And Threatens To Have His Bloods Gang Members Kill Model Tyson Beckford Over Selfie With Karrueche Tran" the Judiciary Report stated R&B singer Chris Brown is having his ex-girlfriend, Karrueche Tran followed. Two weeks later, it has become apparent for all to see, when Brown openly stalked Tran all over Los Angeles on Thursday, June 4, 2015.

Brown stalked Tran into the Playhouse night club and bought a table in the VIP next to hers, where she was partying with singer and friend, Christina Milian. Brown kept trying to get her attention, then went to speak to her. When Brown did so, Tran ordered an Uber vehicle and exited the club with her friends, upset by the whole episode. A tearful and distraught Tran was seen outside the club headed to the waiting vehicle.

Brown followed her and forced his way into the vehicle. Tran told him "get out" and one of her friends stated to Brown that he can't get into the vehicle, to which he angrily responded, "Move or I will f****** move you!" Frightened by his threat, Tran's friend complied, for fear he would physically and violently move her. Brown also banged on the window of the vehicle. Tran dropped Brown and his friend off shortly after.

Later on at 3:00AM, he showed up at Tran's house in West Hollywood. Brown kept knocking on the door and yelling at her to open it for such a longtime neighbors called police and they caught him there. Not wanting him to go to jail, Tran declined to press charged for trespassing, harassment and disturbing the peace. Later Tran went to Norm's diner and Brown again followed her there. Shortly after there were reports from the diner of the two getting into a shouting match.

Based on what I've been informed regarding the incident, Brown is of the belief Tran did something sexual with Tyson Beckford. Brown also has Tran off as a woman using him for his money (and fame). In a strange way he views her as a fan and feels he built her up and she shouldn't leave. He also needs to stop yelling at her walking away from him. She hates that.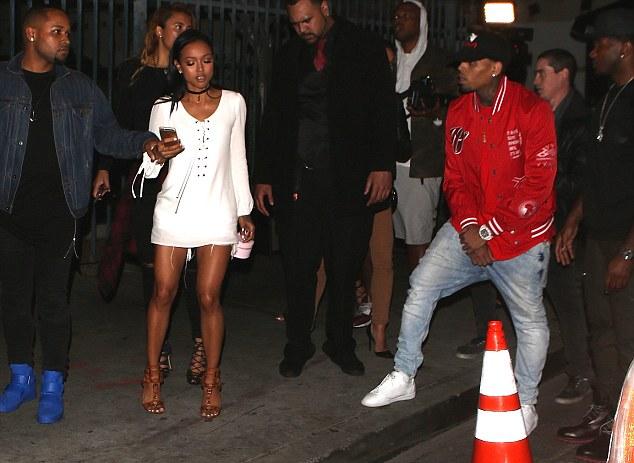 Tran looking distraught as Brown follows then speaks to her, after she had been avoiding him for months due to him cheating on her and impregnating video girl Nia Amey, in another situation that has already turned sour on him.


Prior to the incident that occurred between Chris Brown and Karrueche Tran this past Thursday where he stalked and confronted her, a few years ago the Judiciary Report stated Chris Brown has a problem engaging in stalker behavior, after he tracked me down in my former neighborhood twice, one year apart (Chris Brown Showed Up In My Neighborhood and Chris Brown Showed Up In My Neighborhood Again).

I have been in a legal dispute with his label Sony and Kabbalah Center, the Hollywood cult Brown joined at ex-girlfriend's Rihanna's insistence. After I wrote about Brown and Kabbalah on the site, chronic copyright thief Madonna, a woman Brown had publicly stated several years ago he would be working with and one who has been stealing very valuable copyrights from me and harassing me for years, sent him to find me in Miami.

The first time he stalked me it was outside the bank a few minutes from my home. The second time it was at the gas station around the corner from my house. Brown just kept staring at me with this look and I could tell he was mentally disturbed with drug issues (part of why my anger for him turned to sympathy, as he needs helps). Brown was nervous, jumpy, jittery and had this disturbed look in his eyes. The same look he is giving Tran in the picture posted above.

Even the incident regarding Brown stalking Tran to her home and knocking on the door, refusing to leave until authorities were called, is a pattern of behavior by members of the Kabbalah Center. Several months ago I wrote of an incident regarding a Kabbalah Center member showing up at my door and knocking for over 10-minutes, refusing to leave until security for the gated community was called. Then he ran away fearing arrest for trespassing and disturbing the peace. However, I was stalked again a couple hours later when I went shopping at two places in Miami.

This type of behavior is a way of life for people in Kabbalah and it is absolutely illegal. They are taught by Kabbalah cult leaders that such conduct is acceptable, when it is wholly wrong (Google Releases Information In The Madonna/Kabbalah Center Death Threat Case and Madonna And The Kabbalah Center Criminally Interfering In People's Business. Side Bar: I have since obtained the name of the man who sent me the death threat via the website. His name, address and telephone number were released by AT&T under subpoena and the man is one of Madonna's hackers. Full details on that in an upcoming Judiciary Report column).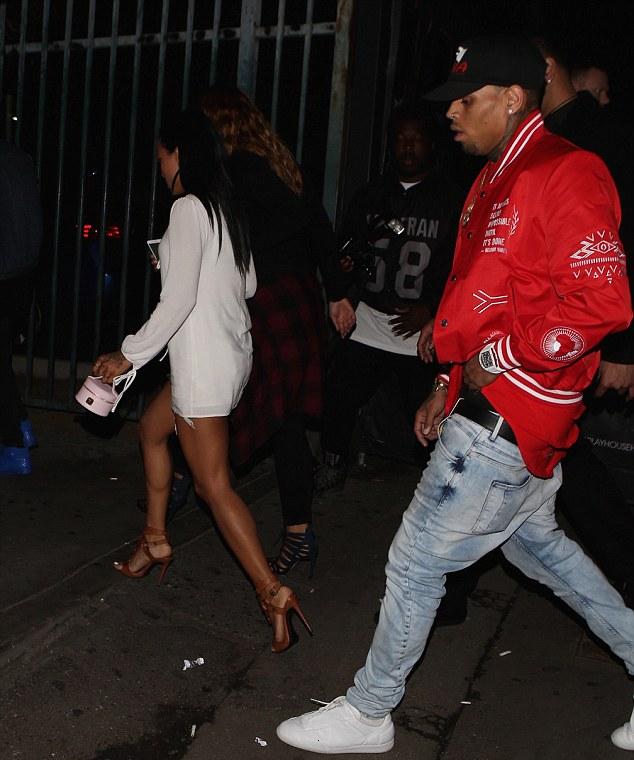 Chris Brown following Karrueche Tran outside the club against her wishes


The Kabbalah Center has greatly damaged Brown's mind. The once innocent teenager, who became famous for his singing and dancing ability, is now suffering from serious mental illness, because of the Kabbalah Center. While Brown did not harm me, I am genuinely afraid for Tran now, because they were dating for years and you can see the anger, rage and resentment building in him. People with Brown's mental illness are known to harm those closest to them when they have a manic episode.

Tran needs to continue staying away from Brown. He is not well. He is in a bad way right now due to issues with his career, Nia Amey (the mother of his child) and his break-up with Tran. Brown needs an intervention from medical professionals, lest he seriously harms himself or others. He is at breaking point and aimlessly wondering around going from one chaotic crisis and conflict to the next, a condition symptomatic of those with his mental illness.

]Britney Spears, another member of the Kabbalah Center who had a massive breakdown, was behaving the same way Brown is now, during her major meltdown a few years ago, which landed her in the psych ward twice and under a conservatorship.





RELATED ARTICLES