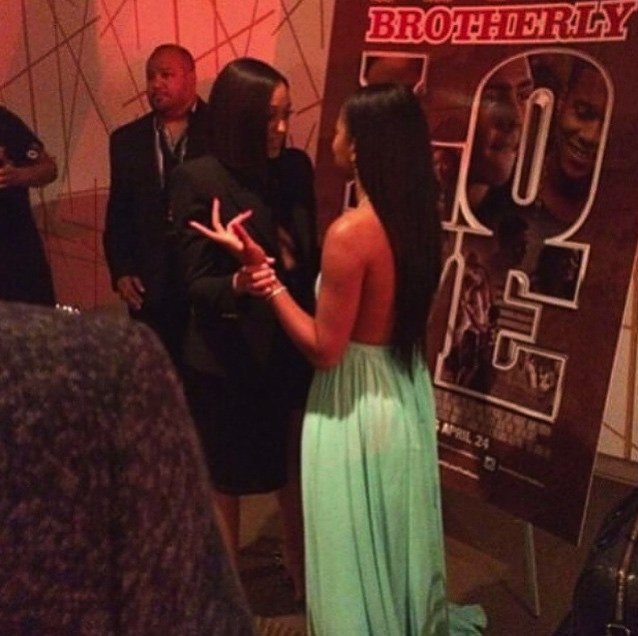 Tia Mowry having a stern talk to KeKe Palmer


Tia Mowry confronted fellow actress KeKe Palmer on the red carpet of the movie "Brotherly Love." Palmer has been publicly lusting after Mowry's husband Cory Hardrict. The couple have a young son and have been married a few short years. However, that did not stop Palmer from talking about her crush on Hardrict during a recent interview.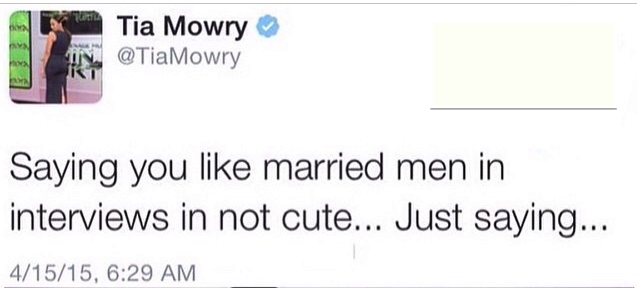 Tia Mowry tweet slamming Keke Palmer
Hardrict tried to play the incident down, stating during an interview that his wife was talking to Palmer about doing a book. However, Mowry posted a tweet on Twitter stating, "Saying you like married men in interviews is not cute...Just saying..." The public assumed she meant Palmer and with good reason. It is disrespectful lusting after a married man and hugging him so tightly in photos. Palmer's conduct has hurt her image.
STORY SOURCE
Was Tia talking about Keke Palmer and Tia's husband Cory Hardrict…?
Hours after Tia's Tweet MediaTakeOut reported spywitnesess from the set of KeKe and Cory's new movie 'Brotherly Love' were claiming KeKe and Cory spent A LOT of time together on the set dishing, "KeKe definitely has a crush on Cory, everyone knows that. I didn't think Cory would act on it though, he seems like a real loyal guy [to his wife, actress Tia Mowry]. But they were spending a lot of time together, at the hotel, in the trailer. I am not one to gossip, but it was looking BAD." And then this picture turned up on social media of Tia with KeKe's wrist in a death grip on the Brotherly Love red carpet last night adding more fuel to the fire.