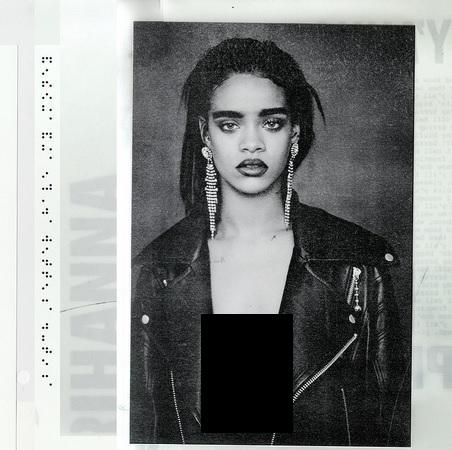 The horrible cover art for Rihanna's new song "Bit*h Better Have My Money"
It's ironic that
a copyright thief
, who can't sing should have a music career. However, due to the casting couch and cult connections, Rihanna has a music career. "Four Five Seconds" the lead single from her forthcoming CD, flopped on the charts. The song was a collaboration with Beatle, Paul McCartney and rapper, Kanye West. Audiences hated it. The song created the first lead single flop of Rihanna's career.
Today Rihanna released the profane, explicit second single from her forthcoming CD, a track titled "Bit*h Better Have My Money." How classy (not). The song takes its profane title from a line in the 1980s film "I'm Gonna Git You Sucka." Years ago rappers AMG and DJ Quick also released a track called "Bit*h Better Have My Money." The cover of Rihanna's single is atrocious. Rihanna's eyebrows are not "on fleek" as the internet phrase goes. Those eyebrows are on fleet…like a fleet of ships. Her eyebrows look like two caterpillars trying to fight on her face.