Mama June, real name, June Shannon, is facing a whirlwind of serious accusations and terrible publicity, for bringing a convicted child molester, Mark McDaniel, around her 9-year-old reality star, Alana Thompson, also known as Honey Boo Boo.
McDaniel sexually molested June's then-8-year-old daughter,
Anna 'Chickadee' Cardwell, who is now 20-years-of age. Cartwell's grandmother had to rescue her from that traumatic situation. Cardwell stated her mother June did not believe her when she told her McDaniel molested her, which devastated her all over again. Parents should listen to their children. What reason would a child have to make up a story like that. McDaniel was later sent to prison for the offense.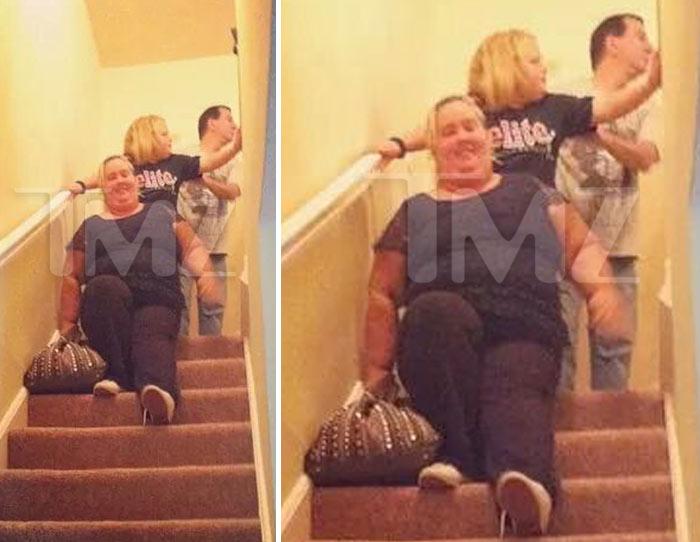 Mama June, Mark McDaniel and Honey Boo Boo (Alana Thompson)
As sad and awful as this story is, there's more. According to the Daily Mail newspaper, Mama June dated another sex offender, Michael Anthony Ford, who fathered her now 17-year-old daughter, Jessica "Chubbs" Shannon. Ford was convicted of sexually exploiting a child over the internet. He was arrested and imprisoned for said offenses. Ford is now a registered sex offender, who is not allowed to be around minors. Grown men who are sex offenders have no business being around preteens and teens. It is very troubling and infuriating that it is occurring in this case.
There is definitely a problem within this family and the government should intervene, as June is unquestionably an unfit parent. She is making very poor decisions that are bringing her children pain and placing them in harm's way. Another shocking aspect of this story is TLC knew about these legal issues, the court case was sealed and the show debuted anyway in 2012.