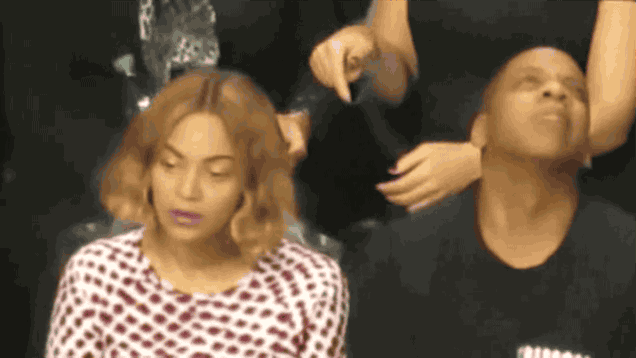 Beyonce high and "tweaking" at basketball game
It's been no secret in the entertainment industry that singer Beyonce drinks heavily behind the scenes and also does drugs. Her descent into drug use and alcohol abuse began when she started dating rapper Jay Z and grew worse when they married. Jay Z, a former drug dealer, who refuses to denounce those dangerous, toxic ways, brags about selling and using drugs in his music, sending a negative message to impressionable audiences.
Beyonce likes to drink large quantities of champagne and wine. She also smokes marijuana and takes pills. While she is not the raging drug addict Jay Z's mistresses Rihanna and Rita Ora are, Beyonce has a problem. Beyonce, like her sister, Solange Knowles, struggles with mental illness, in a family problem that was discussed on Miami radio. Beyonce and Jay Z are apart of Hollywood's so-called "Illuminati" and have exposed themselves to very unethical, questionable and devilish things for money and fame that their psyches are having serious trouble dealing with. Drugs are a dangerous escape.
STORY SOURCE

Here before you sits a video of Beyonce, that sparked rumors she was tweaking
November 5, 2014 - Last night at Basketball game in Brooklyn, the talk wasn't the massive win the Brooklyn Nets had, but rather Beyonce's unusual and chilling behavior front-row with hubby Jay-Z. Gawker picked up a video of Beyonce courtside, appearing as if she may have either A) been intoxicated or B) heavily drugged up. No, really. Bey Bey's rep declined to comment on the video when contacted by New Front Row.