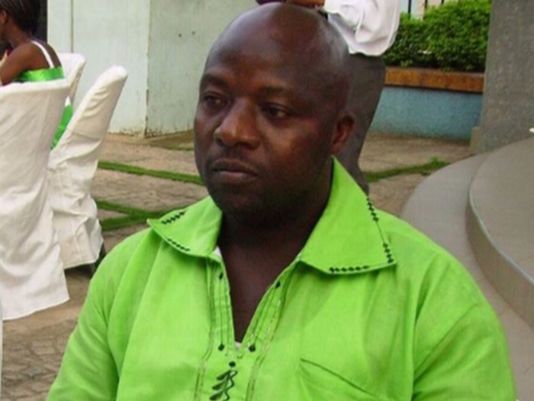 Thomas Eric Duncan
Thomas Eric Duncan, the first person diagnosed with Ebola in the United States, has died at age 42. Duncan traveled to Dallas, Texas from the African nation of Liberia, where he contracted the disease from a neighbor. Duncan went to Texas Health Presbyterian hospital, exhibiting some signs of Ebola, but was sent home without being admitted, after being given a prescription for antibiotics. He returned to the hospital days later, as his symptoms had worsened and the discovery was made he was sick with Ebola.
Ebola is spread through contact with the bodily fluids of an infected person. Yahoo reported, "His neighbors in Monrovia told reporters that five days before his flight, Duncan helped a pregnant woman get to the hospital in a taxi. She was convulsing and vomiting. The woman died at home hours later, after being turned away from a crowded Ebola treatment ward..."
Duncan was given an experimental drug Brincidofovir but it was not able to save his life. Many have panicked regarding the possible spread of Ebola in America. The Judiciary Report is of the belief that at this time one of the biggest concerns regarding the spread of Ebola should be transmission via sweat. It's fairly easy to avoid the bodily fluids of another person. However, if you are seated in close proximity to an infected person in a public or private setting, transmission could occur from sweating or spittle accidentally making contact while speaking.
Some are convinced Ebola is transmitting in an airborne manner, but if that's the case, if you multiply the thousands of people Duncan breathed the same air as in America and those they also breathe the same air as, a few hundred thousands people would already be showing clear signs of the Ebola virus. What a dreadful disease.
STORY SOURCE
Ebola patient Thomas Eric Duncan dies at Dallas hospital
DALLAS — The first person to be diagnosed with Ebola in the United States died early Wednesday, officials with Texas Health Presbyterian Hospital announced. Thomas Eric Duncan, 42, died at 7:51 a.m., the hospital said.
"This hurts deeply," Dallas Mayor Mike Rawlings said during a city council meeting. "We were hoping this was not going to happen." Duncan, a Liberian citizen who recently traveled from West Africa to Dallas, had been in isolation at Texas Health Presbyterian for 10 days.
He had come to Texas to reunite with a long-lost son and the teen's mother, Louise Troh, a former sweetheart from when she lived in Liberia. Troh is being kept in quarantine because she had contact with Duncan, but released a statement following his death.
"His suffering is over," Troh said. "My family is in deep sadness and grief, but we leave him in the hands of God. Our deepest sympathies go out to his father and family in Liberia and here in America. Eric was a wonderful man who showed compassion toward all."...
Duncan is the first person known to die of Ebola in the United States. The virus, which is spread through direct contact with bodily fluids, has killed more than 3,400 people in West Africa in 2014, the World Health Organization estimates...
Five days after getting to Dallas, Troh drove Duncan to the emergency room at Texas Health Presbyterian. Hospital officials said he showed up in the middle of the night with a fever of 100.1 degrees, abdominal pain for two days, a sharp headache and decreased urination. The hospital said Duncan told them he had not experienced nausea, vomiting or diarrhea — strong indicators of Ebola.
Federal guidelines published in August state that someone in Duncan's condition and who was known to have been in West Africa should be placed in isolation and tested for Ebola. Instead, Duncan was given a prescription for antibiotics and sent home.
Hospital officials initially blamed a flawed records system for the mix-up but have since retracted that explanation. No other explanation has been given for how the Ebola diagnosis was overlooked.