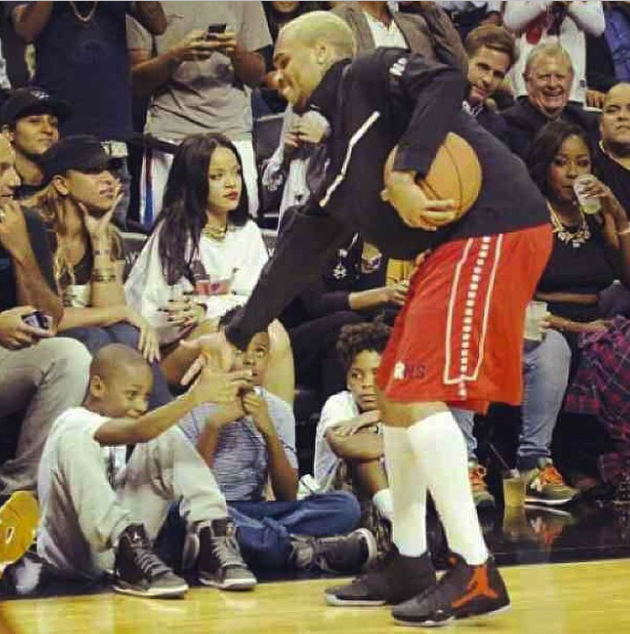 Rihanna in the audience of a charity basketball game Chris Brown played in
Ill-tempered,
thieving singer Rihanna
, had another profane social networking outburst, this time geared towards the CBS network, ignorantly cursing at the company for pulling her song "Run This Town" from the NFL broadcast last week, over the Ray Rice domestic violence scandal. Ray Rice is a football player fired from the Baltimore Ravens for punching out his wife in an elevator.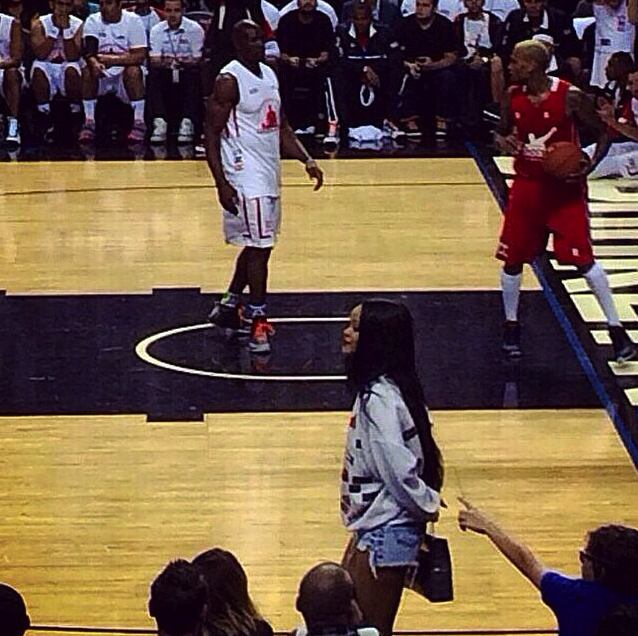 Rihanna trying to get Chris Brown's attention
CBS, the NFL and their advisors, decided to pull the song from last week's football broadcast, due to the fact Rihanna and ex-boyfriend, Chris Brown, were involved in a highly publicized domestic violence incident in 2009. The network was said to be opting for a more subdued theme. Rihanna alleges CBS tried to put the song back this week and she decided to arrogantly out them online regarding it.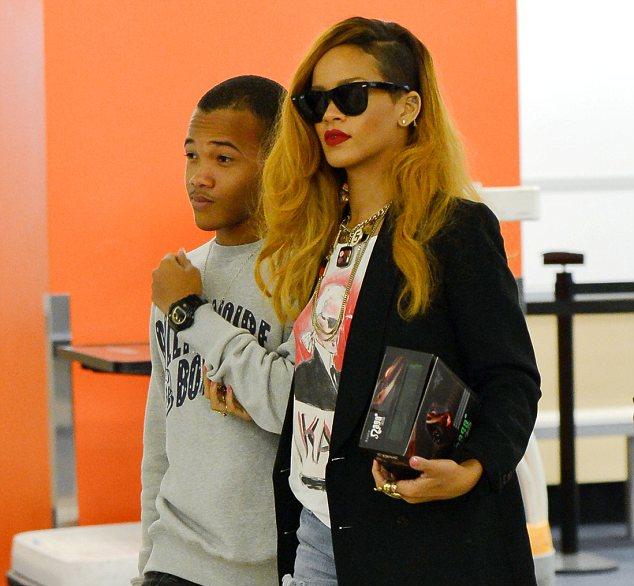 Rihanna and her perverted little brother Rajad, who is also known for making a fool of himself online
Rihanna haughtily took to Twitter to state, "CBS you pulled my song last week, now you wanna slide it back in this Thursday? NO, F**k you! Y'all are sad for penalizing me for this." CBS did not take well to the insult and pulled Rihanna's music permanently from the network, which is a big blow to her career.

Top CBS program "Entertainment Tonight" slammed Rihanna's conduct by stating in reference to her burning bridges, "Rebels get old. They come knocking for their second act." Ouch! The show further stated CBS hosts other programs such as the Grammy Awards telecast and Rihanna just did something foolish in insulting them online. The Judiciary Report has consistently maintained, fame fools people. Rihanna and her inflated, self-important ego is proof of that.