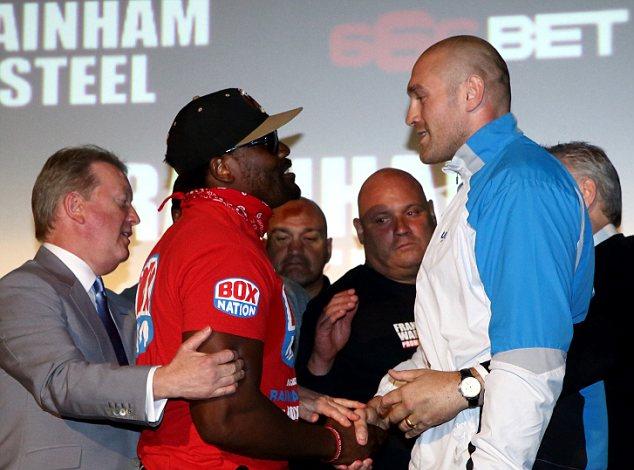 Dereck Chisora and Tyson Fury have an adversarial handshake
English born, undefeated heavyweight boxer, Tyson Fury, 25, cancelled his fight against Alexander Ustinov, 37, this past Saturday, after his uncle Hughie Fury, was rushed to the hospital with a blood clot that was traveling through his arteries. Fury's uncle is in critical condition. His team decided Fury was not in the proper frame of mind to fight due to his uncle's condition.
The bout was originally scheduled for Saturday, July 26, 2014, but was cancelled hours before the event. The fights on the undercard went ahead as scheduled. All of this occurred after Dereck Chisora, 30, pulled out of the fight with Fury, leading to his sparring partner Ustinov stepping in as a replacement.
The fight should have been cancelled the moment Chisora pulled out with an injury. Fury had no sparring sessions, was not training to fight a 300-pound 6 foot 7 inch man and was also just getting back in shape, after gaining weight from not fighting for nearly two years. Fury's last three fights have been cancelled by opponents, citing injury.
The Judiciary Report kept pointing out before the cancellation that Fury could suffer his first loss to Ustinov for various reasons. Then it came out that Ustinov had done an 8-week training camp and had been sparring with Ukrainian WBA, IBF, WBO and IBO world champion, Wladimir Klitschko, 38.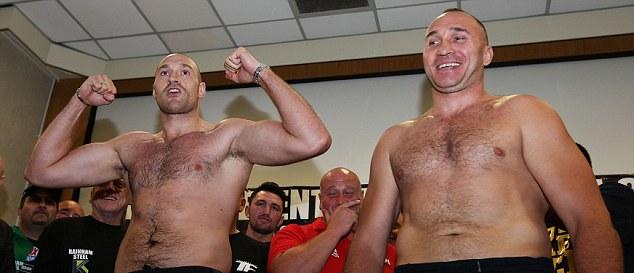 Tyson Fury humorously told rival Alexander Ustinov "I will inflict pain upon your big head"
Another point I brought up on promoter Frank Warren's Twitter page last week, which days later Ustinov questioned as well, is how will Fury fight him when his British boxing license is scheduled to be suspended for misconduct at a press conference with Chisora. The British Boxing Board of Control called for a August 14, 2014 hearing, regarding Fury's explicit press conference in the presence of men, women and children, making it very clear if he refuses to attend, his boxing license will be suspended.
Days later Fury announced he will not attend the hearing. Therefore, how is he going to fight Ustinov or Chisora in October for that matter. Fury currently holds an Irish boxing license, due to his ancestry, but will he be allowed to fight in Britain with it, if a ban is imposed on his primary one.
In the meantime, Fury has gone from saying he wants to fight Wladimir Klitschko to American knockout king, Deontay Wilder, 28, to stating he wants to get in the ring with Haitian WBC heavyweight champion, Bermane "B. Ware" Stiverne, 35.