The True Origin Of Elevator-Gate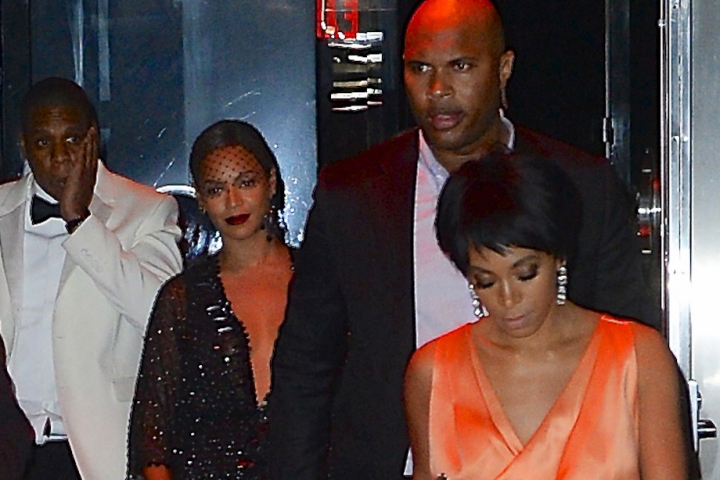 Jay-Z, Beyonce, Julius and Solange
The Daily Mail is reporting the violent elevator altercation between the husband and sister of singer Beyonce occurred over fellow songstress Rihanna. Beyonce's husband was physically attacked in an elevator at the Standard Hotel in New York, by the singer's sister, Solange Knowles, who repeatedly punched and kicked the rapper over his bad behavior. The incident has made Jay Z the laughingstock of the world, as the story spread like wildfire around the globe, leading to him being mocked and teased as the butt of jokes.
The Daily Mail is now reporting Solange lashed out at unfaithful Jay Z for trying to attend Rihanna's party after the Met Gala, without his wife Beyonce. Jay Z was also seen inappropriately holding Rihanna, which is disrespectful to his wife. What kind of man embarrasses his wife like that and in front of everyone. A real man wouldn't do that.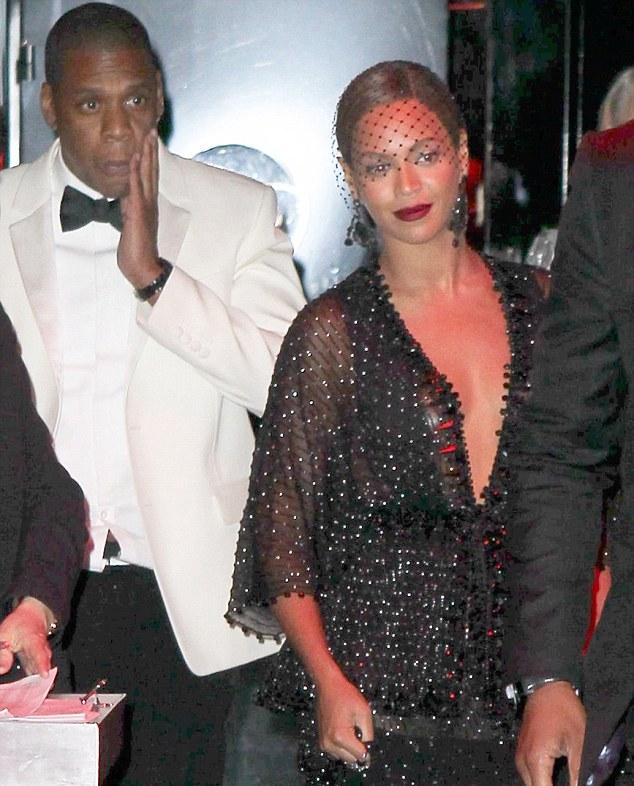 Jay Z looking like a shook up punk after getting handled by Solange
One of my sources responsible for many of my site exclusives that were later proven true, informed me, "The fight was over who was going to have him sexually that night." Solange got angry that Jay Z was feeling up Rihanna then running off to have sex with her again, trying to attend her party without Beyonce. For years the Judiciary Report has maintained Rihanna is Jay Z's mistress. People have seen them going in and out of hotels, having romantic dinners in private rooms of restaurants and spending way too much time locked up in his office (where he has subjected other singers to the casting couch, having sex with them for career favors).
Ironically, the day before TMZ leaked the tape of the elevator fight, I was on
Twitter talking about Jay Z cheating on Beyonce with Rihanna and others
(see screen cap of my tweets from before the elevator fight tape was released, posted below), leading Beyonce to act "thirsty" around President Obama, whom she has a major crush on, as well as engaging in inappropriate behavior with her bodyguard Julius. The next day the tape leaked featured Beyonce, Jay Z and Julius trying to restrain Solange from completely knocking the rapper out in the elevator. During the fight, Beyonce did not stop her sister, clearly agreeing with her behavior. After the fight, Beyonce smiled approvingly at her sister and they both left in the same car, while Jay Z was forced to leave in a separate vehicle.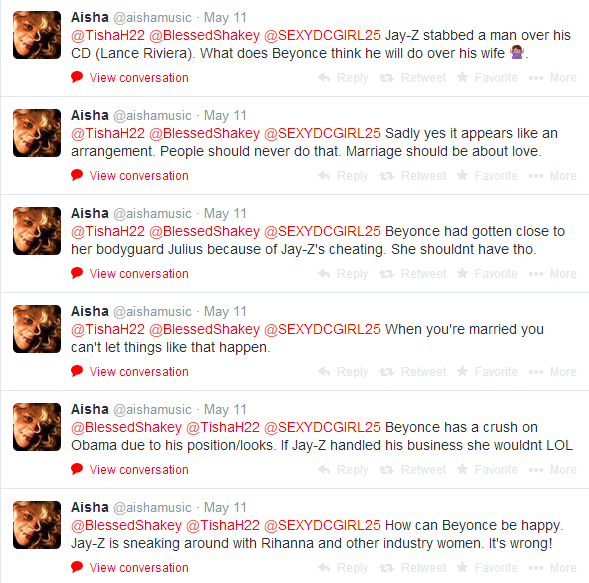 My tweets on Twitter the day before the scandal broke
The fact of the matter is Jay Z is a married man and he needs to start acting like it. He constantly embarrasses his wife and disgraces himself fawning over and inappropriately hugging and holding Rihanna in public, who is not in love with him at all. Jay Z needs to stop this delusional, disgraceful behavior. It is disrespectful, arrogant and ignorant. Rihanna is completely in love with Chris Brown.
Chris Brown is who Rihanna wants, not Jay Z. He is kidding himself to think otherwise and clearly believing his own hype. Jay Z, who is jealous of Chris Brown, has been having sex with now 26-year-old Rihanna
since she was a minor of 16-years-old
(which was illegal) in exchange for giving her a record deal, getting her a management deal, songs, music videos, promotion and publicity. The contracts he has obtained for her are also bad.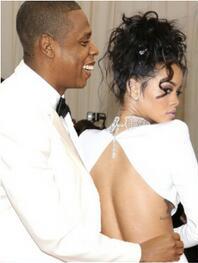 Jay Z holding Rihanna like she is his wife. Rihanna is foul for her behavior as well. She keeps allowing Jay Z to have sex with her when she doesn't really like him.
Jay Z has foolishly convinced himself that Rihanna has feelings for him, when she has only used him to become famous and the man she is in love with is Chris Brown. Jay Z needs to go home to his wife and stop making a fool of himself, in this negative example he is setting for impressionable young men and women. This attitude of going around the industry and in front of the cameras like I'm-married-but-I'm-still-a-pimp makes him look like a desperate sugar daddy. I don't agree with violence, but I'm not sorry for Jay Z that
Solange tried to punch and kick him into next week.
What's almost as alarming is Jay Z, who has fooled himself into thinking he is Warren Buffett, when in actuality he is a copyright and trademark thief, constantly in court having been sued for stealing millions in intellectual property, has been spending Beyonce's money. Jay Z can barely speak English though it's his first language and can hardly count to ten, yet Beyonce is letting him, a man who is constantly in financial trouble but trying to cover it up, manage her money...money might I add he's been spending on other women...like Rihanna and Rita Ora, among others.
STORY SOURCE
Solange launched into astonishing elevator attack on Jay-Z after he said he was going to Rihanna's party WITHOUT Beyoncé

PUBLISHED: 10:52 EST, 13 May 2014 - Beyoncé's sister Solange lashed out at Jay-Z in an astonishing elevator attack after the music mogul said he was attending Rihanna's Met Ball after-party without his wife, it has been reported.