Oh, It's On Like Donkey Kong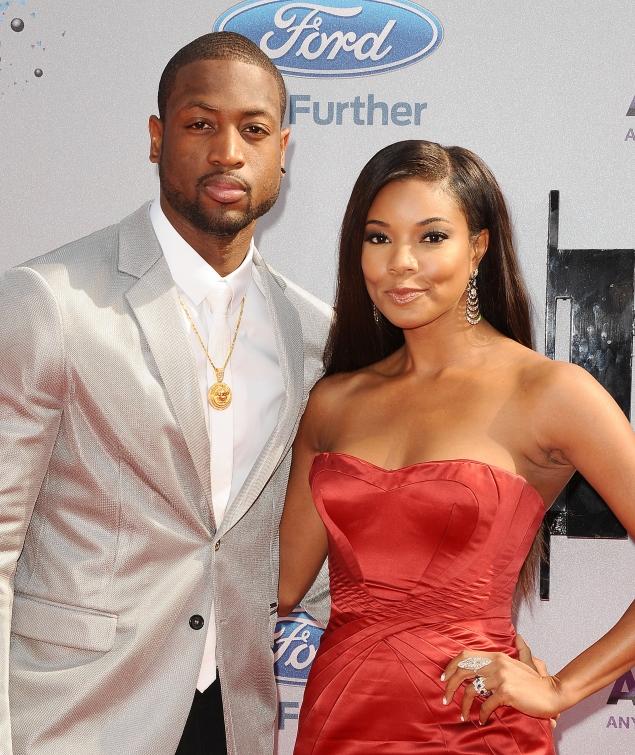 Dwyane Wade and Gabrielle Union
Back in 2010, Dwyane Wade sent a Happy Mother's Day wish to Aja Metoyer, the longtime friend he ended up impregnating in 2013. She gave birth to his baby Xavier Wade on November 10. 2013. The Twitter name Wade sent the the 2010 Mother's Day wish to is
www.twitter.com/ajametoyer
. Well, yesterday that same Twitter account slammed Wade and his fiancée, Gabrielle Union. The tweets have since been deleted but have been screencapped below by the Rhymes With Snitch blog.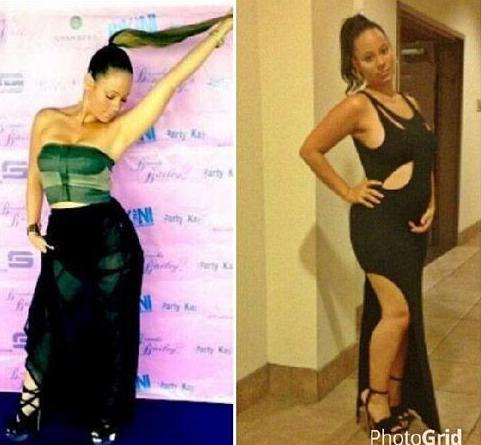 Aja Metoyer
TMZ uncovered the fact Wade's sexual fling with Metoyer overlapped his relationship with Union, revealing he cheated on her. Since that time, people have been calling Metoyer a gold digger, groupie, side chick and baby mama (well, technically she is a "baby mama").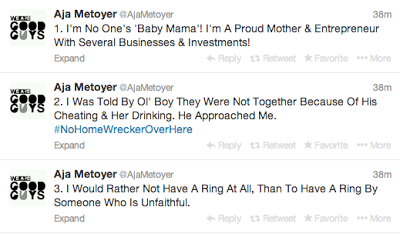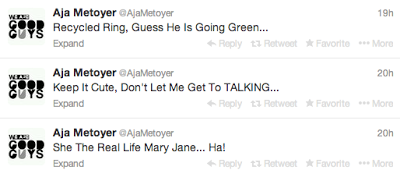 Aja Metoyer
Metoyer has taken offense to the labels she is being tagged with online by bloggers and internet readers and fired off tweets slamming Wade and Union. Metoyer stated when they began a sexual relationship, Wade told her he had broken up with Union, over her "drinking" and his "cheating."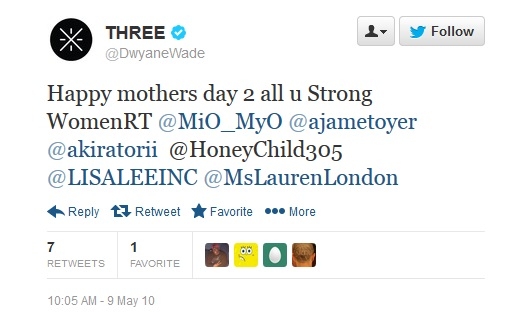 Dwyane Wade's tweet to Aja and other friends on Twitter. Based on his tweet and press release about his new son, he and Aja are good friends and it turned into something more.
Metoyer is also implying Wade had proposed to her with the same ring he gave Union two weeks ago, as she referred to it as "recycled" stating he's "going green." That's going to hurt Union, who was so excited to receive the ring. Metoyer also slammed claims she is a gold digger by stating she has several businesses and investments. Still, some will state she is not wealthy like Wade, who is a millionaire many times over. A gold digger does not have to be broke. Therefore, some will not accept that argument.
Metoyer also stated she has a degree from NYU. The question is why the unplanned pregnancy. Certainly a business woman with a degree would be on top of something like that, pardon the pun, opting to use birth control. It gives the impression it was a planned pregnancy on Metoyer's end, but an unplanned one for Wade, who was still dating Union.
STORY SOURCE
Dwyane Wade's Secret Baby Mama Popping Off?
Friday, January 03, 2014 - Earlier this week it was revealed that Dwyane Wade had secretly fathered a child with Damon Wayans Jr.'s baby mama Aja Metoyer. Now Aja, or someone pretending to be her, is online going off...