Rapper Nelly has slammed pop singer Madonna for using the n-word online. The attention seeking, washed up op singer took to Instagram and used the n-word for attention, in a move that was slammed all over the internet. Nelly stated Madonna, "f***** up" and "needs to get her s**t right."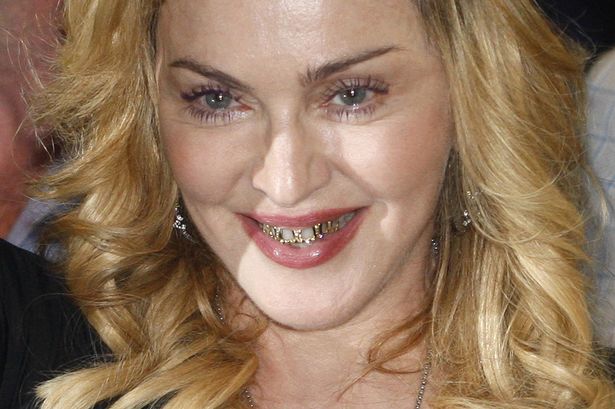 Racist Madonna looks like a foul, grinning demon. She has released a song about people being her slaves and she is the master, in conduct disrespectful to black people.
TMZ did a poll on the matter and over 82% of the 55,000 people survey slammed Madonna's conduct stating she should not receive a pass for such deplorable conduct. The mere fact someone would do that for publicity, using the n-word, knowing the negative and hurtful connotation it holds for black people says that's a cruel, hateful individual. However, people shouldn't be surprised. After all, according to the Daily Mail Madonna, has a painting of Adolf Hitler in her home that she proudly displays like a sicko.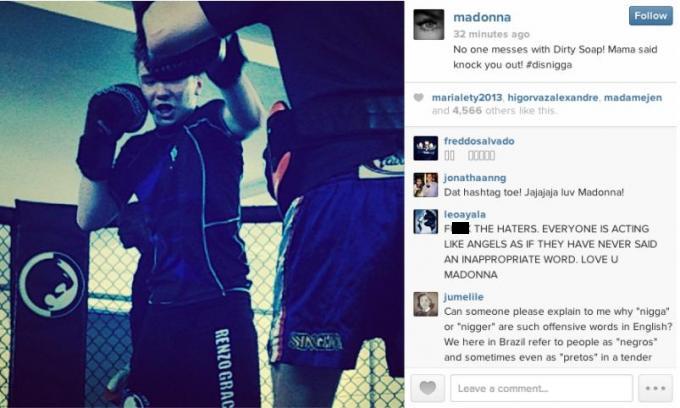 Madonna using the n-word on Instagram. It's ironic, as she repeatedly mimics items written on the Judiciary Report site and my affiliated websites. Madonna's also taken to repeatedly mimicking my tweets on Twitter about a variety of people and subjects. Weeks before the n-word incident on Instagram, I'd tweeted a boxer "Mama Said Knock You Out" by LL Cool J as hype music/encouragement for his fight. Black people also call the boxer "my n*gga" and "my g" on social networking.
I've been stating online that Madonna is a racist racist, who only adopted two children from Africa, prying them from their crying families, in trying to mimic Angelina Jolie, wanting the same massive publicity the actress received for her adoption of minority children. However, it backfired when a public backlash ensued and people all over the world slammed Madonna's attention seeking conduct, where they had praised Jolie.
I've also stated prior to the Instagram incident that Madonna and her Kabbalah Center are hateful, malicious racists, who use the n-word against black people. Madonna's Kabbalah Center has used the n-word regarding me more than once. The most notable incident was when the Kabbalah Center sent me
a death threat calling me a "deranged nigger."
Let me get this straight, you're emailing me a death threat, but claiming I'm the one who's deranged. You think about that.

An excerpt of an emailed death threat sent to me from Madonna's Kabbalah Center. All the black celebrities in the racist, hateful Kabbalah Center, like Jay-Z, Beyonce and Rihanna are a bunch of self-hating people for promoting the cult's sick agenda in exchange for stolen intellectual property and career favors in Hollywood.
It's amazing, I've lived in America since I was age 8 and no one ever called me "nigger" until Madonna and her cult the Kabbalah Center began stalking, threatening, robbing and attacking me over my Copyrighted Catalog they are hell-bent on stealing items from. Madonna and the Kabbalah Center should be very ashamed of that precedent, but they're too depraved to realize how terrible their conduct is on every level.
STORY SOURCE
Nelly: MADONNA F**KED UP' By Dropping N-Bomb Online
1/27/2014 6:06 AM PST BY TMZ STAFF - Madonna straight "f**ked up" when she dropped the N-word online in a shout-out to her son ... so says the rapper Nelly, who tells TMZ, "She need to get her sh*t right." Nelly was leaving a Grammy party at 1OAK nightclub on the Sunset Strip when we asked about Madge's super-controversial Instagram post ... the one where she referred to her white son Rocco as a "n**ga."
Nelly says he's cool with Madonna because she apologized ... but it's clear from Nelly, Madge doesn't have, or ever will have, a pass to use the N-word... no matter how many black kids she adopts.
RELATED ARTICLES