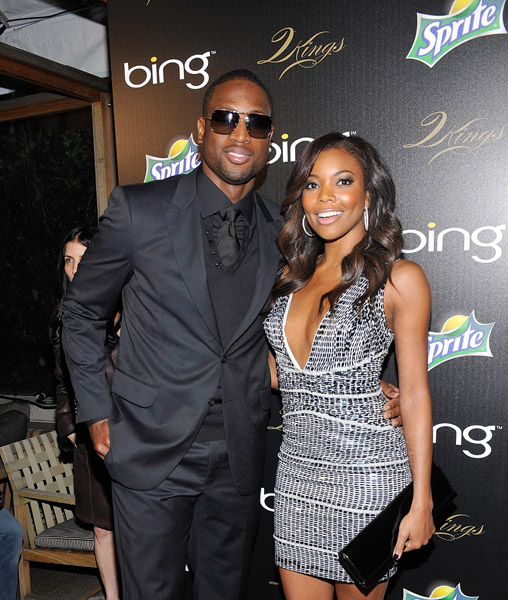 Dywane Wade and Gabrielle Union
The opening episode of BET's television show "Being Mary Jane" starring actress Gabrielle Union, got off to a solid start with decent cable ratings. However, the show lost 500,000 viewers in week two and continues to slide. According to the Los Angeles Times, "The debut installment had already dropped from the more than 4 million viewers who tuned in to the show's movie-length pilot, which aired last May."
Could the plunging ratings have to do with the drama in Union's personal life, as it was revealed Miami Heat star basketball player, Dwyane Wade, fathered a child with another woman, Aja Metoyer, during the time the two were together. The baby was born in November 2013 and his mother went on a Twitter tirade, spilling the beans regarding Wade and Union, who she labeled an alcoholic.
Wade has since proposed to the actress, but Union is receiving a significant amount of criticism online, with people calling her weak over her decision to stay with a boyfriend who cheated on her. People are also unhappy with the fact Union broke up Wade's marriage to this high school sweetheart Siohvaughn Wade, who became much more vocal over the past several months.
No matter how interesting a show might be, likeability regarding its cast can impact ratings. If there is a public image scandal, it can cause ratings to wane. Bloggers certainly aren't trying to help Union, who is deemed a homewrecker online.
STORY SOURCE
BET's 'Being Mary Jane' slides again in second week
January 16, 2014, 2:58 p.m. - BET's first original scripted drama, "Being Mary Jane," may be a solid performer for the network, but its initial ratings have not been encouraging. The second episode of the series, which stars Gabrielle Union as a successful cable news personality with a messy personal and family life, attracted 2.8 million viewers Tuesday, according to Nielsen -- a drop of more than 15% from the premiere episode, which drew 3.3 million viewers...