Three days ago, singer Teyana Taylor and model Karrueche Tran posted items online from New York referring to "bi**hes" who are "scary" and "shook" (
Blog: Karrueche Tran And Teyana Taylor Slam Rihanna In New York
). It turns out Rihanna had club security deny Tran entrance into the Pink Elephant in New York.



However, things didn't go so smoothly for Rihanna. After making sure Tran couldn't get in, Rihanna found herself being dissed. Another club goer threatened to beat the weave off her, prompting Rihanna to quickly walk away while running her mouth, "I'm a be here next Sunday bi**h." Yea, with 20 bodyguards, hiding behind all of them.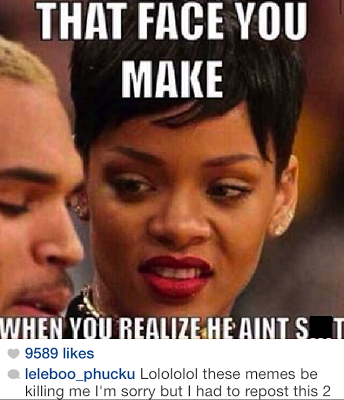 Rihanna and her cousin LeLe insulting Chris Brown on Instagram
If that wasn't enough, yesterday Rihanna and her cousin LeLe posted an insult on Instagram stating Chris Brown "Ain't sh**." Well, why were you with him then. Why do you keep texting him. Why do you ask about him in the industry all the time. Boast online all you want, behind the scenes people know you're still chasing him down.
STORY SOURCE

Rihannas Shades the ***ck Out of Chris Brown
Monday, December 23, 2013 - Last night Rihanna's cousin Lele posted a hilariously disrespectful meme on Instagram featuring Chris Brown and Rihanna and Bad Gal RiRi couldn't resist logging in and co-signing...After Lele posted the pic Rihanna commented

Rihanna Pulls Rank on Teyana and Karrueche
Monday, December 23, 2013 - Friday night Karrueche Tran and Teyana Taylor were sub-Tweeting the hell out of Rihanna [click here if you missed that] and now we know why... From Page Six:
Is there still tension between Chris Brown's exes, Rihanna and Karrueche Tran? Spies said Tran didn't make it past Pink Elephant's velvet rope last week, because, her rep explained: "she was told she could [not] attend said club, because Rihanna was inside. [She] decided to go elsewhere." A rep for Roee Nahmani's hot spot added, "She wasn't let in as a courtesy to Rihanna. To keep the peace, they decided it was in everybody's best interest if they weren't on the dance floor at the same time."