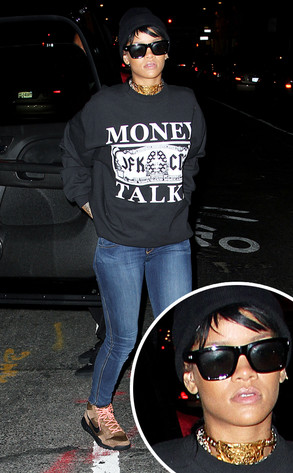 Rihanna looking depressed wearing a necklace Chris Brown gave her last year. It doesn't even go with what she's wearing.
Troubled singer Rihanna was pictured wearing a gold necklace that on and off again boyfriend Chris Brown gave her in 2012. Some are interpreting it as a signal she misses him, as he left her a few months ago when they could not get along and she cheated on him.
Brown went back to his other girlfriend, model Karrueche Tran and the two have been looking very happy together in photos. Rihanna, however, has been looking sad and depressed, sulking around Hollywood. She has been encouraging her family and fans to attack Tran online.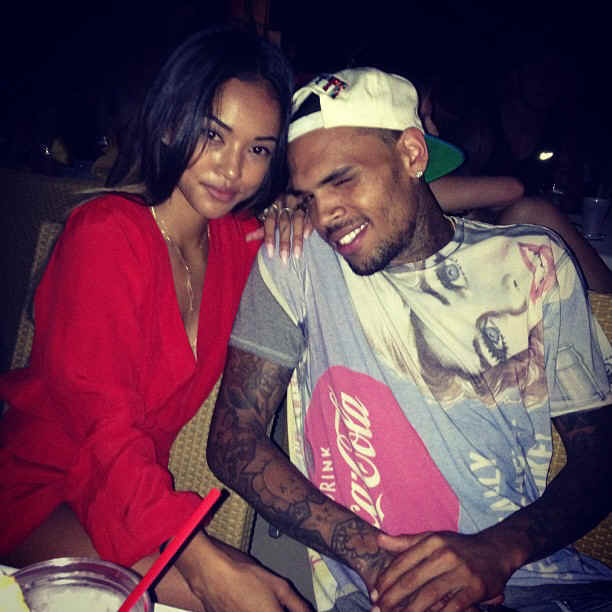 The Karrueche Tran and Chris Brown
The mere fact Rihanna is wearing the necklace Brown gave her is an indicator she misses him and wants him back. When a woman is over a man, the things he gave her become obsolete in her life. She doesn't want the reminder. When a woman is through with a man, she doesn't wear the jewelry he gave her. It's like when some women wear their man's shirt in his absence as a way of having him close while he is away. Rihanna wearing the necklace Brown gave her is a woman clinging to the past and wanting it back.
As stated on the site previously, Rihanna has been inquiring after Brown in Los Angeles wanting to know what he does, where he goes and with whom. She's sending out feelers about him. This coupled with wearing the necklace pictured above, begs the question is Chris Brown paying attention to her hints or is he too busy canoodling with Karrueche.
STORY SOURCE
Rihanna Wears Gold Necklace Believed to Be From Ex Chris Brown—See the Pic!
by Brett Malec Today 12:13 PM PDT- It looks like Rihanna may have ex-boyfriend Chris Brown on her mind. The "Diamonds" singer stepped out in NYC last night wearing the gold Christian Lacroix necklace that's widely believed to have been a gift from Brown. RiRi looked casual yet chic while sporting the glamorous jewelry paired with sneakers, blue skinny jeans, a black sweater and sunglasses with a black beanie.
RiRi sported the same gold necklace on Christmas Day 2012 when the couple spent the holiday enjoying a Lakers game together in L.A. A few weeks prior to their Christmas Day outing, Rihanna shared a topless photo of herself wearing the gold necklace on Instagram with the caption, "He told me 'you better not give it away.'"...