The accidental near-drowning of Usher Raymond's son, 5-year-old Usher Raymond V, in a pool mishap last week, is more serious than may people first thought. Usher's ex-wife, who also lost a child last year in a water accident on Lake Lanier (Kile Glover), stated her son with Usher, nicknamed Cinco had "basically died."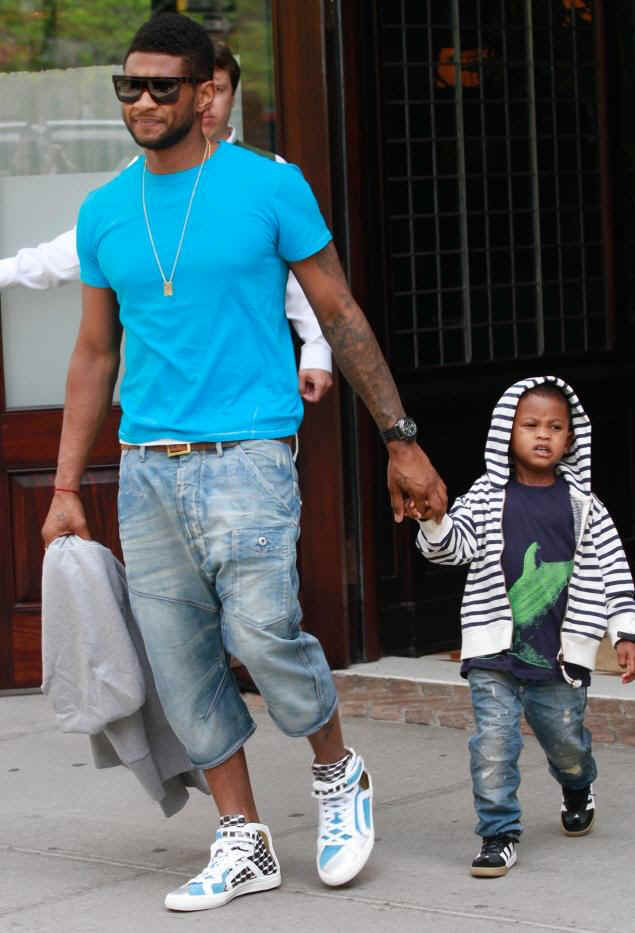 Usher and Usher Jr. prior to the accident
Foster stated in court, "The bottom line is my son basically expired. My son had to be revived and brought back to life. My son basically had died on the scene, from what I was told by the doctor." The child has been in the hospital for days, due to water in the lungs, under observation for heart and brain damage.
STORY SOURCE
Tameka Foster in Court: My Son 'Basically Died'
August 09, 2013 - Usher and his ex-wife Tameka Foster faced off in an Atlanta courtroom on Friday in a renewed custody battle triggered by the near-drowning on Monday of the former couple's five-year-old son Usher Raymond V inside the R&B superstar's pool.
When asked at the start of the hearing to give an update on Usher V -- who is still recovering from the accident at Children's Healthcare of Atlanta hospital -- Foster replied, "My son is alive, he's alive. I'd say he's doing well." But she also added that he is not ready to be discharged from the hospital and that "there are several issues that I'm concerned about that don't seem quite normal," about the care of Usher V and her other son, four-year-old Naviyd Ely Raymond, who also lives at Usher's residence…
During his beginning testimony on the stand, Usher said he was in the studio when he was notified about the accident and rushed home as soon as possible to assess the situation. "When I arrived, my son was hysterical, and in the back of an ambulance."
The singer said he did his best to calm his son down and was trying to help him understand what had taken place and made this his immediate priority, rather than contacting Foster. He said he waited until he was at the hospital to call his ex about the situation, but at that time, indicated that he still didn't have a clear understanding yet of the gravity of the situation.