Rihanna Tried To Get With Drake Again After Being Dumped By Chris Brown, Who Went Back To Karrueche Tran
The funny video above is unrelated to the situation but you know that's what happened when Rihanna tried to holla at Drake, who is very sensitive and doesn't like being used, in trying to make Chris Brown jealous again (LOL).
The Hollywood Life website posted still of singer Rihanna at the VMAs last week, revealing she gave rapper Drake, her pawn in a game of making her true love Chris Brown jealous, the stink eye as he performed on stage. First Drake did an interview stating he treated Rihanna well when they briefly dated and she fell into his lap after she broke up with Brown - but expressed he did not like certain things with her behavior. Then, Brown did an interview stating he is not trying to "wife" Rihanna nor have a child with her.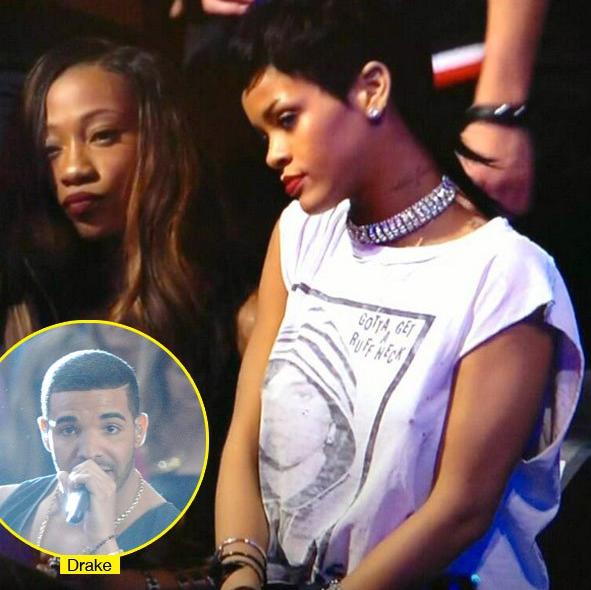 Rihanna (right), Drake (inset) and her assistant Melissa Forde (Photo courtesy of Hollywood Life)
It's one thing to be single by choice, but in Rihanna's case she's been rejected by the love of her life Brown and the man she has used to try to make him jealous, Drake. When you play games and use people, as she is doing, don't expect them to thank you for it. She used Drake and he knows it. No one wants to be second best. No one deserves that.
STORY SOURCE
Rihanna Gives Drake The Stink Eye During His VMA Performance
Mon, August 26, 2013 9:36am EDT - Looks like someone wasn't as into Drake's performance at the VMAs on Aug. 25 as we were! While the rapper was rocking the stage on MTV's big night, cameras caught RiRi looking none too happy about having to watch her former flame perform...
While Drake was making the crowd go wild with his performance of "Hold On, We're Going Home" and "Started From the Bottom," there was one person watching who did NOT look impressed — Rihanna! When cameras flashed to RiRi during the performance, she seemed completely upset — mad even — about having to watch the rapper perform, shooting daggers at Drake with her eyes; full-on stink eye mode.
So is there beef between these former lovers? Drake did kind of throw shade at Rihanna (but moreso Chris) in an interview with GQ when he said he couldn't even fathom her relationship with Breezy: "If I think about it too much, I feel it wrapping around my foot, like I get a feeling it could end really badly. Like, it gets really dark."...