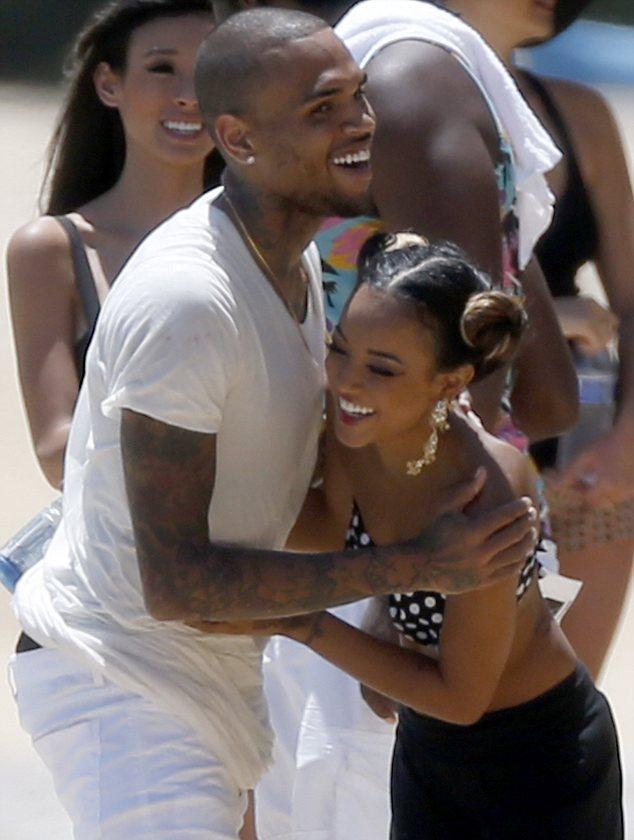 Chris Brown and Karrueche Tran
Rihanna, her cousin Leandra and a friend attacked model Karrueche Tran online, over her relationship with R&B singer Chris Brown. Beautiful Tran posted a picture of herself wearing braids which stated, "These braids and my peanut head lol." Nothing wrong with making jokes about one's self. However, Rihanna, her cousin and friend took it too far when viewing the pic, as Leandra posted the photo of Tran with the words, "Why did one of my boys send me this" accompanied by alien face emoticons. Rihanna laughed in tweets about it.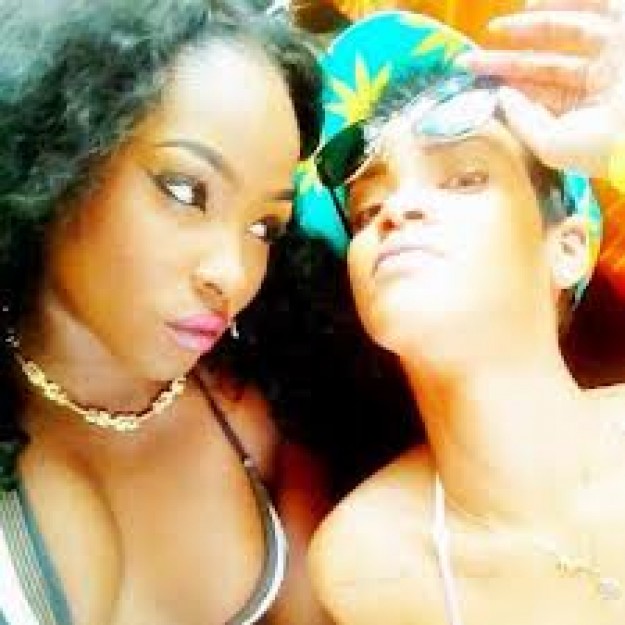 Rihanna (right) and her cousin Leandra (left)
First off, let's just state, not Rihanna or Leandra can say anyone looks like an alien. There are bloggers that routinely state Rihanna looks like an alien and seeing a pic of Leandra, one can safely state it runs in the family. With Rihanna's 3D forehead, she can't talk. Both of you have several seats.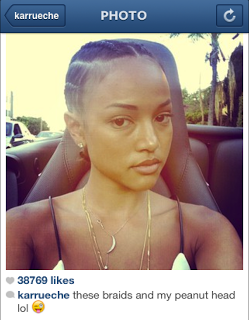 Karrueche Tran's post on Instagram
However, these jabs were provoked by sheer jealousy. After Tran's romantic trip to Hawaii with Brown (the place Rihanna had taken Brown months prior – and here comes Chris with the "Hey, I'll take Karrueche there now" – smooth Chris…not LOL). When Rihanna saw Tran in Hawaii with Brown looking like a couple in love, the vein stood up on her
forehead
fivehead.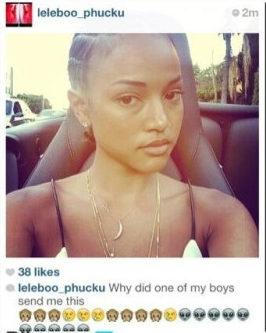 Rihanna's cousin Leandra reposts Karrueche Tran's post on Instagram adding a sarcastic insult with alien faces
Rihanna is very jealous that the love of her life, on and off again boyfriend Brown, is romancing Tran, who has been there for him through some of the worst times of his life. She dislikes what is happening, as she wants Brown back once again.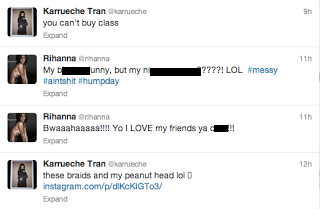 Karrueche taking the high road, while Rihanna takes the low one again
Rihanna wants Tran to have no prominence in Brown's life, relegated to what is known as a side chick or jumpoff (see: concubine with no name or public mentions thereof). Rihanna doesn't want Brown to claim Tran publicly. She hates it. She is embarrassed by it. She thought when they broke up again he'd just lay down and die. Instead he lay down and did something else too rude to mention on the site (and if Tran forgets to take her birth control a little Chris Brown will be running around).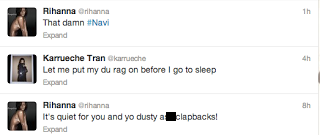 Karrueche taking the high road, while Rihanna takes the low one again
Rather than Tran being hidden, what do we see – Brown taking Tran on high profile romantic trips, hugging her in public, looking lovingly into her eyes, holding her hands. Y'all know they're doing it right…and that's what's ticking Rihanna off. It is hurting her very badly to know Brown is having sex with Tran and on a regular basis. Chris Brown is her favorite and the man she loves. It is killing her seeing him with someone else. The problem is, what if Rihanna, who loves to fight tries to physically confront Tran one day. Leave that woman alone.
RELATED ARTICLE
STORY SOURCE