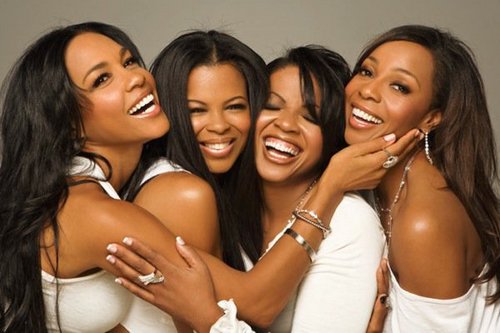 EnVogue
Beautiful EnVogue singer, Dawn Robinson, recently opened up on her new reality show "R&B Divas L.A." regarding her abusive marriage. Though she does not state her ex-husband's name, online searches reveal it is entertainer Dre Allen, who never achieved the level of fame she did and resents her for it, rather than being happy for Dawn's success.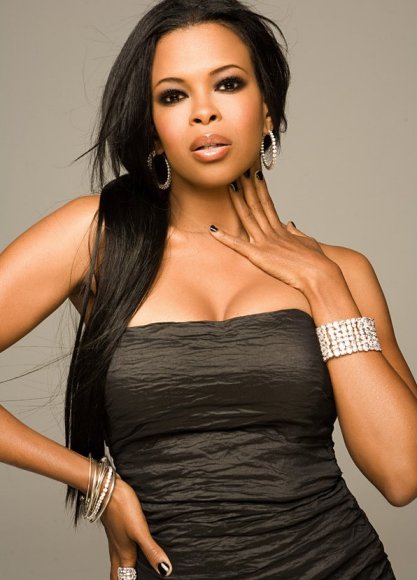 Dawn Robinson
Dawn stated he not only beat and cheated on her, he also fathered three children outside of their marriage, which understandably left her devastated. Other allegations include Dre is bisexual and slept with 17 men he met via online interactions. It is more proof fame and fortune does not insulate one from ending up in an abusive relationship. Some of the most beautiful and successful women have suffered in terrible relationships and marriages.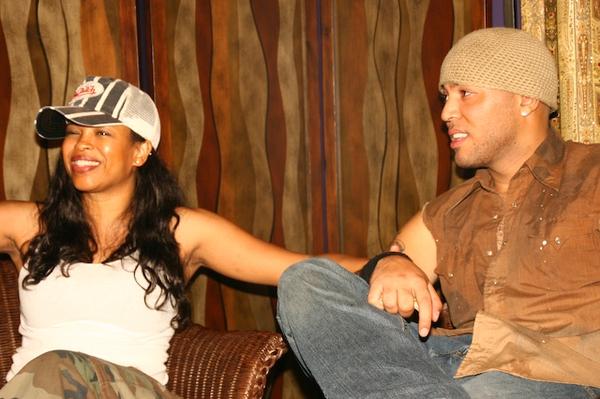 Dawn Robinson and ex-husband Dre Allen
A friend of mine, who recently divorced her husband, suffered something similar to Dawn, regarding her spouse unconscionably fathering two kids outside of their marriage when their little girl was sick and dying (she died 10-years-ago), stated to me women sometimes believe they can change a man, but what you see before you marry them is what you are getting. It's true, many men and women have fooled themselves into thinking they can change a person, but at the end of the day only God can do that.
STORY SOURCE
SHOCKER!! Ex Husband Puts Dawn Robinson From En Vogue's Business IN THE STREETS!!!
January 12, 2008: In what has to be one of the most stunning celebrity dishes in recent memory, Dawn Robinson's ex-husband Dre Allen put all her business out on FRONT STREET. Dre contacted MediaTakeOut.com after he noticed that Dawn and her sister were leaving disparaging messages on his Myspace page - claiming that he was a homosexual. And then Dre went on the attack.
In an expletive laden rant - he talked openly about Dawn's personal business. MediaTakeOut.com has learned that according to Dre, Dawn was an active swinger who once had sex with 17 men off the internet in a single month. And there's more. But you can hear it directly from Dre's mouth. Here's what he said:
First & foremost, I would hardly EVER respond to s*** talking from anyone but today I make an exception. These two A******S have gone on a rampage to destroy my name today while no one was even THINKING about them. If you read the blog comments, I was referred to by Dawn?s sister as a transvestite f****** homosexual who beats women & has sex with every woman he meets! Wow? gay but has sex with every woman I meet? LOL? this s*** is a laugh! Well? since she felt the need to have her sister & a few of her closest friends come over here let me give you all the REAL reason why I left Dawn?s a**!!!
One?she was signed up to porno sites & wanted to swing with other couples? before I got involved with her she admitted to sleeping with 17 men in one month from one swinging site?I GAVE HER THE BENEFIT OF THE DOUBT & THOUGHT SHE WAS JUST REALLY COMPENSATING FOR ALOT OF INSECURITY! I stayed. THEN?she NAGGED the s*** out of me day in & day out because I was always busy & she didn't know enough about the business to just get her own s*** done? NO? she wanted to be a f****** DIVA & complain about EVERY f****** thing that I DID set up like she was still BEYONCE!
NOBODY was checkin for her a*s when I was with her! NOBODY hardly would book shows unless she was in En Vogue? I side busted & got their a**** back together but the only ones who knew what they were doing was the other 3 members of the group! THEY were the smart ones!
They knew how to get shit done & book shows but I had to always appease Dawn?s a*s & say?? no, you're right baby? those old tired b****** ain't nothing without you?? S***? she is quite literally THE stupidest person I have ever met? I fell out of love with her? I left her? now these IDIOTS are coming to my page trying to destroy my name with my fans??? HOW DARE YOU!!! You don't want to dance with me!
Why? Because I dont give a F***! Your record is PUBLIC! You got kicked out of En Vogue & they didn't even want to FACE you because you are the most DIFFICULT person in the world to deal with! They left you sitting at a photo shoot for the last album & didn't tell you where they were at shooting the EV3 cover without you? remember that???
Raphael Saadiq kicked you out of Lucy Pearl because your attitude jeopardized an operation he worked HARD to get off the ground? and HE didn't even face you? you found out you got kicked out on the RADIO!! Ask yourself why Dawn? because? you're a phony, nagging, complaining, two faced, spoiled rotten B****!!!!
We haven't even STARTED talking about your deal with Dr. Dre! What happened there Dawn? He BOOTED you before you even started because he saw your mouth a mile away! You dug this grave for yourself! Now here is a warning? keep my name out of your mouth & keep your friends & family members OFF of my myspace page?
Dawn, we're not sure how you can come back from this kind of an attack. But if you can think of a way, email it to us...