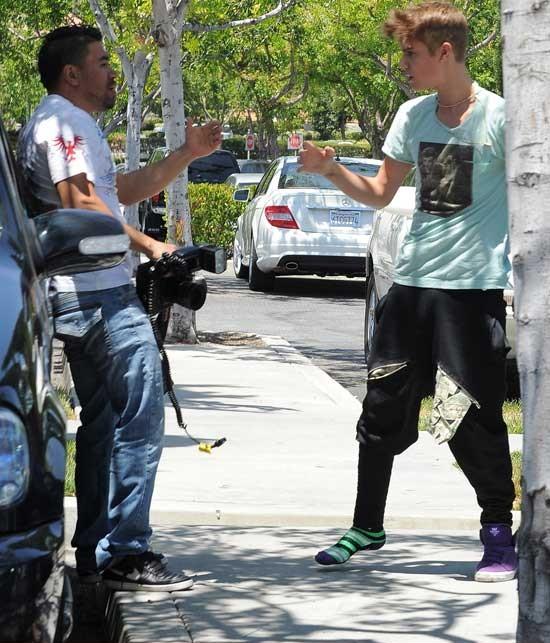 Paparazzo and Bieber after fight (Photo Credit: GSI)
19-year-old pop star Justin Bieber has been sued by paparazzo, Jose Osmin Hernandez Duran, for karate kicking him in the ribs and punching him in the face. Justin needs to switch to decaf coffee. In 2012, Duran, attempting to make a fat check off taking photos of Bieber and on and off again girlfriend, Selena Gomez, reportedly stood in front of the singer's vehicle, blocking the couple's path.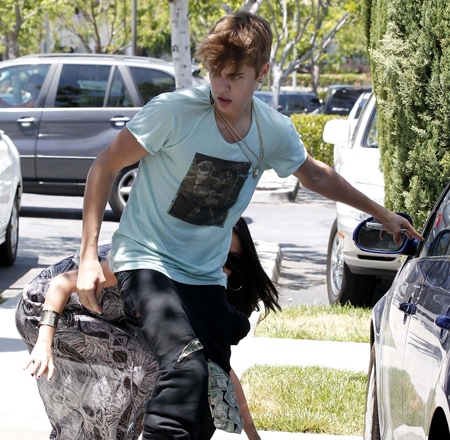 Justin Bieber and Selena Gomez (Photo Credit: GSI)
Bieber is said to have exited the car and opened a can of whoop butt on the pap. Bieber kicked him so hard he lost his shoe. Now the paparazzo wants him to lose some money for the drop kick and sucker punch. Next time, Bieber, just call the police.
STORY SOURCE
Justin Bieber Sued By Photographer For MMA Kick
Posted: 06/26/2013 5:05 pm EDT | Updated: 06/26/2013 5:05 pm EDT - Justin Bieber's being sued for allegedly using an MMA-style kick on a photographer last year, reports TMZ. Jose Osmin Hernandez Duran was taking pictures of Bieber and then-girlfriend Selena Gomez at the Commons in Calabasas, Calif. Bieber supposedly jumped out of his Mercedes and "delivered a martial arts-type kick ... in the lower rib cage on the left side of his abdomen." The suit also claims that Bieber punched Duran in the face and violently pushed him against the car.