How Would She Know That Because He Was Covered Up...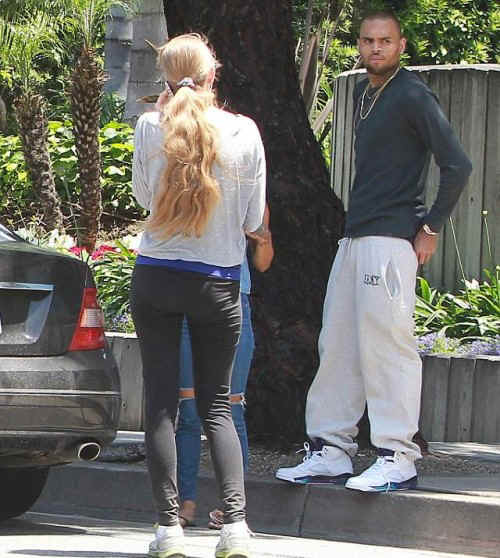 Olga Gure-Kovalenko, Karrueche Tran and Chris Brown at the scene of accident
Olga Gure-Kovalenko, the woman who had a minor fender bender via R&B singer Chris Brown rear-ending her Mercedes in traffic, stated she was scared of him, didn't know who he was and additionally stated he was covered in tattoos. Here's the problem with that, Brown was completely covered up, wearing a long sleeve shirt and pants. Most of his tattoos, as seen in pics, are on his chest and arms. How did she know he was covered in tattoos if she didn't know who he was and that he has them. Gure-Kovalenko stated she was, "Practically scared to death of Brown because he was driving a huge SUV at the time of the accident, and was covered in tattoos."
Listen, if Chris does something, then fine, he must answer to it in court. It should be the same rules for everyone in society. However, these past two incidents, regarding a woman claiming he shoved her in the club causing ligament tearing, then she places a brace on the leg other than the one she claims was injured is fraud. Gure-Kovalenko claiming Brown tried to snatch her phone and began berating her as a "bi**h" when the paparazzi video that has been released of the incident reveals otherwise, looks dubious.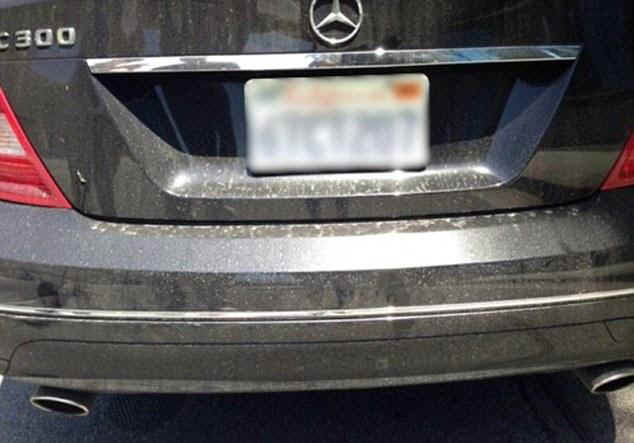 Gure-Kovalenko'S Mercedes shows no damage
Chris has done things in the past that were wrong and he apologized. However, now it is really starting to look like someone's out to get him. And don't think Hollywood cults such as Kabbalah and Scientology don't stage things. They've been caught red-handed doing such things, using private investigators, such as the now incarcerated
Anthony Pellicano
, who would stage car and bike accidents and engage in other prearranged harassment incidents against people certain folks in Hollywood paid him to go after.
Even the incident regarding a massive garbage truck that managed to hit actress and former Scientologist, Katie Holmes, in Manhattan as she slowly rode on the packed streets in her chauffer driven Mercedes, is being attributed to Scientology, who are very angry she left the Hollywood cult. There have been other incidents plaguing the woman since the aforementioned "accident." They've done worse to others, detailed in police reports in America and Europe.
STORY SOURCE
Chris Brown's Alleged Hit And Run Victim Speaks Out
VIBE Posted June 28, 2013 - Another day, another Chris Brown-related controversy. After being accused of recent hit and run charges, the singer's alleged victim—who also happens to be Miss Russian L.A. 2013—has stepped into the spotlight to reveal her side of the tale.
In broken English, Olga Gure-Kovalenko (photographed above) told TMZ that she was "practically scared to death of Brown because he was driving a huge SUV at the time of the accident, and was covered in tattoos." She also says that the singer was very angry with her after the fenderbender that occurred in May in Los Angeles and called her a "b***h." There's a disconnect between the claims and the incident as photos that surfaced from the scene of the alleged crime show Brown wearing a long-sleeved sweater...