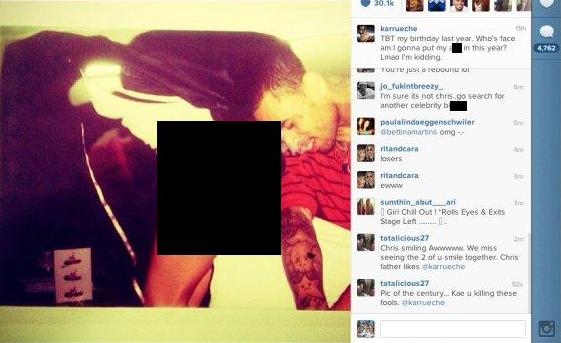 Karrueche Tran's Instagram page
Karrueche Tran posted a photo from last year, featuring her bare butt in singer Chris Brown's face. She attached the following message to the pic, "TBT my birthday last year. Who's face am I gonna put my a** in this year? Lmao I'm kidding." Kidding or not, Brown responded, wishing Tran a happy birthday ("Happy bday @karrueche"). Tran responded by posting a heart to Brown. It's clear these two still have feelings for each other.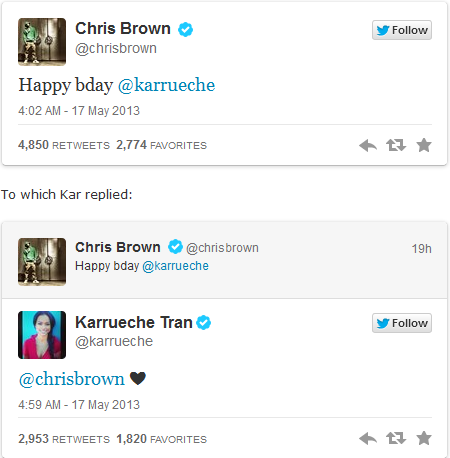 Chris Brown tweeting Karrueche Tran a happy birthday and she responded
As on and off again girlfriend Rihanna obsesses over everything Brown does, this exchange online has only served to anger her. She's tried to convince herself that Karrueche is "a nobody" as I was previously told she said, but based on her online insults, it is obvious Brown's feelings for Tran is burning Rihanna.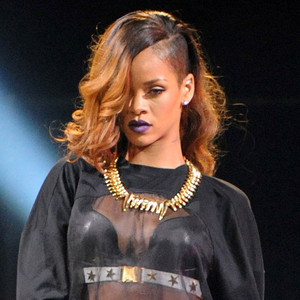 Rihanna
Tran is the one chick Rihanna is truly worried about when it comes to Brown, as she is his only other serious girlfriend (and one he keeps going back to regardless of what she thinks). It also doesn't help that people online are saying Tran looks better than Rihanna...