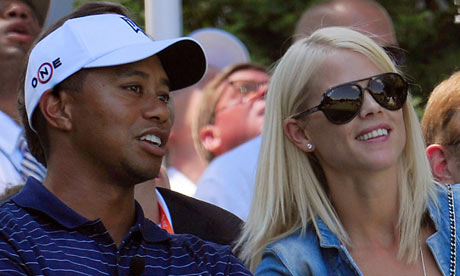 Tiger Woods and wife Elin (Photo Credit: Getty)
Did Tiger Woods have a Lionel Richie moment yesterday, during a car crash outside his home in Orlando, Florida, which sent him to the hospital. According to TMZ, he did.
For those of you that aren't familiar with the story, singer Lionel Richie was caught cheating on his wife Brenda, who beat him and his mistress with a frying pan.
The TMZ website is notorious for bribing police officers and hospital workers for information and photos and leaking hacked documents. They stated this morning, Woods' wife, Elin, flew into a rage at reports of him cheating on her with a waitress, Rachel Uchitel, who is allegedly known for sleeping with famous men.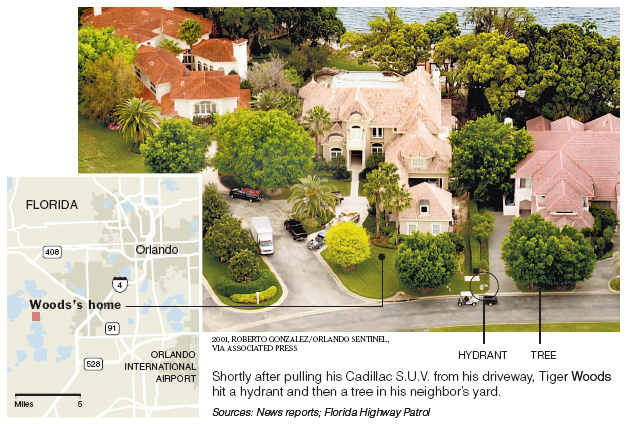 Tiger Woods home in Isleworth gated community, in the city of Orlando, Florida (photo: NY Times)
Today, Tiger's story is being told as a case of domestic violence, where Woods' wife allegedly went Chris Brown on him, with a golf club, leading to the accident.
What's making the story circulate in an even worse manner, is the golfer's refusal to deny the adultery accusations, published in a tabloid the day before Thanksgiving.

Rachel Uchitel
Rachel Uchitel was videotaped leaving the same hotel Woods was staying in during a tournament. She states she was at the hotel meeting with a client, but as a commenter on the Radar Online site wrote, since when do waitresses meet with clients in hotels on the other side of the world. Some clarification is required.
Either way, this is a sad story and I hope the Woods' 5-year marriage survive it. They also have two young children to consider in the midst of this scandal.
Tiger Woods Cornered -- Turns Cops Away
Posted Nov 28th 2009 9:09PM by TMZ Staff
Tiger WoodsIt looks like Tiger Woods has been boxed into a corner and his best friend, now, is time -- because he's again refused to meet with the Florida Highway Patrol about the incident with his wife early yesterday. Tiger may well be waiting for the telltale wounds to heal.
Woods' agent told the Florida Highway Patrol Tiger and wife Elin Nordegren would not make themselves available to speak with authorities today about the incident that left Tiger with lacerations and one less fire hydrant on his block.
We know the Highway Patrol is suspicious of the wife's account ... that Tiger just drove off and hit a fire hydrant. She told the first officer on the scene from the Windemere PD that she went inside the house after the crash to get a golf club and then hit the car in an attempt to free her husband. But we know she told a very different story subsequently to the Highway Patrol.
As we first reported, Tiger told a friend that his wife went ballistic at around 2:00 AM yesterday and scratched his face up -- all because of reports he allegedly had cheated on her. He left the house, started driving away and she attacked the SUV with a golf club, Tiger told the friend. He got "distracted" and hit the hydrant.
If Tiger and his wife acknowledge she scratched him up, she could be arrested for domestic abuse...