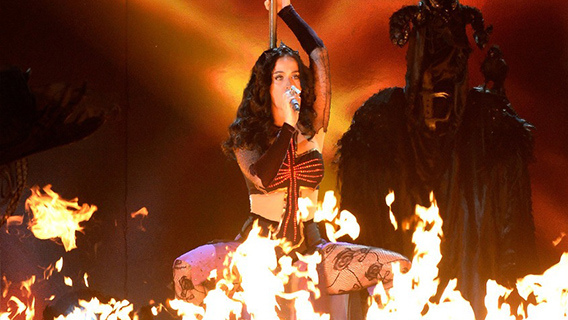 Katy Perry's satanic performance at the Grammys
Devil worshipping pop star Katy Perry
, has again stolen more copyrights. The disgraceful singer, who is a member of the thieving Kabbalah Center cult (who call themselves "the Illuminati') has been sued by Hard Candy cosmetics for stealing their 10-year-old make up line's concept and logo, then taking it to Cover Girl.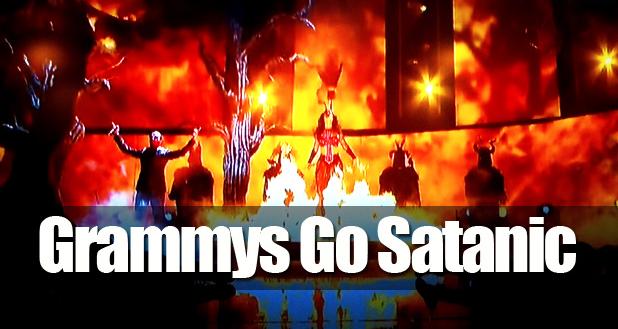 Ironically, that's the same thing I alleged in
my 2015 lawsuit against the Kabbalah Center
, who in tandem with cult member Rihanna stole items from my preexisting copyrighted cosmetics line and took it to Cover Girl. Members of the cult keep stealing people's preexisting work and taking it to companies for criminal, undue enrichment.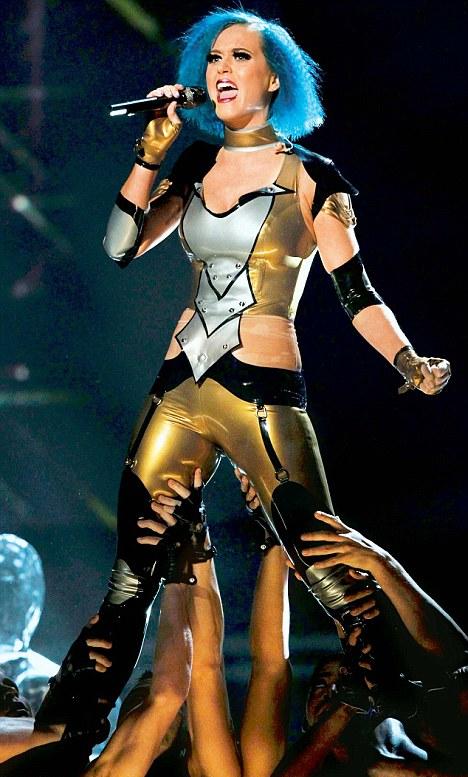 Katy Perry looking crazy as usual
Perry stole "California Girls" from the Beach Boys. Ripped off lines and melodies from the classic survivor song "Eye Of The Tiger" for her track "Roar." Stole the song "Dark Horse" from popular Christian recording artist Flame and Lecrae. Perry stole "Firework" "The One That Got Away" and "Hot N Cold" from my private, PREEXISTING unpublished copyrights registered with the Library of Congress. Perry's whole career is a farce.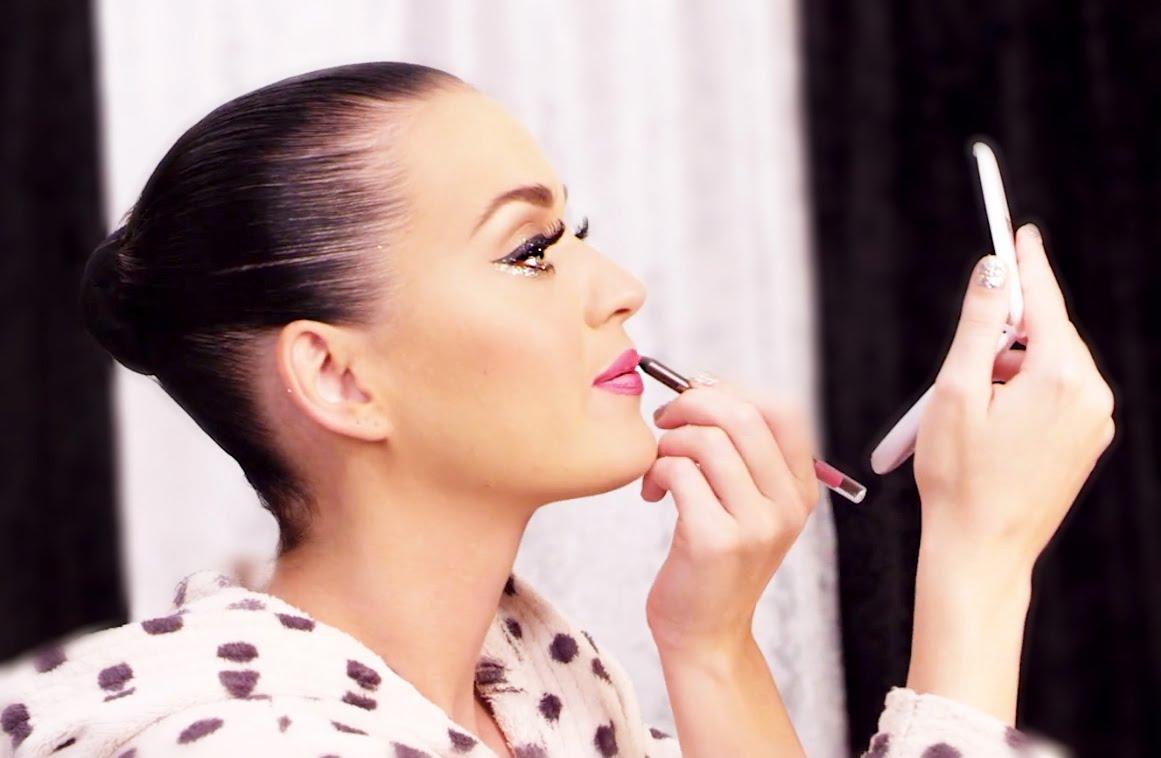 Katy Perry without her weave applying slap to her face

Perry's parents, one of whom is a minister, is devastated by her demonic behavior, calling her "devil child" (she is a devil girl). She even threw out a bunch of nuns from a home she illegally purchased. No good will come to you for having done such a sick and evil thing. You're a damn disgrace. Wow, stealing from Christian artists and kicking out nuns...there's a phrase online regarding someone who's done something really evil, "You're going to hell with gasoline soaked drawers on." That's how the satanic Kabbalah cult operates. They like to target and engage in cruel and abusive conduct against Christians. It's all cute and funny to them…till it starts coming back to them in this life...and the next one.

STORY SOURCE

Katy Perry's Cosmetics Company Sued by Hard Candy for Copyright Infringement

Jul 22, 2016 17:20 PM EDT - NEW YORK, NY - Hard Candy is suing Katy Perry's cosmetics company for copyright infringement. Gossip site TMZ obtained documents that show that the Walmart company is suing the parent corporation that produces CoverGirl, Procter and Gamble, over their heart symbol. The symbol appears on several of Perry's products.
The TMZ report says, "Hard Candy says it's had trademarks for 10 plus years … and the Katy line is infringing. not spelled out in the lawsuit, but it appears Hard Candy's taking issue with the heart in the middle of CoverGirl's Katy makeup logos -- since that's very similar to its logo." The article further asserts Hard Candy is asking that Perry's line be taken off the shelves and is also asking for a percentage of the profits that have been made since the spring launch...
Katy Perry may seem like a dark horse in a legal battle with 80-something-year-old nuns, but the pop superstar and former Christian rock singer is in the midst of a fight over the rights to buy a convent in Los Angeles. Perry seeks to buy the several acre hilltop property from the Los Angeles Archdiocese, but the nuns say not so fast. A group of the sisters, part of the Immaculate Heart of the Blessed Virgin Mary order, bought the property in the 1970s and allege that they, not the archdiocese, have the right to sell it.
"We bought it. It belongs to us. We have the deed and they took our corporation and they took our bank accounts, they took our income," Sister Catherine Rose Holzman, 87, told the BBC. "They've cut everything and yet they say they're taking care of us."
The archdiocese says its contract to sell the approximately 60-bedroom, 21-bathroom convent to Perry for $14.5 million in cash is legally binding. None of the nuns disputing the sale lived on the property, and they had already sold it last year to a restaurateur, Dana Hollister, who reportedly sought to turn it into a boutique hotel, for $15.5 million. That sale was invalidated by a court that ruled the archdiocese did in fact have rights, over the nuns' objections, to sell it.
In a victory for Katy Perry, a Los Angeles judge announced Wednesday that she intends to block an effort by nuns to sell a Los Feliz convent to a competing buyer. The decision marks another major twist in the fierce real estate fight among a pair of nuns, Perry, the Archdiocese of Los Angeles and a well-known restaurateur over the fate of the coveted property.
The judge's ruling puts the pop star one step closer to buying the contentious Los Feliz convent, said Perry's attorney, Eric Rowen. "We won the real property issues," Rowen said in a statement. But John Scholnick, an attorney representing the two nuns on the other side of the battle, said the fight is far from over, adding that he's considering an appeal on behalf of his clients, who want to sell the property to restaurateur Dana Hollister. "As far as I'm concerned," Scholnick said, "it's still game on."...
July 3, 2014 - A group of Christian musicians are suing Katy Perry for copyright infringement, claiming her hit "Dark Horse" replicated their 2008 song "Joyful Noise." The four plaintiffs added that their song has been sullied by "witchcraft, paganism, black magic and Illuminati imagery," according to the complaint filed on July 1 in St. Louis. Rappers Marcus Gray, Emanuel Lambert, Lecrae Moore and producer Chike Ojukwu are seeking damages from Katy Perry, Juicy J, Lukasz Gottwald, Sarah Theresa Hudson, Max Martin, Henry Russell Walter and Capitol Records. This isn't the first time Perry has come under fire for allegedly copying a song: last year critics pointed out similarities between her song "Roar" and Sara Bareilles' song "Brave."...