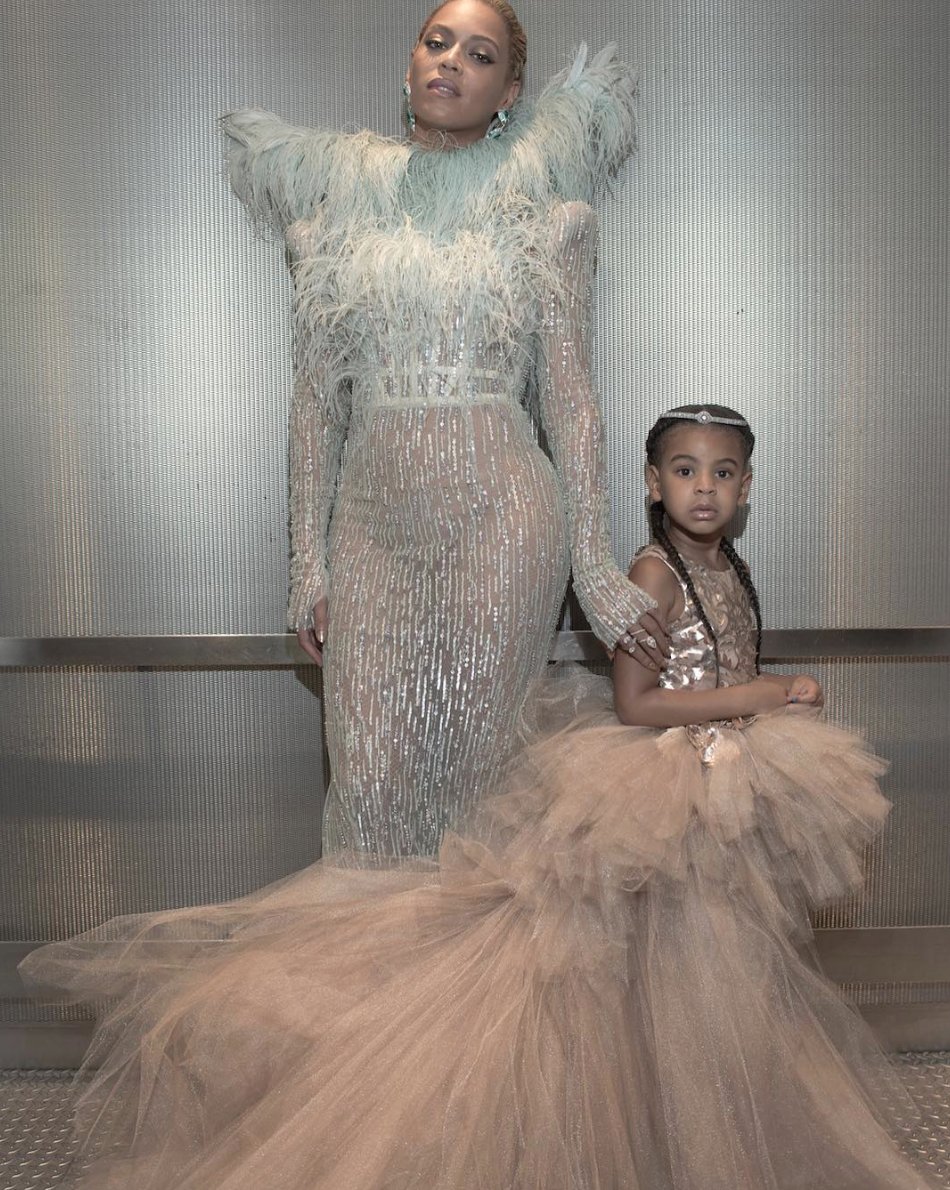 Beyonce and Blue Ivy at the VMAs

R&B singer Beyonce made an appearance at the Video Music Awards this past Sunday and brought her 4-year-old daughter, Blue Ivy, to walk the red carpet with her. The little girl resembles her father, rapper Jay Z, who is often insulted for his looks, which audiences have likened to a camel (
Twitter Calls Jay Z Too 'Ugly' To Cheat On Beyonce
).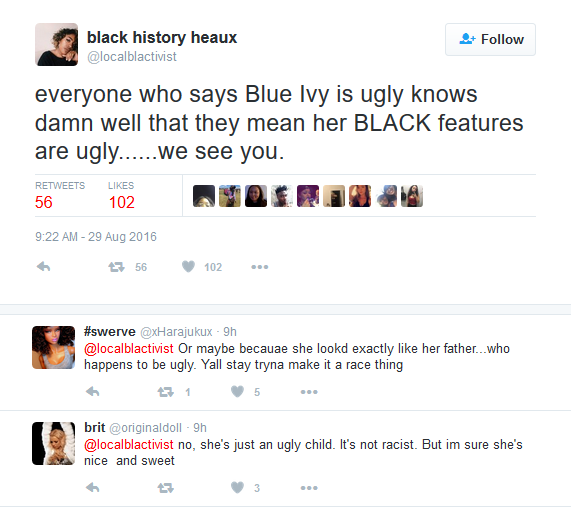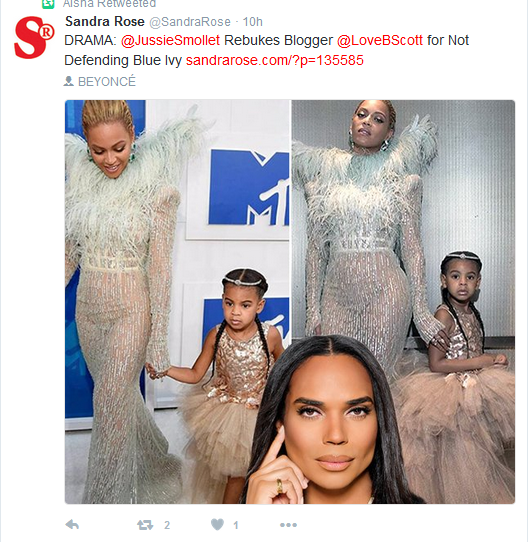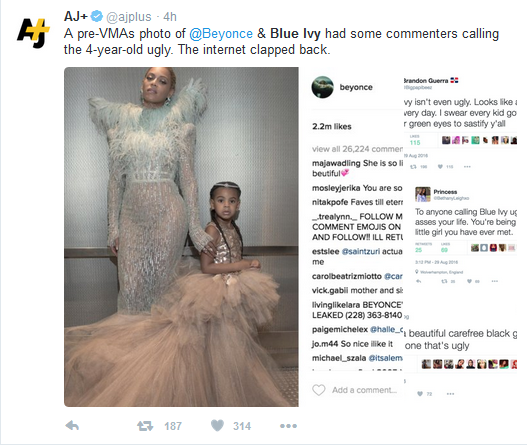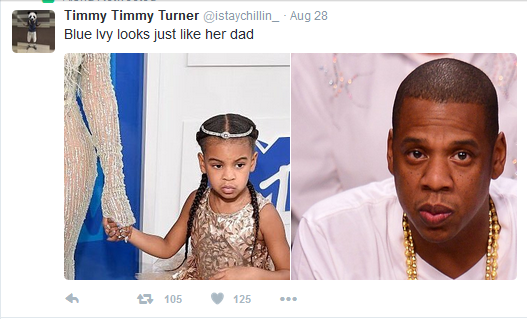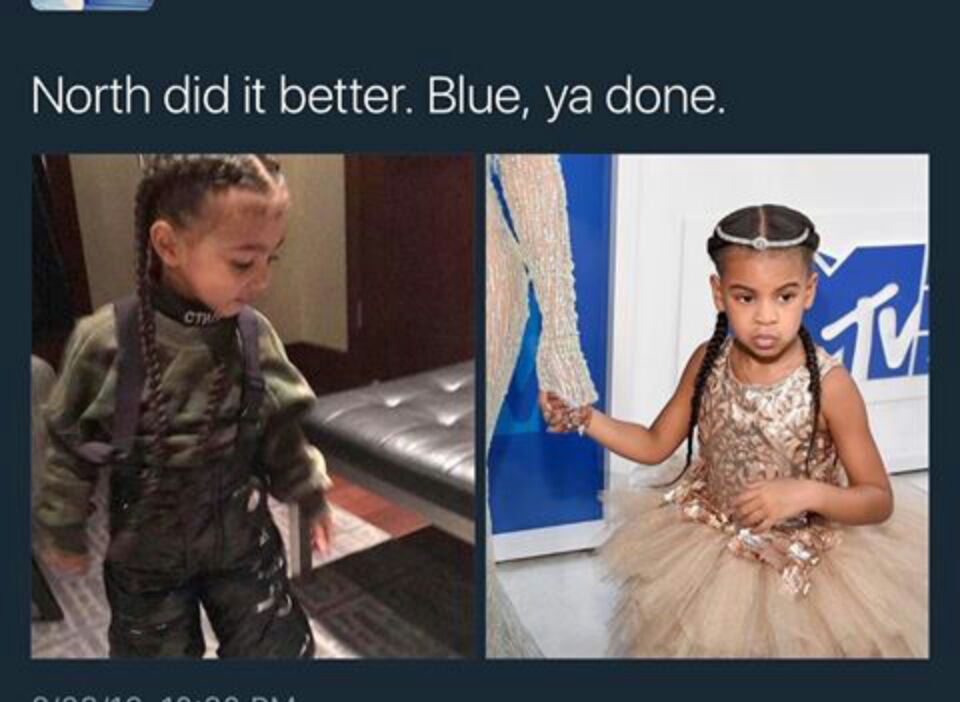 Comments on social networking regarding Blue Ivy
Things quickly turned very negative on Twitter, Instagram and Facebook, as people openly called Blue Ivy "ugly" among other negative terms, in a number of posts. Some defended the child, but the overwhelming majority of the comments slammed the little girl's looks in stunning detail. I don't like Beyonce or Jay Z, as they are thieves, but slamming a little kid online is pretty rough. To each his own.
Side Bar: What you all really need to be asking is why Blue Ivy Carter's initials spell the name of a brand of razor blades (BIC). This is almost as pause worthy as Britney Spears' initials spelling B.S. The jokes just write themselves (LOL).
STORY SOURCE

Beyoncé and Blue Ivy took a pre-VMAs photo — and people called Blue Ivy ugly
August 28, 2016 - Prior to delivering an epic, history-making performance on the VMAs stage, Beyoncé took a minute to share a snap of her and her daughter, Blue Ivy Carter, with the world. Unfortunately, several people in the comment decided to share negative opinions of Beyoncé's daughter. Several called the little girl ugly — in more than one language.
"She looks like a little boy. Sorry not sorry," wrote one commenter. "Feel bad for her growing up with parents like that." "Nah that child look just like her daddy and we all know he not cute," another said. Beyoncé and Blue Ivy took a pre-VMAs photo — and people called Blue Ivy ugly.
"Que hija mas fea por dios, cualquiera diria que es hija de Beyoncé," wrote one woman in Spanish. In English, she said Blue Ivy is the ugliest, and that you wouldn't think she was Beyoncé's daughter. Another wrote, "Que niña tan fea," meaning, "What an ugly little girl." Beyoncé and Blue Ivy took a pre-VMAs photo — and people called Blue Ivy ugly...
https://mic.com
The internet reached a new low calling Blue Ivy Carter ugly at the VMAs
A ton of people are calling 4-year-old Blue Ivy ugly, and it's as disgusting as it sounds. Let's get one thing straight: If you're a person who goes on Twitter to call a 4-year-old ugly, you need to sit down. Blue Ivy Carter walked the VMAs white carpet on Sunday alongside her mom, Beyoncé Knowles.
Carter wore an adorable $11,000 dress, proving she takes right after her mama, and paired it with a diamond headband. She looked happy, excited and beautiful, like any 4-year-old would be hanging out with Mom in a pretty dress and posing for pictures.
Too bad the internet couldn't just leave it at that. Twitter users immediately took to the site to share their disgusting, uncalled-for opinions about Blue Ivy's looks. Before we take a look at some of the tweets, let's just reiterate that Blue Ivy is a 4-year-old child. "I'm sorry but Blue Ivy is so ugly, don't tell me nothin," one wrote. Another wrote, "Blue ivy is ugly as shit." Yet another chimed in with "So are we all just supposed to pretend that Blue Ivy isn't ugly as hell forever?"...
Monday, August 29, 2016 - Openly gay actor Jussie Smollet dragged openly gay blogger Love B. Scott (pictured inset) for failing to put his followers in check when they disrespected Jay Z and Beyonce's daughter Blue Ivy Carter. It all went down Sunday on Instagram.com when Scott posted a cell phone photo of Beyonce and BIC at the 2016 VMAs on his Instagram page.
Smollet took offense at the rude commentary left by Scott's followers under the photo. Scott's commenters dragged poor Blue Ivy for not being photogenic. She's only 4. "You should come get your followers. These comments are really sad considering it's a child," the Empire star wrote.
But Beyonce is a public figure who frequently exploits her moody daughter for attention. There was no reason for Blue Ivy to be at the VMAs other than to draw more attention to her attention-starved mother. If Smollet was in his feelings over the commentary, he should take that up with Beyonce for dragging her underage child to an adult event. Scott has no control over what strangers say on his social media platform. Smollet has way too much time on her hands.