Hillary Clinton's health problems
A new video has caused alarm regarding the deteriorating health of U.S. presidential candidate Hillary Clinton. In 2010, when Clinton was U.S. Secretary of State, under President Barack Obama, she developed a serious blood clot on her brain. Clinton passed out and was rushed to the hospital due to the life threatening condition. Doctors are now speculating on television and online that Clinton is quite ill and hiding it, as it would disqualify her from being President of the United States. She has sustained brain damage from the blood clot.
Clinton has repeatedly fallen and seriously injured herself since the blood clot incident, which is a brain trauma. Clinton has broken bones and sustained sprains and bruises from sudden falls. In 2012, Clinton fell, had a concussion and needed a full 6-months to recover. One cannot be in the White House as president, suffer a fall and take 6-months off or more to recuperate.
Hillary Clinton having a seizure during rally and being injected with Diazepam pen
Clinton is constantly falling over, as she is physically unwell. Clinton is having blackouts, leading to falls she cannot prevent, which has some speculating she is also suffering from Parkinsons. I have studied strokes, aneurysms, blood clots and physical head trauma cases for years and have written my opinion online over the past few years that people who experience these medical events are at much greater risk of developing Parkinson's or Alzheimer's. Clinton has likely hit her head during falls and it is being hidden from the public. When a person blacks out/faints, they usually hit their head.
Clinton is also suffering from stress induced seizures while she is awake (and possibly while she sleeps). Clinton travels with a Diazepam pen, which can be quickly administered in the event she has a seizure. Clinton recently had a seizure during a campaign rally. Her medic rushed to the stage and tried to snap her out of it with the Diazepam pen, as she was zoning out due to the seizure.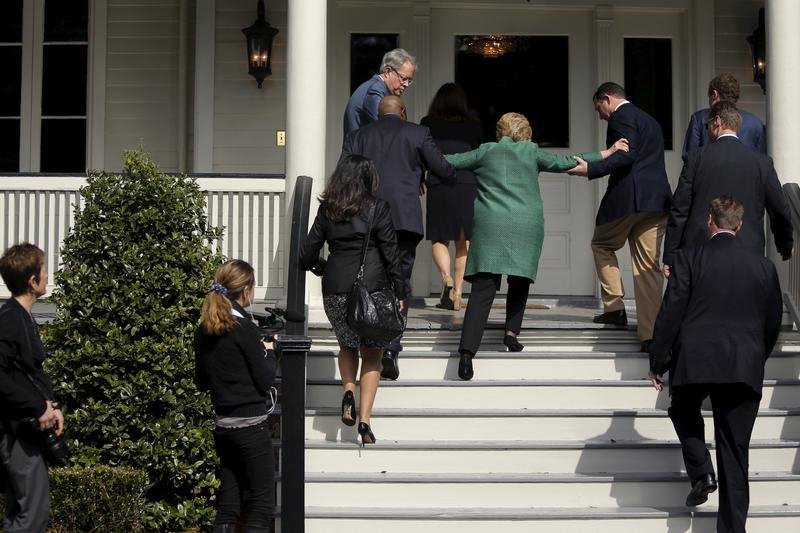 Hillary Clinton being helped up a small flight of stairs due to her frail health
It was a brief, mini-seizure (transient) where the eyes become fixated and glossed over. The seizure sufferer usually stops speaking and sometimes mildly sways or has tremors. I have sympathy for seizure sufferers. With medication they lead normal lives. However, stress is a known trigger of seizures and being a head of state is very stressful.
Clinton's problems are compounded by the other lingering effects of the blood clot, leading to black outs, extreme confusion, forgetfulness and dangerous falls. If Clinton became president and falls while taking a bath or walking up or down the stairs, she could become seriously injured or worse. Clinton has too many serious medical problems to be president.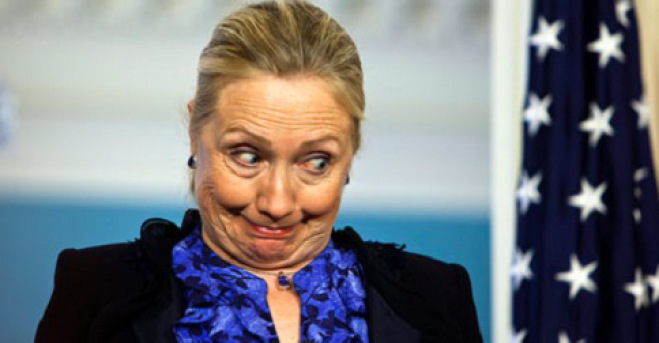 RELATED READING

FOX News' Medical Team: What Do Hillary Clinton's Neurological Records Show?
August 8, 2016 - The 'FOX News Medical A-Team' talks about a photo that caught internet buzz over the weekend from February that showed Hillary Clinton needing the help of aides to walk up a set of stairs and reports of Clinton health problems in general. FOX News' Sean Hannity sets up the photo and the Clinton response:
The picture, which shows Hillary Clinton apparently needing assistance to climb a flight of stairs at a campaign stop back in February was picked up by the Drudge Report, which posted this headline over the weekend, details Hillary Clinton's history with falls and speculating that the former Secretary of State could be experiencing a serious undisclosed medical condition...
Dr. Marc Seigel said "the public has a right to know" and speculated on what the issue could be but was more interested in previous spills and a concussion she had in 2012...
"Then she ends up with a blood-clot in the brain and a lifetime of blood thinners," Seigel said. "Just that point alone -- if she's prone to falling, you can see from that picture up there that it looked like she can barely get upstairs without two people carrying her. Guess what if she falls and hits her head? She'll get a blood-clot."
"I want to know what her neurological records show," he added.
"The picture going up the stairs speaks a million words," Dr. David Samadi said. "Is she fatigued? Is she dehydrated? One of the main reasons she fell in 2012 and had the concussions was severe dehydration. They're holding her and going up the stairs. So she may be really dehydrated, she may have arthritis, she may have back pain, she may have fallen again. We don't know. There are questions that are unanswered. What we know today is she's on thyroid medication, she suffers from hypothyroid, low thyroid, that can cause fatigue and gaining weight and all of that."
"I think a traumatic brain injury with symptoms down the road is very, very likely here especially since she had a blood-clot on her brain. As David mentioned that could lead to a seizure problem. Someone is carrying a [diazepam] pen that you'd use in case of a seizure, a Valium pen, that makes me wonder about that," Dr. Seigel said.
Monday, August 8, 2016 - Hillary Clinton's poor health is fueling rampant speculation across the country. Clinton's coughing fits, facial twitches and accidental falls have led to questions about the status of Clinton's health. But the 69-year-old medical records are a closely guarded secret. Pharmaceutical executive Martin Shkreli thinks he knows what's ailing the first female to be nominated for president.
Shkreli says Clinton's tremors and unstable gait (unsteady walking) are signs of Parkinson's disease. "We've all seen the videos of her kind of making these perplexed facial movements," says Shkreli, referring to her inability to control her facial movements. Shkreli said her seizure-like facial movements are signs of a form of Parkinson's-induced dyskinesia. "This is classic symptom….if you showed someone that symptom and said 'name the disorder' it's not a seizure….it's PD-LID, no doubt about it in my mind," adds Shkreli.
In the above photo, the medic, who is wearing an emergency medical pin on his lapel, seems to be carrying an auto-injector pen. He is also wearing a photo badge, which Secret Service agents aren't required to wear. Ralphretort.com believes the device the man is holding may be used to inject the anti-seizure drug Diazepam. Ralph Retort blog points to this video footage from a recent Clinton rally that appears to show Clinton having a seizure at the podium.
A medic rushed onstage and appears to quickly place something in Clinton's left hand. After he handed her the item, the agent then moved in close to block the view of her hand from the crowd behind her. It's at this time that observers believe she may have injected herself. Within seconds Clinton's face relaxed and she resumed talking to the crowd...