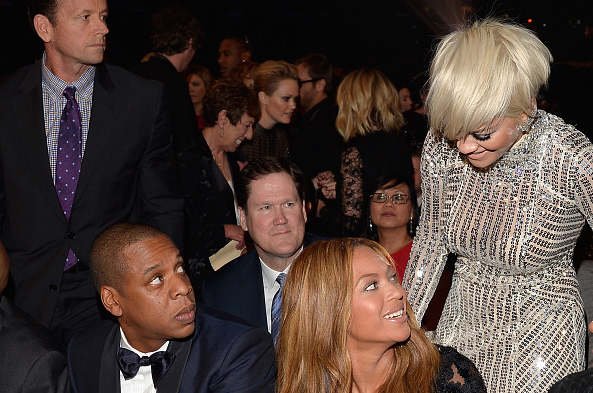 Jay Z (left) Beyonce (center) one of his copyright stealing artists/adulterous mistress Rita Ora (right)
Unethical singer Beyonce has become known to audiences for making a career out of stealing copyrights from people in America and all over the world. The stolen copyrights are worth millions of dollars. Beyonce steals copyrights and then converts said intellectual property for her own illegal use, which constitutes massive financial crimes.

Copyright infringement is a criminal violation of federal law in America and United Nations law in the international community. It has been a terrible pattern of criminal behavior on Beyonce's part and that of her husband, rapper Jay Z, for every single project they have released during their respective careers. The couple have also corrupted court cases via bribery to get away with the illegal conduct, when lawsuits are filed against them for copyright infringement.
Fulks has understandably sued Beyonce, who then had the unmitigated gall to file legal paperwork in court via her lawyer, demanding a declaration that she did not steal his work. BUT SHE DID! Anyone can see Beyonce stole his work in conduct she keeps engaging in at many people's expense. Beyonce legal filing is arrogant, criminal, fraudulent and a vile abuse of the American court system.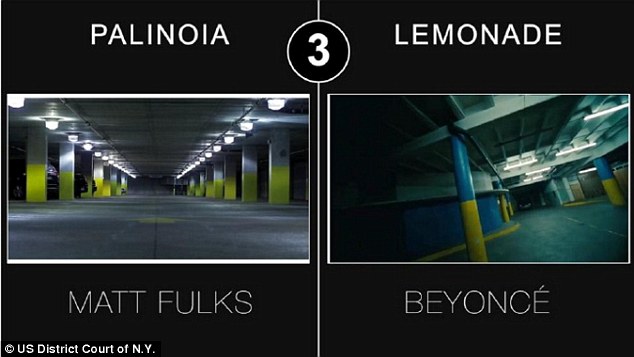 To file such paperwork, knowing full well she stole Fulks' preexisting copyrighted works, constitutes perjury, as one attests documents filed in American courts of law are truthful, accurate and in compliance with the statutes government them. Why are you lying in court papers. It is so arrogant, devious and slimy. Who is Beyonce kidding with this. One look at Fulks' PREEXISTING work then Beyonce's copyright theft that ripped off his work TWO YEARS LATER and it immediately becomes apparent she stole his intellectual property.
Beyonce's pathetic, dubious excuse is that her rip off HBO special is about a black woman, while Fulks' preexisting short film is about a white man. Is she crazy (rhetorical question). First of all, don't pull the race card invoking black women's struggles when you are going around acting like a crazy, mindless, greedy eyed criminal stealing from everyone. This is not a racial matter. You are a thief. As a black woman I state, don't involve us in your crap. Your thieving behavior feeds into negative stereotypes of black people. You are apart of the problem.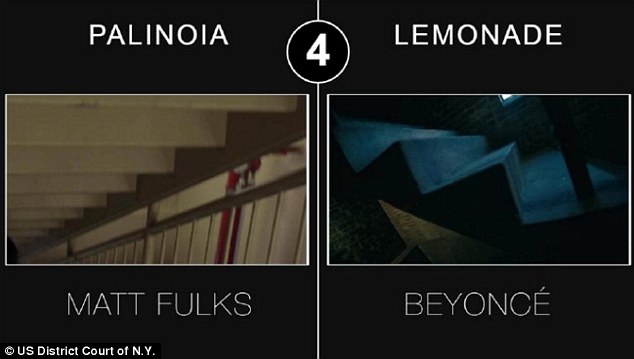 Beyonce has stolen copyrights from a number of black, Hispanic and white artists, in her greedy quest for untold fame and riches she is not entitled to under the law, depriving others of their property and paychecks. By the way, judging by public feedback on social networking, newspaper website feedback sections and message boards, people firmly believe Beyonce stole Fulk's work.
Beyonce is sick in the head to pretend in a court of law that she didn't steal his work and seek a court declaration to that effect. Either Beyonce has surrounded herself with yes people or something is misfiring in her thieving, struggling brain that she thinks this chronic criminal behavior constituting financial crimes is acceptable human conduct and that no one notices. Millions of people notice. Hence the 50% sales drop between Beyonce's current album and its predecessor.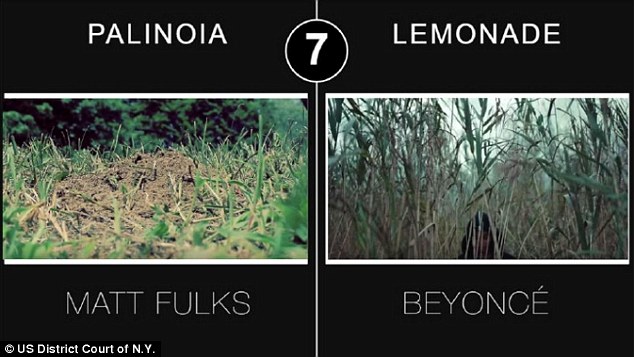 If you can support or try to excuse Beyonce and or Jay Z's thieving criminal behavior that keeps depriving people of their intellectual property and money, something is wrong with your moral compass as well. You need to do some introspective searching in your mind and soul, in an attempt to ascertain why you are supporting and promoting thieving criminals. Because I'm certain, if someone showed up on every one of your paydays and kept stealing your checks and cashing them like dirty degenerates raised by other depraved dirty degenerates, you wouldn't find it amusing, decent or humane (and the apple doesn't fall far from the tree, as Beyonce's parents stole $32,000,000 from the kids of her deceased manager, resulting in a lawsuit against them and Beyonce).
Think about how you would react to doing hard work then repeatedly being robbed on your job and stop pretending others should accept that from Jay Z and Beyonce, because that's what those two thieves keep doing for undue financial enrichment. Better yet, if you think Beyonce and Jay Z's thieving financial crimes are appropriate, I want you to donate every single one of your paychecks to charity indefinitely. Of course, you will say how will you pay your bills if you donate all your paychecks? Exactly. Then you will know how Beyonce and Jay Z's victims feel being repeatedly victimized by those two thieves, who have criminally diverted the financial revenues from others they've brazenly stolen from like dirty leeches.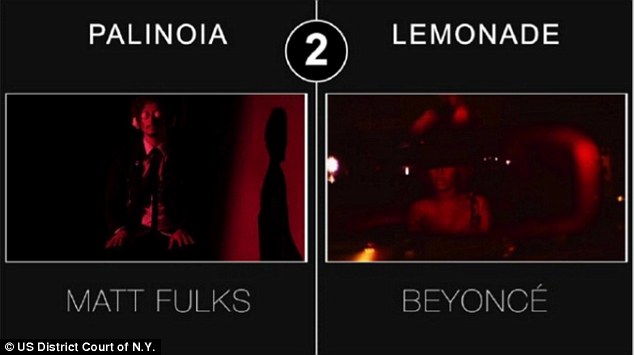 You have to be psychotic to be stealing from people like that, then publicly bragging about how much money you've made from what is criminal behavior. U.S. and international law make no allowances for theft of copyright or finances, neither does it permit defrauding others out of their money and or property, which both Jay Z and Beyonce have done to others.
It's quite appalling what some in the black community are calling role models - two ignorant, illiterate, uneducated thieves robbing people left right and center, while bragging about alleged net worth gained via serious financial crimes. They're no better than Madoff. And just like Madoff's day came - so will theirs. Beyonce and Jay Z are an embarrassment and a disgrace.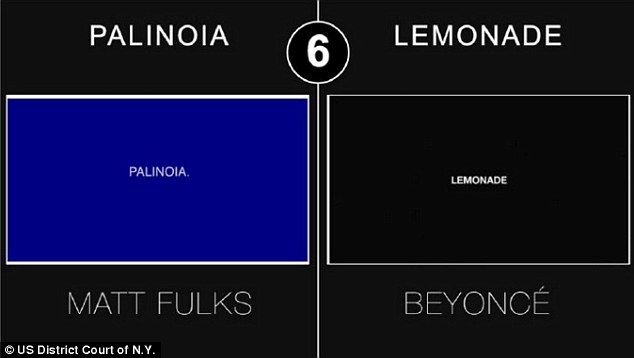 Fulks deserves to win the case, as Beyonce has clearly and willfully infringed his copyrights. However, here's the problem. Sony and Warner Bros have a penchant for bribing judges and the U.S. Supreme Court. It has been my personal experience. Miami judge, Cecilia Altonaga, corrupted a case I had against Sony and Warner Bros in relation to
depraved Madonna
over copyright infringement, while concealing the fact Sony had given her child stock in their company and her husband's law firm is giving hundreds of thousands of dollars in legal work by the companies as well. She ended up having to admit the gross conflict of interest in court papers. When the case got to the Supreme Court level, Warner Bros bribed Chief Justice, John Roberts with several hundred thousand dollars in stock in their company to deny the claim and criminally award them my PREEXISTING copyrights they stole (
The Associated Press Accuses U.S. Supreme Court Judges Of Taking Stocks As Bribes And They're Right
). The U.S. justice system is completely corrupt. It is full of bribery, rigging and fraud. Just ask
Hillary Clinton
and
the FBI
and the
Department of Justice
.
I can also attest, my late godmother's husband, Clement "Coxsone" Dodd, the Jamaican music producer who started reggae music and discovered Bob Marley, creating a genre of music that went on to become a billion dollar industry, was terribly ripped off by Sony as well. Their crap excuse for stealing his music was "We didn't know who it belonged to" which was an outright lie. Copyright law has no provisions for stealing copyrights because you allegedly didn't know who it belonged to when you criminally took it without permission or payment to the owner. Sony are the biggest copyright and patent thieves in the world of music, film, television, electronics and computer software. You will find none worse. Warner Bros/Time Warner is a close second.
STORY SOURCE

Hold up! Beyonce files legal papers denying she stole ideas from indie filmmaker's short film Palinoia for her Lemonade visual album

Published: 21:07 EST, 22 July 2016 | Updated: 02:37 EST, 23 July 2016 - Beyonce has denied that her visual album Lemonade ripped off a 2014 short film. The pop star filed court documents refuting filmmaker Matthew Fulks's legal claim that Lemonade is 'substantially similar' to his film Palinoia and that she stole his ideas, TMZ reports. But Beyonce says the films have very different storylines, pointing out that her HBO special is about 'an African-American woman who progresses through stages of suspicion, denial, anger and, ultimately, reconciliation in her relationship,' according to court documents seen by the gossip site.
Sued! Beyonce has been accused of 'copying' the work of an independent filmmaker from Kentucky for her Lemonade trailer. In contrast, Matthew's film was about a 'white man who is distressed in the wake of a failed relationship,' her lawyers say. Matthew, an independent filmmaker from Louisville, Kenucky, sued Beyonce in June after seeing a trailer for Lemonade. He says her visual album 'stole' ideas from his short film.
Beyonce's highly-publicized one minute promotional video for her HBO special aired in April, ahead of the release of her sixth studio album and film. Matthew alleges in his lawsuit that his 2014 short film, Palinoia, had been seen by members of the team working on the Lemonade video, and that Beyonce's video was created months later and was 'visually similar.' Fulks, who lives in Louisville, Kentucky, alleges that the pop singer, her management company, Parkwood Entertainment, Sony Music Entertainment and Columbia Recording Corporation, infringed on his copyright.
The lawsuit, filed in U.S. District Court in Manhattan, points to nine instances - about 39 seconds of the 65-second trailer - that Fulks says are visually similar. It seeks unspecified monetary damages. The Lemonade trailer was 'substantially similar' to Fulks' film, including a similar mood, setting, pace and fonts, he says in the lawsuit.
The similarities cited in the complaint include 'graffiti and persons with heads down,' 'red persons with eyes obscured,' 'parking garage,' 'stairwell,' 'black and white eyes,' 'title card screens,' 'the grass scene,' 'feet on the street,' 'side-lit ominous figures.' Matthew Fulks has filed a legal claim, according to The Hollywood Reporter, saying Lemonade is 'substantially similar' to his 2014 short Palinoia.
THR.com posted a copy of Fulks' complaint filed in New York against Beyonce's Parkwood Entertainment, Sony Music and Columbia Recording. Fulks, who works as a creative director at a Louisville news station, is seeking a share of the profits that proceeded from the 'exploitation of his work,' THR.com reported, including sales of the Lemonade album.
He says that an executive at Columbia had approached him in 2015 about an opportunity to direct a music video and that his information including a link to Palinoia were sent to others at the label. The Lemonade video started shooting in late 2015. The release of HBO's Lemonade and the album made headlines around the world for its lyrics about infidelity and Beyonce's relationship with her husband, 46-year-old rapper Jay Z. The dark visual album showed her smashing in cars with a baseball bat, and addressed themes of adultery, revenge and ultimately forgiveness.